Getting in Touch with my Other Heritage
Growing up I have always been identified – and truthfully, often have identified myself – as Cuban. I am one half Cuban from my dad's side, and from that half I inherited my outward appearance: olive skin, almond-shaped eyes, thick eyebrows, "Latina curves," loads of leg hair. I am also one half Western European. Start in Germany and move west and I've got a drop of blood from practically all of those countries, the largest from Denmark. My "Latina look," however, put me in an Hispanic corner that I was not ashamed of but was also not 100 percent comfortable with.
Even though I'm a big mutt, throughout my schooling all anyone wanted to talk to me about was my Cuban half. I grew up in Salem, Ore. which is about as Northern European as a town can get, and so the fact that I was Hispanic (and not from Mexico) was probably a novel trait. In Spanish class I became the resident "Cuba expert." I was supposed to have strong opinions about the Cuban Revolution yet my only strong opinion about Cuba was about pastelitos and yuca frita – and my opinion is that they're both delicious.  To appease my classmates and my teachers, I researched Cuba extensively; I found out all about Che Guevara, Fidel Castro, Fulgencio Batista. I asked my grandparents about their experiences; I watched Scarface. As my "white" half was less important to my peers it became less important to me.
I should clarify that I am not ashamed of my Cuban heritage at all. In fact, I am very proud of it. My grandparents came over to America in 1962 with literally nothing but a suitcase full of clothes. They worked hard and made a life for themselves and for their children. They lived the true American Dream, and I have nothing but the utmost respect for them. However, that is only one half of me.
A few summers ago, my family took a road trip to Iowa where we visited the town my Danish great-grandparents had lived in. It's a small farming community with a Danish windmill and a museum dedicated to Danish immigrants. In the museum is a placard with all the names of the Danish immigrants who lived there (an Iowan Ellis Island), and on the placard are the names of my great-grandparents.  When I saw that something inside of me clicked. My "other" half wasn't anything to ignore; on the contrary, there were lots of interesting things about them, and I wanted to find out more.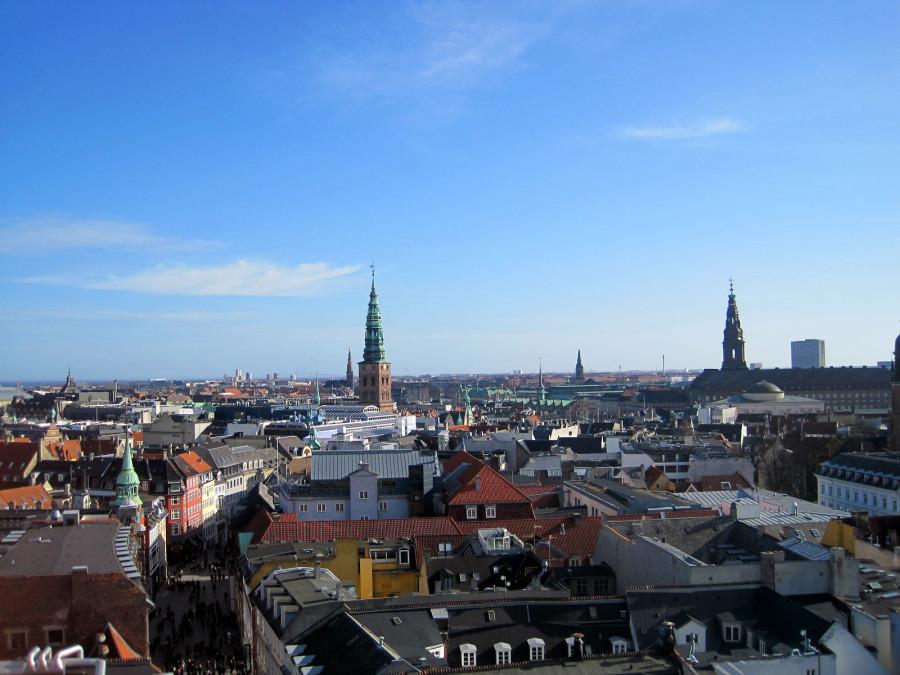 When I decided to study abroad, it was very important to me to see some of the places that my ancestors were from. Denmark -making up the second largest section of my heritage – was the most important for me to see. This past weekend I finally got to go to the Motherland and visited Copenhagen.
Copenhagen was beautiful and colorful and lively. There was an abundance of Danish flags flying in the streets, and their pride in their country instilled a pride in me.  I was in my homeland. These were my people. I wanted to try out all things Danish so as to better understand their my culture. So I did. I went to the National Museum and visited the Danish History exhibit; I climbed the Round Tower and saw Copenhagen from up above; I took a canal tour and marveled at the colorful buildings and the clean water; I went to the Royal Palace and saw the changing of the guards; I walked around the fortress and saw the Little Mermaid; I went to the LEGO store; I went to Rosenberg Castle and laughed at how liberally they used the word "castle;" I found a Danish windmill; I ate Danish pastries and ate fish and potatoes; I drank Tuborg and Carlsberg beer. Being in the country of my ancestors – even if it was 80 years later – helped me experience a part where they came from and understand why they loved it so much. And I loved every minute of it.
Since I've been in college I've struggled with how to identify myself. Sometimes I feel wholly Cuban. Sometimes I feel wholly Danish. Sometimes I feel wholly mixed. Sometimes I feel wholly nothing. Today, I'm still not sure how I would describe myself, but after my trip to Copenhagen I feel like I'm a step closer to figuring it out.