Gearing up for regionals this week and weekend, the Whitman women's tennis team looks to have an even stronger showing than last year and move on to the elite eight round of the NCAA tournament. One player the team will likely be able to count on to earn points is junior Courtney Lawless.
In the most recent Intercollegiate Tennis Association poll rankings, Lawless ranks third in the West in singles and seventh in the region in doubles with her partner junior Maddy Webster.
Lawless also was recently named Northwest Conference Player of the Year for the second season in a row, and she was named to the First-Team All Conference team for her third consecutive year, something that Lawless is very thankful for.
"It's a great feeling knowing that the hard work is paying off. I'm so thankful to have coaches and a team that supports me so much and helps me reach my goals.  I definitely could not have done it without them.  They each give me motivation everyday to keep working and improving," said Lawless.
Coming in as a first-year, Lawless was a standout right away. She already had experience playing high-level tennis at a tennis academy in Texas with her twin sister Morgan for many of their pre-college years.
Being one of the top players as a first-year, but not having the authority or seniority to be an outspoken leader on the team, Lawless developed her knack for leading by example.
"She always leads by example in the sense that's she's always fighting and that's always been very contagious. Seeing that when you're playing singles or are next to her on the court, it's impossible to give up on your own match when you know she's fighting so much," said senior Hannah Palkowitz, who considers herself one of Lawless's biggest fans on the team.
Lawless's time at Whitman, however, has given her an opportunity to step into a more vocal role on the team as well. Especially this season, after losing a couple key seniors from last season, Lawless has stepped into a leadership role more than she has had to in the past, something that Head Coach John Hein has seen her improve on.
"This year she's been a lot more vocal. [Alumna] Alyssa Roberg '13 was really vocal last year, so she's gotten the opportunity to be more vocal this year," said Hein.
Coming into Whitman, Lawless was beginning to get burnt out on tennis, but the atmosphere of Whitman and the chemistry of the team helped her rediscover the fun in the game and has undoubtedly helped her step into a leading role.
"Everyone cares so much and works so hard. I've been told many times by opponents that they think we have some of the best team chemistry and love in the country.  Growing up, I was always training for top [Division I] tennis, and I really stopped having fun. My team has taught me how to work hard and have fun at the same time," said Lawless.
Besides her leadership, Lawless has worked in the off-season and during this season to improve the finer details of her game.
"I've always loved my inside-out forehand and hitting to the backhand corner of the court. My coach has really helped me work on mixing my forehand up and not hitting to the same spots. As a team we're always trying to get stronger fitness-wise, so I've been doing that too," she said.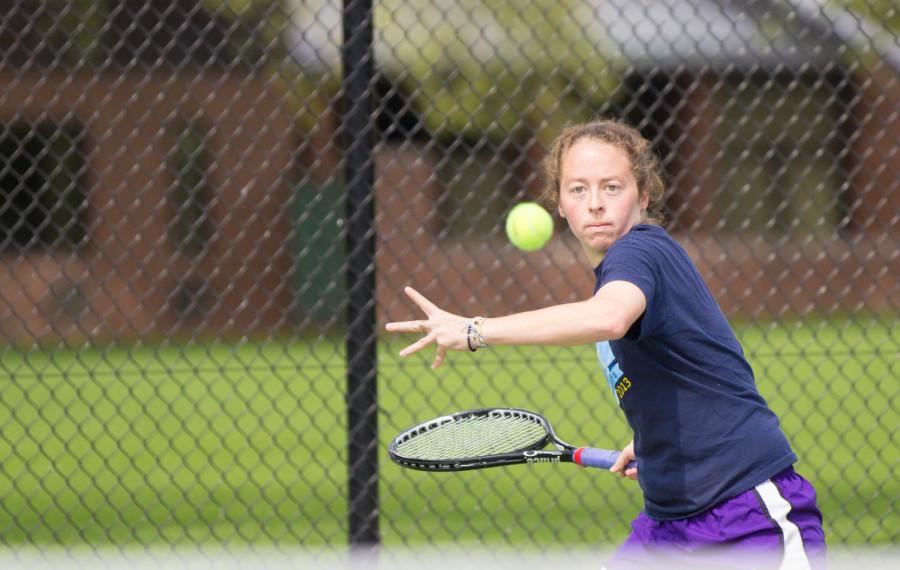 Since Lawless came in already knowing so much and having had so much experience under her belt, coaching her has been a bit different for Hein.
"Everything is finer. We focus on smaller things, and so that is a challenge because it's easy to say 'You already do that well,' and just sit back, but it's also fun because we can focus on more of the details in her game," said Hein.
Though she has refined her game already on so many levels, Lawless never settles and is constantly working to improve even more, whether it is in practice or in a match.
"One thing that really inspires me about Courtney is her refusal to lose until that very last point is over. Her commitment to always fight for every point and every ball is inspiring to the team because it makes us want to do the same," said Palkowitz.
When she's not being coached, Lawless also helps her teammates in improving whatever they feel like they need help in.
"She's very approachable, and everyone loves getting advice from her because she knows so much about the game. And everyone on the team feels like they can gain something from coming to her, and that's something that's really cool for our team," said Hein.