Walla Walla Pétanque club provides popular space for socialization
Walla Walla Pétanque club was formed in 2006 to promote the game of Pétanque in Walla Walla Valley. The game originated in France with boules/balls and was defined by its objective: scoring points by rolling your set of boules closer to the target than your opponents.
Catherine Schiaffo is the secretary of the Walla Walla (WW) Pétanque club and has been a member since 2015.
"I love any sport where you can hold a glass of wine in one hand and the required tool on the other hand," Schiaffo said. "One of the best things about Pétanque is that it can be played on the grass, gravel or backyard."
Ted Cox is the treasure of WW Pétanque club and has been a member since 2012. His favorite part about playing pétanque is the camaraderie and the fact that people of all ages and skill levels can play and enjoy it together.
The popularity of the game has been on the rise due to its accessibility with members using wheelchairs. Cox is one of these members and feels that although it is not easy to play in a wheelchair, it is still possible to get the job done.
"It is a wonderful social game and you don't need to be able to run fast or jump high to be a good player," Cox said.
Cox and some other members participated in FPUSA Open on Amelia Island, Florida in 2016 and 2017. Cox and his partner for the game, Philippe, secured the 34th position among 189 double teams from dozens of countries and approximately 30 states in 2017.
Now, Cox is excited to involve some new, young players in the sport, particularly students from Whitman College.
There are 38 members in Walla Walla's club and regular play takes place at Tertulia Cellars every Sunday from 11 a.m. until 1 p.m.
"The membership costs $30 per person where half the money stays in the club and the other half goes to FPUSA that provides liability insurance to all the local clubs," Schiaffo said.
Guests are allowed to come play on Sundays by signing a liability waiver as the game happens on winery property. The club also hosts charity tournaments where they support local efforts like the BMAC food bank.
Pétanque is played both for fun and competition. Ryan Raber is the president of Walla Walla Pétanque Club. He's been a member since 2014.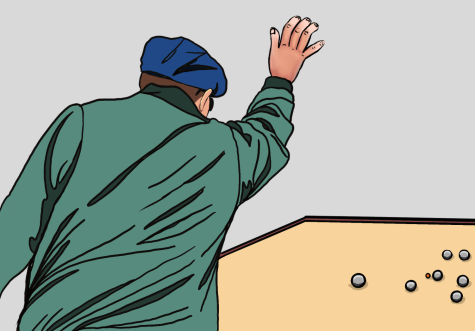 "We have a lot of tournaments within our club where we play doubles, mix doubles and more. We've hosted FPUSA regional tournaments and we also have the Walla Walla wine country pétanque open every year," Raber said.
People from different states like California, Utah and Texas have come to compete in Walla Walla before and some current club members compete on the regional and national level. The club president himself has competed in local, regional and national level tournaments.
The club has not been in function during the pandemic but has recently resumed in the last month.
"We have a handwashing station and encourage double masking. We minimize contact with each other's equipment to play the game safely," Schiaffo said.
Attendance at games is not mandatory even for club members. Anyone who has some time, can show up and play when they want. Schiaffo describes this as a chill and casual play.
Raber has been teaching other members some specialized techniques especially since they stopped playing for a year during the pandemic.
"We accept everyone at the Walla Walla Pétanque Club except the children need permission from their parents to join," Raber said.
Raber and his team have been pushing for more people to join the club due to the myriad of benefits that can be associated with the game.
"It doesn't take a lot of money and resources to play Pétanque, that is why we encourage more people to join the club and play this game. It can be very peaceful," Raber said.
More information about the Walla Walla Pétanque Club can be found on their website.