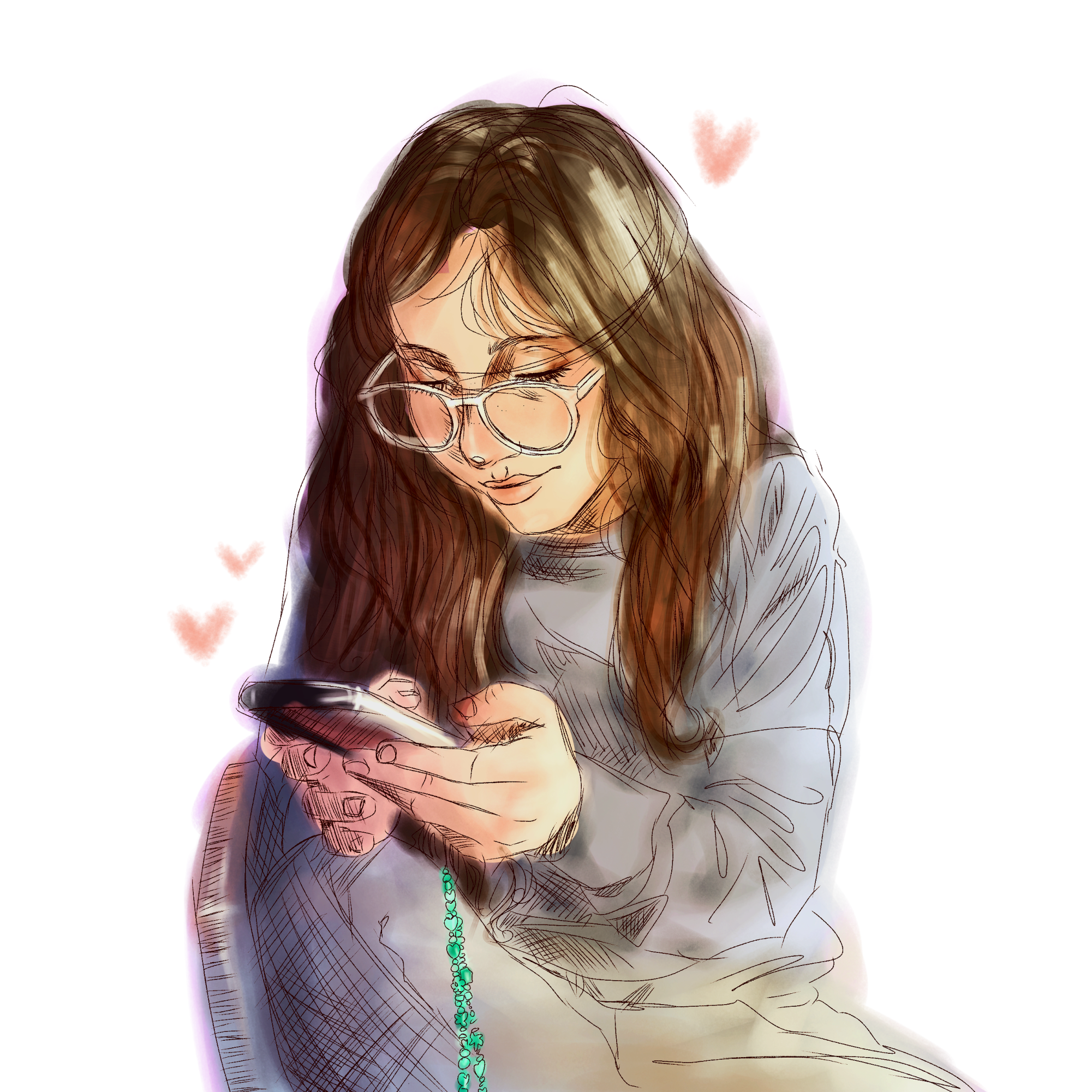 Tinder entered the dating app scene in 2012 as a haven for young people seeking "short term fun" or casual hookups. However, over the course of a decade, people's views on the app have expanded, allowing Tinder to evolve into a platform that offers various modes of connection. 
Beatrice Jones* is a sophomore at Walla Walla Community College and, like many of us, downloaded Tinder in high school.
"I was a horny teenager, I wanted to meet people, have fun, that's how it starts out, you know, you want attention, validation and affection, so you download Tinder to get some of that," Jones said. "But it really opened my horizons to getting into college things and having fun; I only ever really hung out with one person from Tinder long-term, and then I met people in parties through that."
For Jones, the app acted as a bridge to the larger community, and on weekend nights, you'll likely find her somewhere on Isaacs, dancing or chatting it up with other Whitman partygoers. Tinder became an unexpected source of social networking, expanding Jones' opportunities and friendships outside of her own campus.
While Jones downloaded Tinder for casual fun, many Whitman students, including junior Eva Palmer Wells, first downloaded Tinder in search of romance. Since then, she has bounced back and forth between deleting and re-downloading the app.
"It's been pretty random every time I've downloaded it, either someone else in my life has also downloaded it so we wanna do it together, or it's really late at night and I don't really have very good judgment," Palmer Wells said.
Creating Tinder profiles with friends and swapping stories as a social activity is another way Tinder impacts relationships in unexpected ways. This can be a unique and entertaining bonding experience, while also leading to more personal usage. 
"The last time I remember downloading it was after the last marriage pact because I didn't really know the person who I matched with, so I was like might as well just try this again because I still wanted to find something or someone to hang out with," Palmer Wells said.
When asked whether or not her Tinder endeavors have been successful, Palmer Wells shared that nothing had lasted, except for a friendship that blossomed after many dates over spring semester. Not seeing each other for a while because of physical distance over the summer is what led to their friendship.
"She reached back out to me this semester and was like, 'I'm back, do you wanna hang out?' It's pretty clear that we're not gonna do anything romantic now because she has a boyfriend, but I still really like her and it's clear that she's still thinking about me as a friend. We still talk and text as friends," Palmer Wells said.
Junior Dorothea Orth-Smith also made a good friend through Tinder, despite their romantically-oriented intentions and previous frustrations with the app.
"Tinder had never worked for me before because there has to be some amount of spontaneity, but [when I was] in L.A., this guy texted me asking what I was doing in the area. I said I was staying with my cousins, [and it] turned out he'd gone to high school with them for all four years and I already knew him because I'd seen a Spanish music video they made together … Just coincidentally we had this connection. And then we ended up hooking up. It was lovely. Now we talk a lot, he's a good friend of mine and every time I see my cousins, I visit him," Orth-Smith said. 
The path to forming relationships on Tinder often deviates from traditional routes. While in real life, connections typically progress from acquaintances or friends to dating, Tinder often reverses this. It starts with dating and then transitions into friendship because people usually start off going on dates, and then only become friends after that doesn't work out. 
This contrast raises the question of whether it makes more sense to leap straight into romance or sex, or if it's better to ease into both over time. When you actually know someone, you have a better idea of how adding a romantic or sexual element to your relationship will go, or if you even truly want that. However, with a Tinder match, no matter how attractive they are or how good your banter is, it's very much a dice roll.
The lack of previous connection can cause problems with assessing romantic and sexual compatibility, but it does have some positives. When you go out with a stranger from Tinder, you don't risk ruining the dynamic of an existing relationship the way you do when you follow the more traditional pipeline of friends to lovers.
While many people view Tinder in opposition to traditional dating, the two can be combined to build relationships. Junior Carsten Wallace-Bailey met his girlfriend of over a year in person, but they didn't go out until matching on Tinder.
"It's not very likely that you're meeting that many people off of just Tinder alone. There's a good chance you know most people on Tinder in one way or another. I think it's more useful as a supplemental thing, like a way to know if someone that you've talked to a couple times before is actually into you," Wallace-Bailey said.
Using Tinder to confirm that a crush is mutual seems like a great and underestimated use of the tool, but are there downsides to an app that allows us to reap rewards with less risk of rejection? Confessing your feelings or attraction to someone is scary, and on Tinder you can do that behind a screen, engaging in lots of dating or sex without facing much rejection.
This is intentional on Tinder's part; it plays off of our desires and creates addictive feedback loops. Some users find that the appeal of reduced rejection is a major win. For others, it can start to feel like too much, pushing them away from the app.
Jones is one of the latter users. Despite Tinder's role in expanding her social network, she has since deleted the app and its competitors. 
"I'm very strict about being off dating apps because it's feeding into a toxic source of dopamine," Jones said.
While Tinder can lead to unexpected and positive outcomes, as many interviewees experienced, its historical focus on hookups is still prevalent and outweighs the benefits for some users. The toxic dopamine that Jones describes can be obtained from the act of swiping on Tinder and the kinds of relationships the app often brews. Despite expanding options for connection, many still use the app for instant gratification, often through sex.
"I met someone I got very attached to and it was just hard to feel that way about somebody who just wants to use you for your body," Jones said. "I think Tinder gives you this validation type of thing, then it destroys you afterwards because it's not gonna last; it's never gonna last."
Tinder's lingering ties to hookup culture means those using it for other types of relationships may have to work a little harder at sifting through profiles to find people whose goals align with theirs. It also serves as a reminder of the importance of being true to yourself and what you want. 
It's okay to want casual sex. It's also okay to want chivalry and monogamy. But in a world filled with horny, unempathetic people, it's up to you to set those boundaries. Sometimes, we don't know what we want, and that's okay too. Tinder is often seen as nothing more than an app for casual fun, but there are many avenues to explore and more sides to the relationships it fosters, providing users with options. Keeping an open mind is helpful when navigating online dating.
To me, a Tinder success story is one where you a) learn something new about yourself or the world, and b) you don't feel terrible about how it went down. Gaining new experiences can be a goal in itself, as sophomore Ruth Radwin discovered. 
"I lost my virginity to someone I met on Tinder. It was weird. I guess it was friends with benefits, but he stole my signed copy of 'Boys and Sex' by Peggy Orenstein and still hasn't returned it," Radwin said.
At the very least, Radwin's Tinder date read "Boys and Sex" by Peggy Orenstein because of her. The book discusses how men view masculinity and how they relate to women in a predominantly patriarchal society. The book also addresses hookup culture, consent and gaps in sex education. Even with the silver lining of a new reader of important material, it's unfortunate that the experience left Radwin without her signed copy.
Radwin's experience speaks to the weird and confusing complexities of navigating new relationships. These complexities are common inside the Tinder world and in spaces beyond dating apps.
In fact, just last week, Radwin had another experience in which a person they had been going on dates with had different expectations for their relationship. Radwin is no longer going on dates with this person, but harbors no resentment and views the experience positively.
"I think it's cool that you may go into it looking for some kind of romantic encounter but when that doesn't happen it's like, well, you met someone new who you may not have necessarily encountered otherwise," Radwin said. 
It can be nice to expand your social horizons and get to know people from completely different sects of the school's social network, even when most people don't go into Tinder with this goal in mind.
Tinder can be a great avenue for venturing outside your social circle, and can lead to self discovery through new experiences, as long as you go in with an open mind and are true to what you want. Of course, things get messy and sometimes we run into relationships that don't line up with our plans. If that's the case, it's literally fine; it just means you have more stories and experiences from which you can learn and grow.
Editor's note: Beatrice Jones is a pseudonym used to protect the interviewee's privacy.