Wallowa County: Through Young Eyes
When I drove into Wallowa County in early June, I could not get enough of the landscape around me. I leaned forward in my seat and craned my neck to get a better look at basalt outcroppings carved by the Grande Ronde River charging downstream, the green pastures dotted with black cattle and at the snow-blanketed Wallowa Mountains growing ever bigger.
This corner of northeastern Oregon has such an impressive landscape that it comes as no surprise to see visitors flock to Wallowa Lake, into the Eagle Cap Wilderness, or down into Hell's Canyon without noticing the human geography around them. The longer I spent here through my internship with the local non-profit Wallowa Resources, the more I realized that the land is just part of what makes this county fascinating. The 7,000 people who live in Wallowa County (population density two people per square mile) add as much character to the county as the towering mountains and deep canyon country.
"People visiting the county need to take an interest in knowing the people and not just the trees or the animals and the mountains, because the people are what make it what it is," said Jeremy McColluch, a local rancher and agriculture teacher, with a hint of frustration in his normally even-tempered voice.
I decided to follow Jeremy's advice and learn from the people of Wallowa County. This is a place of complexities, and most of these complexities occur at the intersection of land and people. Wallowa County stands at the threshold of a new Western economy reliant on tourism, but has not departed from its timber and ranching roots.
Wallowa County used to be the picture of an Old West resource economy, with ranching, farming and timber driving growth, until 1995, when Forest Service regulations closed the county's three mills, devastating the county's logging economy and leaving 20 percent of the workforce without jobs.
Since then, the county has steadily moved toward a New West economy focused on natural amenities. After the timber crash, the county expanded its economic base with bronze artistry and increased tourism, which have changed the appearance of some parts of the county. On an average day this summer, in the small town of Joseph, tourists filled streets lined with bronze statues of Nez Perce natives and soaring bald eagles as they perused cafés and art galleries before driving their kayak-laden cars to the lake.
The distinction between New and Old West is more than an economic one––it is a matter of changing perspectives. To understand Wallowa County's current character and its future along the New West vs. Old West continuum, I turned to the county's young people to see how they will shape the relationship between the land and people in the future.
Whitman arrivals
After the collapse of a natural resource industry, some Western towns fall into poverty, while others develop a new economy based more on tourism and recreation. Wallowa County's attempts at redefinition have drawn several former Whitman students to the region.
Ben Hayes graduated from Whitman in 2011 with a degree in environmental humanities and moved shortly afterward to Wallowa County to take a job with Fishtrap, a literary non-profit. Yet, it was more than a full-time job that drew Ben to Wallowa County.
"People don't get along in Western Oregon whereas here, there is such a vibrant community and pretty remarkable natural resources. I was really attracted to that," he said, comparing the area west of Portland where his family operates a forestry business to Wallowa County.
The relation between the community and the land ended up bringing 2009 graduate Julia Lakes to Wallowa County as well. She was introduced through her environmental studies senior seminar when her project group was assigned to focus on Wallowa Lake and the Wallowa Land Trust, a non-profit that works to preserve the rural nature of Wallowa County through private land conservation.
"I . . . came up here as part of the project and was really inspired," she said.
The Land Trust happened to be looking for an intern and hired Julia. She stayed on, and is now the Director of Education and Outreach.
Ben and Julia were pulled to Wallowa County by New West issues: how to innovate after the collapse of a natural resources industry and how to conserve open space as residential development pressure increases. The other young people I met were all raised in Wallowa County, and they tackle the challenge of keeping parts of the Old West thriving in a changing community.
Local Connections
As I stood nervously in a pasture with 20 of Jeremy McColluch's Texas Longhorn cattle, he proudly told me that the bull we were looking at has the longest set of horns in Oregon. Thankfully, the bull did not see any need to show off his horns and kept grazing calmly 25 yards away.
Jeremy was born and raised in the town of Wallowa where he currently teaches agriculture science and works on the family's Rocking M Ranch. Growing up on a ranch gave Jeremy an economic advantage and the knowledge he needed to pursue an agricultural career. Getting started in agriculture when your family does not own land is challenge for young people.
"You aren't seeing a whole lot of long-term retention unless it's a family operation. The real estate prices here aren't exactly conducive to a young person coming back and starting up, and that's driven by tourism and . . . by some other factors," said Jeremy.
Buck Matthews would understand what Jeremy is talking about. Buck grew up in Imnaha, a tiny town located deep within the Imnaha River Canyon. Growing up, Buck's dad worked on ranches, but the family never owned a ranch. To fulfill his dream of running cattle, Buck first had to buy a house in town in order to buy a grazing permit for his 100 cows. He and his wife Chelsea will be paying off the cows for another six years and the house for twice that.
"It's a tough business. There's not a lot of wiggle room financially. There's not a lot of money to be made," said Buck.
Despite the economic difficulties, Buck wants to keep the ranching tradition alive, raising his kids to learn the value of hard work, caring for animals and land.
In addition to the economic challenges of ranching, many young people in Wallowa County and throughout the West are choosing to leave family agricultural traditions behind. The median age of a Western rancher is now over 50, leaving many to wonder if running cattle is to become a thing of the past. Still, a part of Wallowa County's history was very much alive when I pulled into the 6 Ranch. A 100-year-old white farmhouse stands sentinel over the land where cattle and sheep graze next to newly constructed greenhouses. The resident of the house, 24-year-old Adele Nash is the 5th generation to work her family's ranch.
"I'm really prideful about this land. Generations and generations before me have held [this land] at such a high value that they tried to make it better each time, held onto it, didn't let anything happen to it. It is kind of a huge weight, but in a really positive way," she said.
Ranchers like Adele prove that with the right adaptations, it is possible to keep traditions alive, even in the face of a shifting economy.
Grounded Perspectives
I've learned that in Wallowa County, caring for the land does not mean leaving it untouched. Here taking care of the land and working the land frequently overlap. Locals call this stewardship, and it doesn't look like the hands-off, back-to-nature approach currently en vogue in urban areas. Instead it means thoughtfully working the land, a practice which sometimes spans generations.
"The family legacy here has shown me a level of stewardship that you don't see many other places. Families that have been on a single piece of land three, four, five generations are much more inclined to take care of that land and know the systems of that land much better than somebody who has just showed up and is part of a real estate investment trust from Boston" said Ben, referencing out-of-town land acquisitions that are increasingly common in the West.
On the 6 Ranch, Adele talks about the land as if it a member of the family with personality and habitats that she must continually learn.
"Nature is the ultimate teacher. The respect that we have for the land is immense, and without it we wouldn't have the life that we do," she said, channeling Wendell Berry, a hero of hers.
The young people I spoke with noted that urban residents frequently assume that ranching and agriculture must be destructive activities, and that they underestimate the amount of thought and care that goes into working the land. The 6 Ranch brings its Portland customers to the ranch occasionally, and they often go home in surprise.
"A lot of times they're genuinely surprised [by] how much thought goes into everything we do. We're not just out here randomly poking around, and hopefully we get a cow out of it," said Adele.
Buck started running cattle of his own so his children could grow up caring for animals, managing lands and learning a lifestyle. Tending to the land means leaving it better for his children so they can continue ranching.
"We care more about these animals and taking care of the property than they ever will, as far as I'm concerned," said Buck, speaking about the opinions city dwellers often hold of ranchers.  We want our kids to be able to enjoy it, and the next generation."
After following Jeremy's advice about paying attention to the people and not just the scenery, my eyes have been opened not just to the people here but their compassion and respect for the land and what they produce from it.
"People often don't respect the thoughtfulness with which people work on the land in a community like this," Julia told me in a patient yet passionate voice. "Coming from a city, it's easy to assume that all ranchers are out there grazing their cattle and messing up the land and same with all people who are cutting timber, but I think that it's important to get people out on the land and talking to people with different backgrounds than them and understanding that that's not what these people are trying to do."
A Balanced View
A few miles outside the town of Enterprise, there is little more than alfalfa fields and cows. Biking through this landscape one day, I saw a brown monstrosity rising out of the green fields. As I got closer, I discovered that it was a log cabin-style mansion, with no exterior decoration other than a "for sale" sign. The house represents a puzzle for the county. The migrants who are attracted to the area by its beauty are an economic boon for the county, but they can change the face of the land and the character of the community.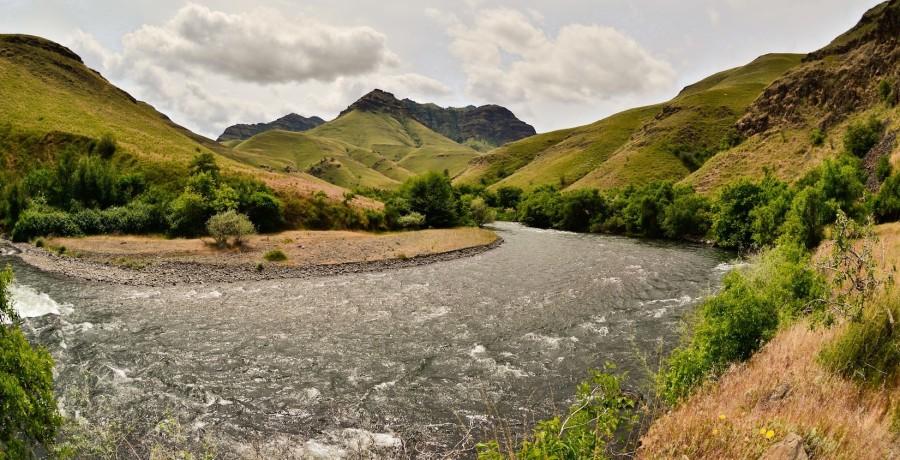 "As the recreation and tourist economy grows here, the need to protect that landscape becomes even more significant for the community because it becomes an economic driver for the community," said Julia.
Few people here want to see the iconic glacial moraines flanking Wallowa Lake changed. When residential development pressures began to increase and the moraines appeared at risk, the Wallowa Land Trust was formed to protect them. In many other areas, turning a threatened landscape into a park or reserve might be the solution, but that idea is not popular in Wallowa County where the U.S. Forest Service already owns 56 percent of the land.
"People don't want to see land go to the government because then it's not a part of their community anymore and there's not local control and there's not the same kind of access," Julia explained. "I think we have the opportunity to look at other unique models for conservation and land protection because we know that in reality the community doesn't want to see that land become totally public."
Much the resistance surrounding development comes from the fact that it often changes the character of places. Some open spaces get houses built on them while others are put off limits to anyone other than hikers. In Wallowa County, the ideas young people have about managing the land will help working the land and caring for it continue to be one in the same.
Looking Ahead
Wallowa County is not willing to compromise its old and important traditions to transform into something completely different. Being uncompromising can be difficult though.
Adele explains the puzzle.
"I think agriculture should always remain really important, but we need something [else]. I don't honestly know what that is for sure. We can't survive on tourism," she said.
Tourism driven solely by the stunning landscape leaves many of Wallowa County's people and livelihoods out of the picture. A holistic vision of Wallowa County that blends wilderness, agricultural land and diverse people is required if the county is to prosper economically without losing its identity.
"For this community to remain rural, agriculture needs to be at the center of its economy and young people need to be leaders in agriculture and be willing to try new crops, try more sustainable agriculture, try doing more value-added products," said Julia.
Adele would never call anywhere other than Wallowa County home, but she believes that young people can learn a lot from leaving and can bring back a lot when they return.
"I would like to see young people take on the role and responsibility of re-energizing Wallowa County. A lot of that comes from coming back on purpose, and taking what you've learned wherever you've been and bringing it back here. There just has to be a love for it enough to turn it back around," said Adele.
Here in this place, rich with stunning views and vital natural resources, and filled with diverse and thoughtful people, the challenge is not so much finding the right resources and ideas, but finding how to balance them. Wallowa County can avoid becoming an overdeveloped symbol of the New West without falling into the poverty that plagues Old West towns where natural resources have dried up. Finding the key commonalities will keep old traditions alive alongside new people and economies in the beautiful Wallowa country.
"We want to be small, productive and successful. I think that's actually a shared goal between those that want to preserve nature and those that want to preserve traditions," said Jeremy.
I hope to return to Wallowa County. After seeing it through the eyes of its young people, I envision myself driving into the valley some spring down the road and being just as captivated by the tall mountains and winding rivers. Yet, I trust that I will focus just as much on the communities at the base of the mountains, where old traditions thrive and new ideas, economies and people prosper.