Outdoor Program under fire after insider trading exposé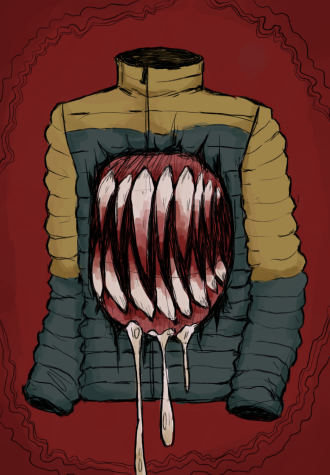 Controversy occurred this week as a student working for Whitman College's Outdoor Program accidentally revealed a financial scheme between himself and a family member who works for Patagonia. The student's uncle, an employee at corporate headquarters in Ventura, CA, urged his Whitman student family member to add to the OP's stock investment in Patagonia. The conspiracy was exposed when the student displayed a class presentation on the projector, but by mistake opened the email thread with his Patagonia insider.
According to the uncle, despite the fugliness of the spring 2022 outdoor gear collection, the vegan-friendly products made of nearly 100% recycled materials were expected to give enough Whitman students a hard-on to increase stock worth by 420%. Because the collection was yet to be unveiled and was therefore still classified, the OP's investment in Patagonia stock before Whitman students bought out the clothing was highly unethical and illicit.
The Outdoor Program has performed an "internal review," releasing this statement yesterday:
"After a thorough investigation, we report back with satisfaction that no fraudulent or dishonest activities of any kind have been taking place within the WCOP."
When the matter was brought to outgoing College President Kathy Murray by a concerned student, she allegedly shrugged, responding with, "Man, I don't know. I'm jumping ship in just a few months so I don't really care anymore."
The Wire interviewed various students around campus for opinions on the situation.
"I think it's shameful," said a senior student. "Whitman always claims to value transparency, and to know that this is what goes on in the basement of Reid… shocking and disgraceful. Is this really what Bob Carson would've wanted?"
"Wait, the OP invests in stock? What the hell? Why?" Another student shared.
The United States Federal Security and Exchange Commission has been alerted and declared they will investigate as soon as they've completed the "actual important shit we have to do." A few dozen students are protesting the Outdoor Program by walking the seven tenths of a mile to Pioneer Park to look at birds on their own accord, without paying the OP $45 to lead them there.