Actors who should play Garfield instead of Chris Pratt
Sammy Fitts, "White Introverted Raunchy E-Girl" Writer
November 18, 2021
Earlier this month it was announced that esteemed Mario voice actor, Chris Pratt, would also be the voice of America's favorite orange cat: Heathcliff- I mean Garfield. There is obviously one major problem with this casting: Chris Pratt is white, and Garfield is a cat.
Much like the actor's previous casting controversy, the internet is begging for anyone else to play our beloved lasagna-eating, Monday-hating, pipe-smoking, dog-abusing comic character. Here are some top contenders.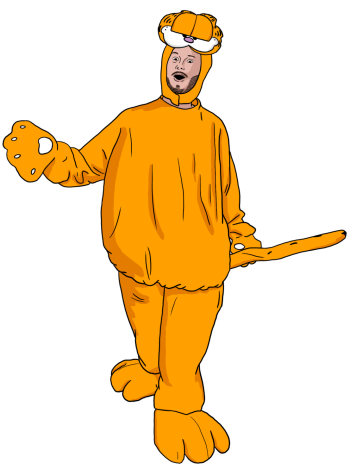 First on the list to play Garfield is Bill Murray. Murray voiced Garfield in the critically acclaimed Garfield: A Tale of Two Kitties, which started off the Garfield Comic Universe (GCU) by introducing the multiverse theory. People speculate that Murray's absence from this film hints to this movie taking place in universe 177-013, the one where Superman is turned into Garfield by a Chartreuse Lantern.
When it comes to cat-supremacists, no one is a better choice than James Corden. I don't remember if I ever saw Cats (2019), and if I did I was very high, but the only image I recall about that particular masterpiece was Corden looking like a fever-dream Mike Myers in  The Cat in The Hat. Additionally, I'm sure Corden's never done anything bad ever (ignore the blatant lies of my coworker Carmel Stephan).
On 7/27 of 1978, Garfield creator Jim Davis drew the infamous Garfield Pipe comic. This piece of art depicts Garfield smoking Jon's pipe. The very next day, Davis produced a comic of Jon taking his pipe back, realizing it's covered in cat spit, and giving it back to Garfield. This is all the evidence I need to know that Garfield is a heavy smoker, and therefore should sound like one. Due to this fact, number three on our list of actors who should replace Chris Pratt is a truckstop diner waitress who calls you 'hun.'
The important question, however, isn't who should be voicing Garfield; it's why the fuck is there a Garfield movie being made in the 2020s? We've had enough orange fat cats recently. When this sort of money grab pisses me off, I am forced to remember Garfield's famous catchphrase: "It's Monday already? I hate the Global Capitalist Industrial Complex."