Whitman Vampires Speak Out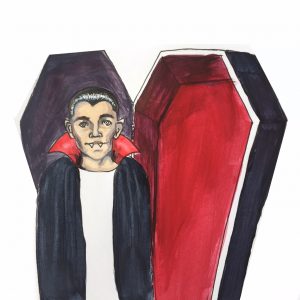 For many first and second-year vampires, living on the Whitman College campus is no easy feat. To begin with, most dorm rooms are not appropriately furnished with adult-sized coffins (a few rooms in North Hall being the exception). Moreover, some vampires who have been alive for many centuries often have trouble fitting in and understanding how to watch one whip and nae nae.
The two most challenging problems, however, seem to be Whitman's lack of sufficient sun protection and the abundance of garlic in dining hall foods. One first-year vampire, Eduardo Culeño, claims that he disintegrates into a pile of ash at least four times a day during his walks to and from class. According to him, the college should be distributing SPF 100 sunscreen to all residence hall bathrooms, next to the condom jars.
Another vampire, Eleanor Frances IV, says that the smell of garlic in Jewett Hall is unbearable.
"When I walk briskly yet mysteriously into the dining hall with my obnoxiously-long cape flowing behind me, the last thing I want to feel is the horrible stinging of garlic in my lungs. And there's this girl I always see who wears a My Chemical Romance shirt and who hisses at people that walk by her. She's trying to convince people that she's a vampire, but I can smell the garlic on her from a mile away. Not only is she disrespecting us, but she seriously smells like ass. It's like she ate a pound of garlic, threw it up and then ate it again."
Though the stakes are higher than ever before, Whitman College's Administration has yet to comment on the matter.