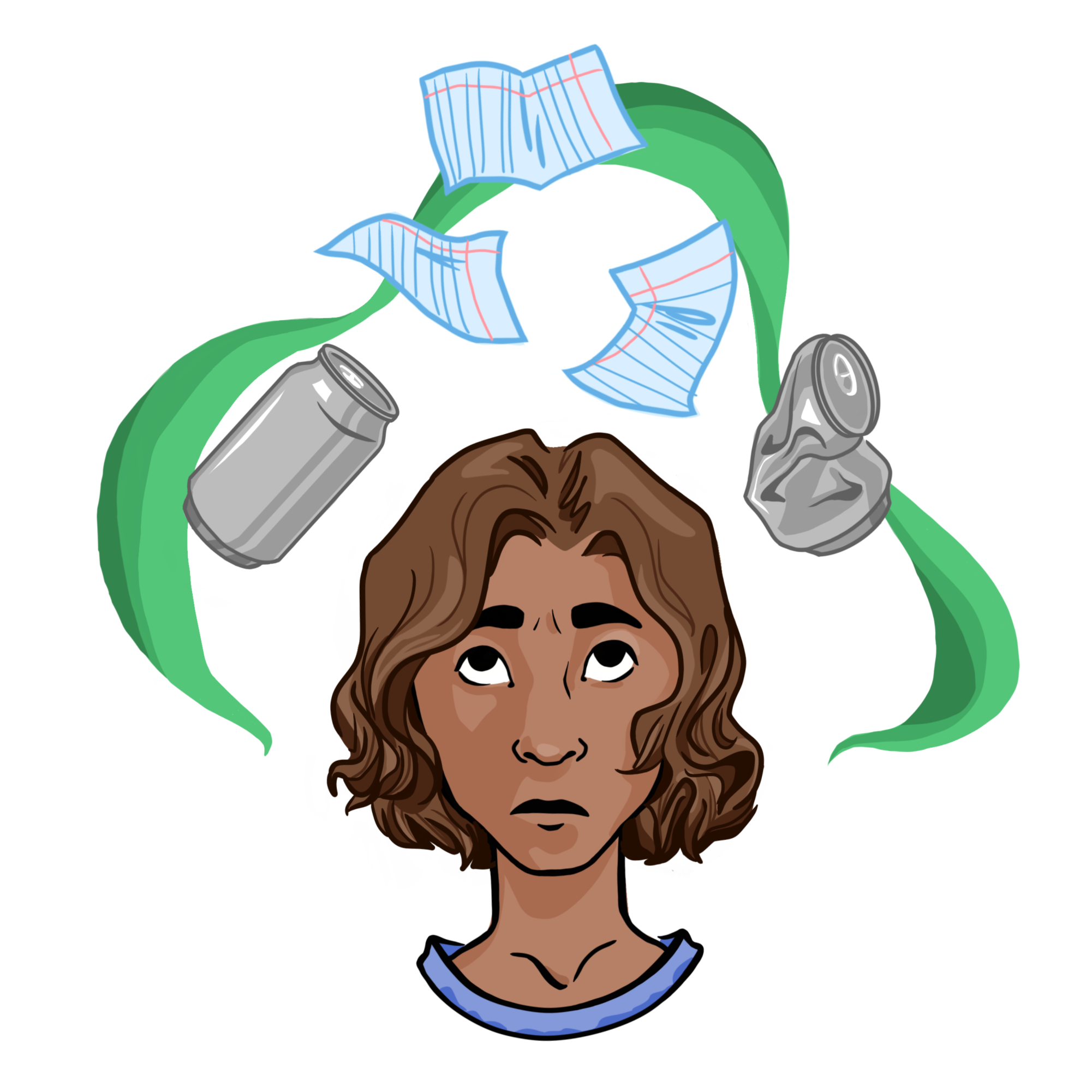 Every year, hundreds of new students from across the world arrive in Walla Walla for the first time, and every year, many of these students have to learn new recycling habits. Walla Walla does not recycle glass or plastic, a big change for some students. 
Abe Cole, a first-year from Bainbridge Island, Washington, said that he could recycle five different types of plastic in addition to glass, cardboard, mixed paper and metal cans in his hometown, much different than what he can recycle here. 
Cole said he learned about Walla Walla's acceptable materials (paper, cardboard, aluminum and tin cans) from a sign over the recycling area in his residence hall. 
"I was looking at a recycling can and it said, 'you can only put paper and aluminum in this can,'" Cole said. 
Some residence halls have added signage explicitly warning students not to place plastic and glass into the cans, demonstrating an increased effort to reduce Whitman campus's contamination rate. Whitman's Sustainability Manager Sarah Williams said that her office is making a concerted effort to reach out to new students. 
In addition to signs in residence halls, the Office of Sustainability offered a walking tour to first-years during Orientation Week, which included a stop at the Whitman Recycling Center, located behind the Environmental Studies Interest House. About 80,000 pounds of recyclable material from around campus was collected here last year, according to Williams. 
The Office of Sustainability is also training a group of students, called EcoReps, to promote sustainable practices in residence halls year-round. Williams said that EcoReps will be a new way to communicate with students about acceptable recycling materials, in addition to other sustainable living habits. The new program is modeled after similar programs on many college campuses across the country, including other small liberal arts schools like Pomona, Colby College and Amherst. Williams said that the EcoReps are getting set to roll out into residence halls later this month. 
All of this work on Whitman's campus is helping Walla Walla meet its own recycling goals. The city, along with many other communities throughout the United States, has struggled to manage its recycling program over the last several years after China stopped importing recycling in 2018. 
Beginning in the 1990s, China imported millions of tons of the world's trash, including huge amounts of plastic waste collected by recycling companies in the United States. In 2016 alone, a year before the import ban was announced, China imported 693,000 tons of plastic from the US. Initially, China purchased the waste because it was cheaper for the country to recycle already-made materials than it was to manufacture the materials from scratch.
More recently, however, the amount of un-recyclable material that was included with the plastic waste, known as contamination, made the importation not profitable. China announced it would no longer import plastic waste with a contamination rate higher than 1.5%, which it later reduced to 0.5%, effectively ending plastic waste imports to the country. Cities across the world, including Walla Walla, could no longer find a buyer willing to take its recycling mix because of how much non-recyclable material came with it. 
In 2020, Walla Walla decided that something had to be done to reduce contamination and make its recycling mix more attractive to buyers. Walla Walla City Council voted to suspend plastic recycling services until contamination decreased to sufficiently low levels. The city also embarked on a large publicity campaign, with demonstration videos, new stickers on curbside recycling containers and informational flyers distributed to all recycling participants in the city. They also have a website with resources that people can refer to for frequently asked questions, pickup information, and the context behind Walla Walla's recycling policy.
Shane Prudente, the Communications Coordinator at the City's Public Works division, said that many residents of Walla Walla practice "wishful" recycling. Community members place things they think could be reused, or they hope can be recycled, into their recycling cans. The City finds all sorts of things, from old socks to ceramic toilets jammed into the bottom of the curbside bins. According to Prudente, all of those non-recyclable items end up in the landfill anyway, costing the City more money than if it had been placed in the trash initially.
In 2020, the contamination rate of material that arrived at the Walla Walla Recycling Center was approximately 20%, according to an informational video on the city's website. A more recent recycling audit performed by Public Works found a contamination rate of only 10-15%. While that number is a sign of progress, there is still ample room for improvement.
One of the reasons the city is pushing for decreased contamination rates is how much it costs to deal with contamination. Prior to China's importing decision in 2018, Walla Walla was able to generate revenue from its recycling program by selling the material to Pioneer Recycling in Tacoma, Washington. Today, the economics are reversed, Prudente explained, as the same company now charges Walla Walla a significant fee to drop off the city's recycling facility. Every piece of contamination adds up, costing the city in both transportation and dumping costs. 
According to Prudente, Walla Walla is required by the state of Washington to provide recycling services to its residents, even if the program is costing the city money rather than generating revenue. Reducing the amount of contamination in Walla Walla's recycling mix would greatly reduce the cost of recycling for the city. That's why Prudente appreciates it when people take the time to educate themselves and reduce their own recycling rate. 
"The best recycler is a responsible recycler," Prudente said. His goal for recyclers in Walla Walla is to shift away from the current philosophy of, when in doubt, throw it in, it will get to where it needs to go, to, When in doubt, throw it in the garbage. Even if some recyclable material ends up in the landfill as a result of the mindset change, the amount of avoided contamination would improve the quality of the recycling system overall and save the city money. 
On Whitman's campus, educating first-years about responsible recycling is important as they build habits that will last throughout their time in Walla Walla. Extending the outreach and messaging beyond just Orientation Week will be important to cementing responsible recycling habits for this year's new students. In the avalanche of information given to first years during orientation, recycling practices can fall through the cracks. 
"It's kind of a whirlwind of a first week," Cole said. "I don't remember if the RAs said anything [about recycling]." 
Corin Iudicello, a first-year from Missoula, Montana, said that he didn't know if Walla Walla recycled different materials from his hometown. 
"I don't know that it would differ in any way from what I can recycle in Missoula," Iudicello said. "The RAs specified what to do with cardboard recycling, I don't think they talked about anything more than that." 
Reinforcing the Office of Sustainability's Orientation Week messaging will be important as new students get deeper into their first semester, which makes the EcoReps program the office is rolling out timely. Having a variety of ways to promote responsible recycling is important to the Office of Sustainability's goals as well as the City of Walla Walla's priorities. 
Looking towards the future of recycling in Walla Walla, both Williams and Prudente are optimistic. The city is hoping to reintroduce both plastic and glass service soon, with the help of grant funding for new processing facilities and reduced contamination rates. In the meantime, the city continues its educational push for responsible recycling among citizens, with Whitman playing its part to pass that message onto the newest members of the Walla Walla community.