Spending spring break in the outdoors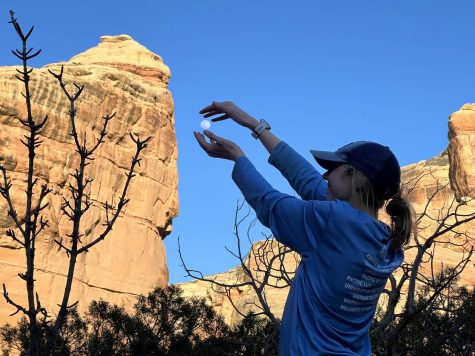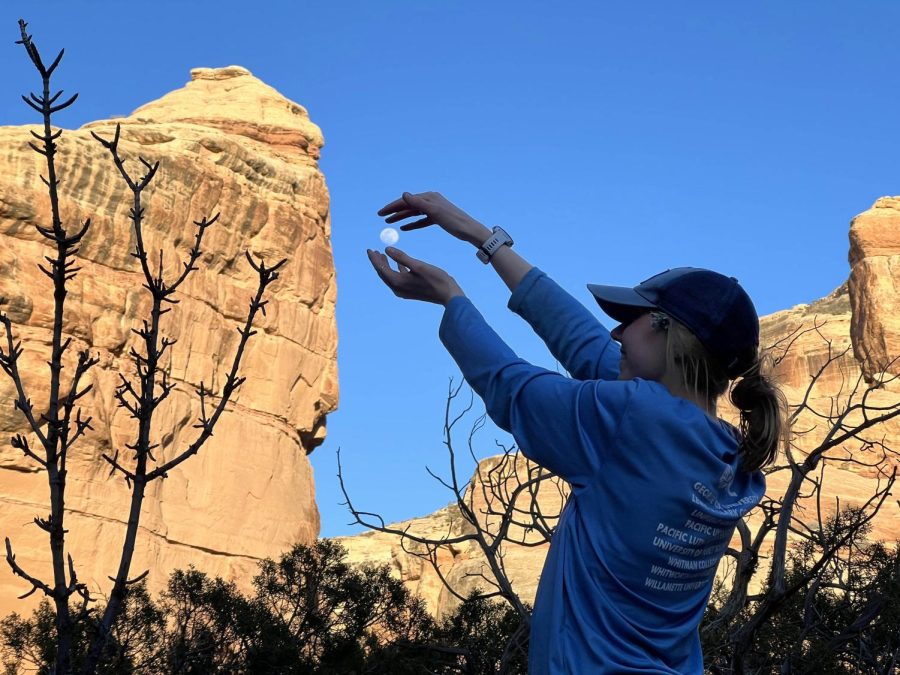 The Outdoor Program (OP) led four different outdoor trips over the course of the first week of spring break, for the first time since 2019. 
The trips primarily took place in Utah, featuring a backpacking trip in Cedar Mesa and canoeing on the Green River. There were also two Sports Studies, Recreation and Athletics (SSRA) trips, including an Outdoor Leadership trip to the Robber's Roost Canyonlands and another SSRA Canoe Guide Leadership class trip to the Green River in Utah.
Assistant Director of Outdoor Programs and Senior Adjunct Instructor of Sport Studies Stuart Chapin expressed his excitement to lead the SSRA Outdoor Leadership class trip to the Southern Utah desert to explore the Robber's Roost Canyon network, where students backpacked through canyons and over plateaus over six days.
"For me as an instructor, the goals of the trip were for the students to learn, to grow, to have fun. There were many moments where I could really see a lightbulb go off on their heads, where they were like, 'Oh, I get it, this is the way this map works,'" Chapin said. "The students that were in this class spend all semester getting trained up to be ready to lead trips in the future, and we have a lot of students leader trip leaders who are working really hard to learn first aid skills, learn various outdoor skills so that they can share that with other students."
First-year Angel Yiu was among the students enrolled in the SSRA Outdoor Leadership class trip. She described exploring the slopes and the canyons as fun and adventurous, as it allowed her to rappel down her fear of heights. She is interested in outreach projects to spread word about the Outdoor Program.
Yiu shared about the value of participating in the OP trips as a way to explore new hobbies, make new friends and have the opportunity to test your limits. 
"It is such a good way to explore Walla Walla or the places around it because when you are stuck on campus, you just feel like you are so confined in this one place. But with the OP trips, you have places that you can see. It is also fun because you get to meet new people," Yiu said.
First-year Luke Brennan was a participant on the same trip. For him, it was a "magical" encounter.
"We got there in the dark so we had no idea what the surrounding area was like. There was a sunrise in the morning and there were these huge frosted-tip mountains behind us and in front of us were all the canyons we were going to go down to… It was a magical experience, as we were the only ones out there," Brennan said.
The outdoors has become an important part of Brennan's college experience, and he hopes to encourage more people to explore the outdoors as a way to connect to something bigger than themselves. 
"For me, the thing I want to tell people about the outdoors is that it is not about the tough conditions, it is about distancing yourself from what is normal… There is less distraction and less responsibility to fit into this image that comes with society. You just wake up and do not care about that because you are out there to experience life for what it should be," Brennan said.
For senior Noah Willis, the head leader for the Cedar Mesa Canyonlands backpacking trip, this was a long-awaited trip he had been eager to lead since 2020. 
"It was a great group of participants. I really enjoyed it," Willis said. "We had a group of people [for whom] it was their first time backpacking and they all enjoyed it… I am very happy that they did that," Willis said.
Junior Ella Hill participated in the Spring Break OP trips as a co-leader in the Cedar Mesa trip, this being the longest trip she has led in her time as an OP student leader. Even though she was originally nervous, she described the experience as something special. 
"The last night was one of my favorite memories. We laid out under the stars; none of us used our tents that night. We just all laid out and chatted and laughed, and did stargazing, all in one line. It was really fun and we were celebrating the friendships that we have made," Hill said.
Hill hopes that more students will continue to join the OP trips and for people to love being in the outdoors as much as she does. 
"Go out and try it. Go out and have that experience. Everyone, the students and the leaders, are there to support you… We are all there to support you and to make sure you have a good time and experience," Hill said.
Staff members and student leaders at the Outdoor Program continue to work for students to share their passions for the outdoors, connect with their peers, develop leadership skills, and most importantly, for students at Whitman College to have fun in the outdoors. If interested in participating in the upcoming OP trips, the official Outdoor Program website at https://www.whitman.edu/campus-life/outdoor-program provides information for upcoming trips, events and resources for outdoor activities.