The lessons of wilderness travel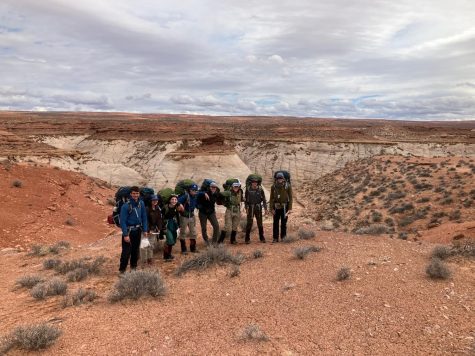 For the first week of spring break, Whitman's Outdoor Leadership class backpacked in the Canyonlands of Utah. The SSRA class prepares students to lead trips for Whitman's Outdoor Program (OP) by teaching leadership, navigational and other backcountry skills. Led by Assistant Director of Outdoor Programs Stuart Chapin and Whitman alumna Heather Domonoske, there were eight Whitman first-years and sophomores on this trip.
Students learned how to navigate the deep canyons of Robber's Roost, off-trail, using only a topographic map and a compass. Students also learned about leadership skills, how to cook delicious meals in the backcountry and how to travel through the wilderness by following Leave No Trace (LNT) principles. 
After several days of off-trail navigation practice, students were split into groups to hike the eight miles down Robber's Roost Canyon to a campsite by Angel Arch. This put navigational skills to the test, as splitting into smaller groups ensured that everyone would practice these skills before leading trips for the OP. 
As a student on the trip, my group took an initial bearing of the canyon to the south to assess the direction we needed to travel. After that, we began hiking, taking breaks every hour to stay hydrated and rest. We decided that since the hike was a straight shot down the canyon, frequent map checks were unnecessary. We did not check the map to see where we were or how much farther we had to go to get to camp. Our only bearings were periodic to determine if we were still hiking in the correct direction.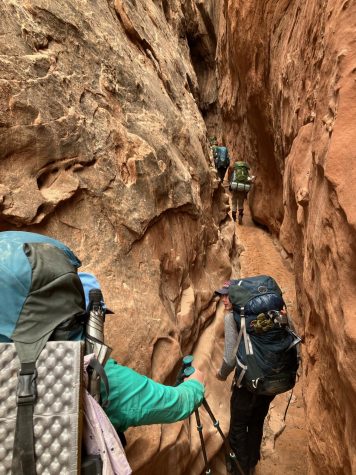 We had estimated that we would arrive in camp around 2 p.m., and so we were surprised to still be trudging down the canyon two hours later.  Around 4:30 p.m., we approached a barbed wire fence, which we were a bit confused to see. We went over it, assuming we were still on our way to Angel Arch. 100 yards later, we were even more shocked to see the Dirty Devil, a river we were not expecting to cross for two days.
We quickly pulled out the maps to find where Robber's Roost Canyon intersected with the Dirty Devil River, discovering that we had overshot camp by nearly four miles. We were disheartened to learn that we were going to need to backtrack to reach camp. 
After a short break at the river to refill our water bottles, we headed on our way back up the canyon so we could hopefully reach camp before dark. We ran into three kayakers who were day hiking up the canyon. Using a navigation app on his phone, a man in the group pointed us in the general direction of Angel Arch, where we were supposed to camp. 
We hiked silently and a bit more spread out, as the morale of the group was not too good. After backtracking for three miles, we heard other groups of students hiking down the canyon. We were relieved to be found. As others started looking around for a place to set up camp, our group began talking to Chapin and debriefing our adventure.
Reflecting on our experience that day, we learned how important it is to stay found by checking maps and identifying where we were and how much farther we had to go. We could stay found by taking bearings of landmarks in the distance to determine what direction to head in. 
We learned that everyone has the responsibility to keep the group from getting lost, whether as a designated leader or an active follower. Every one of us should have encouraged more frequent map breaks, more bearings to be taken and more attention to be paid regarding the surrounding topography, drainages and other terrain features. 
In remote backcountry areas, it is critical to remain found to avoid hiking when it is dark or becoming overly fatigued from backtracking. With a limited supply of food and uncertain weather conditions and access to water, it is important to arrive at camp at an appropriate time and keep backtracking to a minimum. 
Our group learned a lot about wilderness leadership and active following from our mistakes that day, and we have all become better leaders and backpackers. These vital lessons will serve us well in the future, as we begin to lead trips for the Outdoor Program, as well as for other wilderness camps throughout the country.