Walla Walla Tour de Fry
With just two issues of The Wire remaining, Publisher Marra Clay and I asked ourselves what we had missed this year. One word came to mind: food. Then another: fries. So we decided to embark on a selflessly (ful)filling expedition, the Walla Walla Tour de Fry. We visited local favorites The Green Lantern, Wingman Birdz + Brews, Public House 124 and Marcy's Pub to taste each version of the classic fried strips of potato that we know and love. Below is our recollection of the experience, documented through notes on napkins and remembered, albeit hazily, by Marra, Feature Editor Olivia Gilbert and me.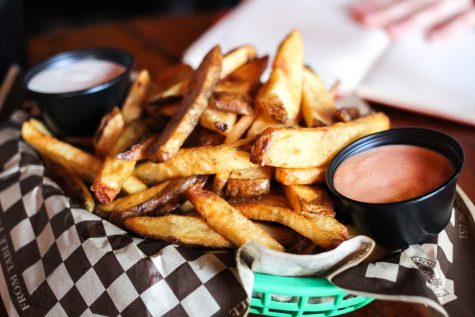 The Green Lantern $5.45
For many years, students have walked up Isaacs and visited what is perhaps Whitman's favorite bar, The Green. We arrived mid-evening on a Thursday and found a circular table placed right underneath a television tuned to the night's Mariners game. Knowing we had a long night ahead, we ordered the small fries. At $5.45, we gave these fries the highest "bang for your buck" score. The sizeable portion of fries arrived with small cups of fry sauce and homemade ranch nestled into the sides of the basket.
The fries were wonderful. Cut thick, with an outer crunch that combined with a pleasingly warm and gooey inside, we devoured our order with ease. Marra noted that the fries "tasted like real potatoes," and Olivia added, "I'm a little nervous."
We were all nervous. Worried about the impending evening of heavy eating yet needing something to wash down our food with, we limited ourselves to one drink each.
Though the fries were delicious, what really made them were the sauces. They were a bit under salted, which we countered with a deep dip in the ranch.
Verdict: An early favorite, The Green did not disappoint. Slight deduction for less salt than usual, but we loved these fries. 4.5/5 stars. Judging from the Whitman faculty also enjoying the food, the community agrees.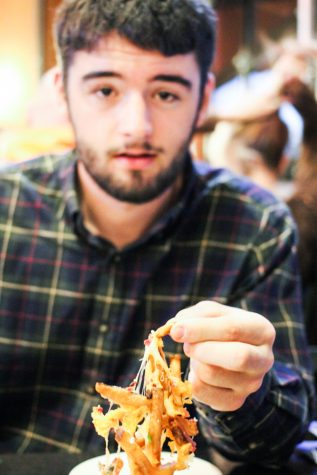 Wingman Birdz + Brews $9.59
The most recent addition to le Tour, Wingman boasts a fantastic beer selection and several chicken/fry concoctions. Think non-chain Buffalo Wild Wings, but better. Unexpectedly, we arrived to wonderful live music that was turned up just a bit too loud. Unable to hear each other to discuss our order, we opted for the Birdz Nest, a combination of house cut fries topped with melted mozzarella and cheddar cheese, bacon bits, diced tomatoes, sour cream and green onions.
These fries won the "tuxedo" award for being the best dressed of any we tasted. We expected nothing less at the whopping price of $9.49. The next time you see two types of cheese oozing from between thin fries topped with tantalizingly fragrant bacon, tomatoes, sour cream and green onions, you'll understand. Then we tried to remove a fry from the pile, and could not. At one point Marra picked up the entire dish and held it by a single strand of potato. The toppings tasted good, but glued the fries together in an impossible-to-share mash up. The fries themselves were nothing special either. I focused on my beer while the Mariners, on TV next to us, unfortunately lost their game.
"This is impossible to eat," Marra said, shoveling eight fries into her mouth at once for lack of a better option.
One bonus of Wingman is the 7 oz. drinks, which give you the opportunity to taste the plethora of unique beers and ciders that they offer.
Verdict: We liked the live music and good beer, but not much else. Maybe our dish was not meant to be shared, maybe I was bitter because of the Mariners or maybe their fries should be paired with their chicken and not left to suffer alone. 2.5/5 stars.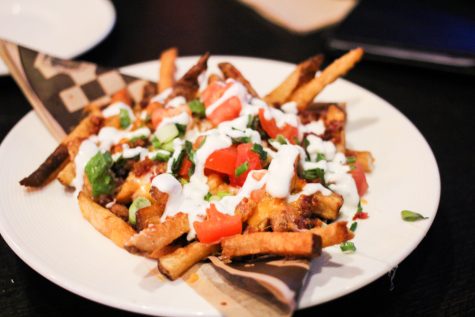 Public House 124 $8
Public House 124, affectionately called "Pub House," was not to be missed on our tour because of their famous truffle fries. However, when we walked in the door (which, granted, was around 9 p.m.- fairly late for a Thursday night in Walla Walla) the restaurant was relatively calm.
Pub House seems to still be figuring out their atmosphere. There's a hint of fine dining (or at least the expensive drinks and entrees would suggest such), the TVs of a sports bar, yet also an air of upscale drinking.
"Are they a nice bar or is it a pub? They can't figure it out," I muttered as we waited for our food.
Olivia was also confused about the aesthetic, "The TVs are weird to me."
Upon arrival, the dish was classily arranged. The fries themselves were in a separate white dish, with the ketchup and garlic aioli fry sauces on a side platter. The flavors were absolutely top-notch, winning Olivia's approval. However, were they worth the $8?
"I'm not into bougie-ass fries," someone said, probably.
An added bonus of Pub House is the wide variety of drinks. Marra was particularly pleased to learn they have gluten-free beer–an unlikely find in Walla Walla. However, she immediately regretted her choice when it turned out that the beer was made with lentils. No bueno.
We stayed at Pub House until they closed at 10 p.m., so if you are interested in dining there make sure to arrive earlier in the evening. However, the wait staff were not annoyed with our late-night fry shenanigans–our waitress was probably the most friendly of all that we met during le Tour.
Verdict: Though the garlic aioli and truffle fries were without a doubt the most delicious, the price is not fit for the average college student. Thus, we award the Public House fries 3.5/5 stars. But, if it's family weekend and your parents are paying for your meals, we highly recommend.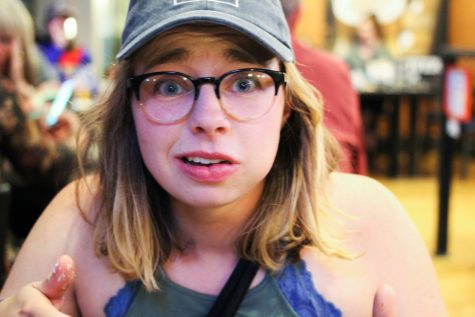 Marcy's Bar & Lounge $8
Our final stop on the tour brought a significant number of yawns, full bellies and bathroom breaks. Prior to entering, Marra channeled her runner's spirit and inspired Olivia and I: "This is an endurance sport!" Upon arriving, she promptly laid half her body on our table and exclaimed, "I'm so full!"
It took us a while to get to our final fried potatoes of the evening. First, we succumbed to the aura of the cocktail menu and, aided by the upselling bartender, ordered three $10 drinks. Oops. However, we do have to give it to them for the drinks. Olivia's cocktail was particularly special–a "thyme's up" that included white rum, lime and egg whites. We were all skeptical about the eggs, but it turned out alright.
Disappointed with ourselves yet determined to complete our task, we scanned the menu for the fries. In general, we were very impressed by food options at Marcy's. The menu included deep fried cheese curds, citrus chicken lettuce wraps and the ever-tantalizing bang bang cauliflower. Most students just go there for drinks, but the food really sounds amazing.
"Wow, I wish I wasn't already full of fries," Olivia said.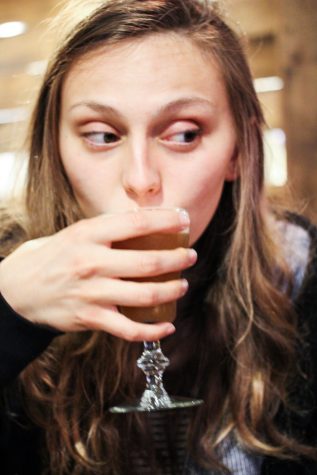 Deciding we had endured enough distractions from the task at hand, Olivia ordered the $8 garlic fries. Surprisingly enough, they seemed eerily similar to our prior stop. The fries came with truffle garlic sauce, feta cheese and a bit of parsley on top. After trying almost identical truffle-infused fries at Pub House, we weren't completely sold on these. The fries themselves were thick cut and had plenty of salt, but the garlic left us needing gum or a breath mint.
"These would be bad fries for a first date," Marra said, trying to wash the garlic flavor out of her mouth with a gulp of water.
Verdict: With full acknowledgement of our delirious states of mind, we were disappointed with Marcy's. Our expensive cocktails combined with another $8 order of fries hurt both our wallets and our already-full stomachs. Only 3/5 stars.
Olivia, Marra and I wandered back to campus full. Happy. Never wanting to eat a fry again. Until next week. "This was all for the greater good!" Olivia cheered, while I tried to figure out how my body would possibly process all of the potatoes that I had consumed. 
The Green Lantern wins our official Wire stamp of approval. It's cheap, the drinks are dependable and the fry sauce is worth the walk through the Isaacs' construction site.