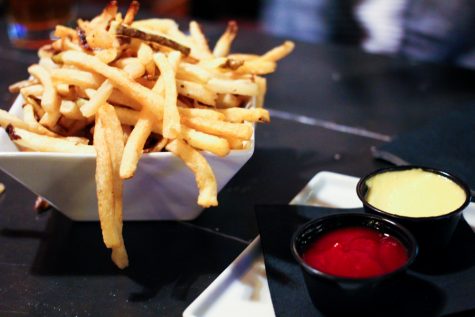 April 27, 2017

Filed under FEATURE, Front Page Slideshow
With just two issues of The Wire remaining, Publisher Marra Clay and I asked ourselves what we had missed this year. One word came to mind: food. Then another: fries. So we decided to embark on a selflessly (ful)filling expedition, the Walla Walla Tour de Fry. We visited local favorites The Green Lan...
February 19, 2015

Filed under A&E, Front Page Slideshow
On the corner of Main and Palouse sits Walla Walla's first wings and beer restaurant: Wingman Birdz and Brewz. Owned by Brendon Mendoza, a born-and-raised Walla Wallan, Wingman has been open for roughly two months and aims to build a strong and loyal local culture. When I walked into Wingman to speak...
POLLS
Loading ...
SPORTS SCORES
Sunday, April 16

Men's tennis

Whitman College 8 - Pacific University 1

Saturday, April 15

Baseball

Whitman College 2 - Linfield 7

Saturday, April 15

Baseball

Whitman College 1 - Linfield 4

Saturday, April 15

Women's lacrosse

Whitman College 15 - Linfield 5

Saturday, April 15

Men's tennis

Whitman College 9 - George Fox University 0

Friday, April 14

Baseball

Whitman College 3 - Linfield 12

Friday, April 14

Women's lacrosse

Whitman College 16 - University of Puget Sound 5

Sunday, April 9

Women's tennis

Whitman College 8 - Pacific Lutheran University 1

Saturday, April 8

Women's tennis

Whitman College 9 - University of Puget Sound 0

Monday, March 27

Baseball

Whitman College 3 - No. 18 Pacific Lutheran University 10