WEB gets spooky in first virtual Halloween contest
Mo Dow , A&E Reporter
November 5, 2020
The day before Halloween this year, WEB hosted its very first Virtual Halloween Contest in an effort to maintain the holiday spirit while following pandemic guidelines. Featuring a panel of judges and a wide range of contestants, the event was energetic and charged. Many people put some serious effort into their costumes. 
The contestants had a wide ensemble of costumes. Among the represented were the Loser's Club from the blockbuster horror movie "IT,"  two "minor goddesses of the Greek pantheon," the Mad Hatter, Nostradamus and a group who dressed as their characters from a game of Dungeons & Dragons.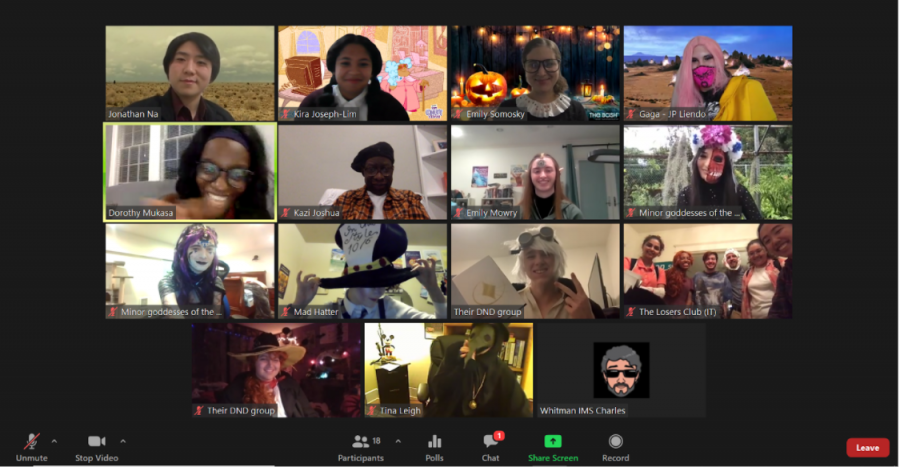 Jonathan Na, a sophomore and a chemistry major, was the driving force behind the event. He is passionate about both the holiday and the new online format, and was excited to play a role in spreading some of that Halloween spirit within Whitman community.
"Halloween has always been one of my favorite holidays — same for a lot of people — and in high school I always tried doing contests like these, but there were just a lot of logistics," Na said. "I never really got to do a full costume contest in high school, and I didn't really know how to my first year, either. But I thought that now more than ever it's important to have events that bring everyone together, especially in ways that keep us motivated to find an excuse to wear costumes."
Na said that one of the biggest parts to organizing the contest was finding a prize and to drum up interest for the event. 
"We've always found that big prizes are a huge motivator… I'm very pleased to announce that I was able to convince WEB to sponsor the event, and so, the grand prize is $350 in bookstore credit."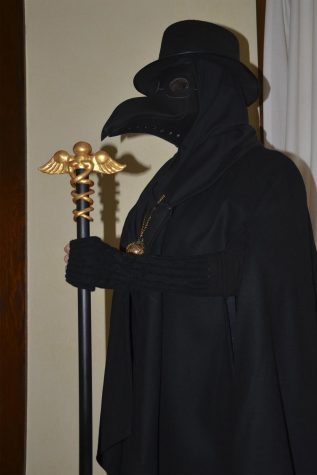 One of the contestants and winner of the 'non-fiction' category of the contest is Tina Leigh as Nostradamus. Leigh is the receptionist for the admissions staff at Penrose house, and was impressed by how smoothly the online event went.
"I really enjoyed it. I think it was easier than getting dressed up and going somewhere and having technical issues with the costume. There were no technical difficulties with this set up; there were no difficulties as far as I could tell."
She also added that she was excited to see that people were still able to participate in the holiday despite the pandemic. 
"I'm happy to see young people enjoying dressing up and costuming. I think it's a great, fun thing to be people that you admire, that you would like to be or people that you're afraid of. It's just fun to be someone else."
Leigh was also very intentional with her costume, trying to invoke a historical image of a plague doctor to show us that as unusual as life is at the moment, pandemics have happened before, and it's more than likely that they will happen again, too. 
"Part of the reason why I did Nostradamus is because he was a real person, a real soul, and his intentions as a physician were excellent — to heal. But how he looked when he went around to help victims was exceedingly frightening. I have to say that with all of the unusual things that are happening today, folks, sometimes truth is stranger than fiction. The fact that this happened 500 years ago and is happening now and will happen in the next 500 years — according to Nostradamus — well, we have a lot to learn from history."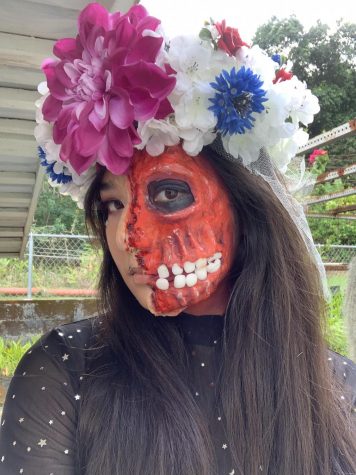 Despite the participants' enthusiasm, not everyone one has found the digital events to be a satisfying replacement. Student Kaitlynne Jensen, a sophomore politics major, hasn't been able to find comfort in online events.
"For me, I just feel like it's hard to replace something like that, where you are in person with people you know. Whereas, if you go to the virtual events it's possible you'll be there with people you don't even know," Jensen said. "It's just not the real thing." 
Regardless of how you feel about the holidays this year, certain people are still going to celebrate regardless. Yet, the ways people engage with each other — both online and in person — vary widely. Jensen experienced the safer side of Halloween this year, and although events such as socially-distanced candy-gatherings seem to be fairly mild, Jensen warned that there are more dangerous celebrations happening.
"People are getting so tired of being cooped up, and they're definitely going to go out this (Halloween) weekend and party. We're gonna see the repercussions of that."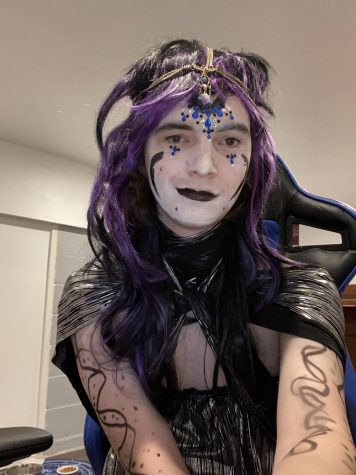 While in-person partying and trick-or-tricking are still taking place, online events like Whitman's Virtual Halloween Costume Contest are becoming a much more prominent part of how we celebrate holidays. Although Halloween has ended, events like virtual costume parties and other holiday celebrations are becoming an increasing  facet of a post-pandemic reality. Moving forward into the holiday season will look very different from any other in living memory. Many people are struggling to decide how to proceed with family gatherings; college students are torn between going home to see their families and the potential risks of travel not only to themselves but to people around them. Virtual holidays may not be a perfect solution to these problems, but at least they can help reduce the number of in-person gatherings while still keeping up people's morale. 
Congratulations to the costume contest winners!
Non-fiction: Nostradamus- Tina Leigh
Fiction: Mad Hatter- Banyan Moss
Best Costume, and Grand Prize Winners: Minor Goddesses of the Greek Pantheon – Kaleo Toguchi Tani + Clover Beaty!