One Act Play Festival offers theatre for students across communities
This past weekend, the Whitman Department of Theatre put on the One Act Play Festival, where three, roughly 20-minute one act plays were showcased at the Alexander Stage in Harper Joy Theatre. Students anonymously submitted original scripts to a panel of professors and students, and three were selected out of those submissions to be directed. During performances, these entirely student-led productions also competed with each other to win best one act; after the show audience members had the opportunity to rank each play from first to third. 
The lineup consisted of the plays "Stray" by Oriana Golden, "The God Auditions" by Rachael Goldsmith Zucker and "Break" by Annabelle Hannan, which covered a variety of topics from examining domestic violence to challenging the narrow definition of what God should be.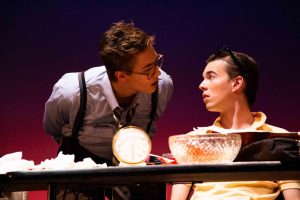 Although student-run productions have their challenges, sophomore Hannah Rudman, who starred in "Stray", had a great experience working with a student director.  
"I really loved that aspect. I was in a one act last year as well, and having a sophomore director that was my same age made the process a lot more collaborative and way less authoritative," Rudman said. 
Junior Emily Froming really enjoyed the festival and appreciated the range of genres presented this year. 
"I think the nice thing about the one acts is that each one had its own flavor, and there was something for everyone," Froming said. 
Differing from years past, one of the plays this year was a comedy. Last in the lineup, "Break" showed the process of Kit Kat marketing agents from the 1980s accidentally coming up with the iconic jingle, "Break me off a piece of that Kit Kat bar."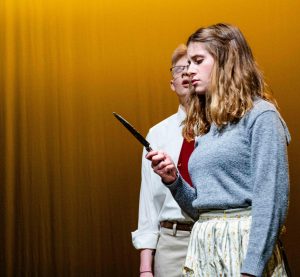 "Break" writer Annabelle Hannan talked about her involvement in the production process. 
"The writers get to choose how involved they want to be, and I chose to have a pretty low involvement because I figured the script was a good baseline for the director and actors to run with," Hannan said. "I was also a little too close to it, so I wanted to see what somebody else would come up with in terms of direction. I chose to stay away until the first dress rehearsal, so it was really interesting to see how it translated onto stage — for example, there were parts that were a lot funnier on stage than they were in the script." 
Hannan also saw the festival as a good opportunity to submit writing and give people an incentive to produce original work.
"I'm a psychology major, so I think it's a great way for people who aren't in theatre to get involved. I have no business writing a play — it's just that Whitman told me I could," Hannan said.