"Disaster!" gives Whitties disco fever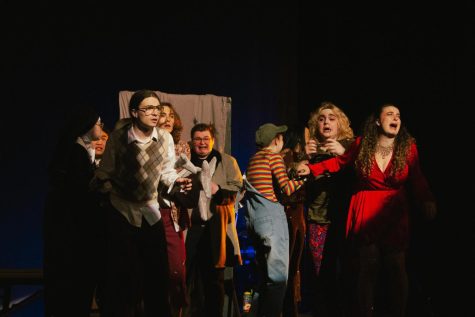 Whitman Musical Theater Project's production of "Disaster!" transported audience members into a zany casino adventure that wove through the ensemble cast's romances, secrets and fears. The musical written by Seth Rudetsky and Jack Plotnick features charming characters who fought their way through earthquakes, tidal waves, rat infestations and fires to a musical soundtrack taken straight from the legendary disco artists of the 1970s. Playing off of tropes from disaster movies popular during the decade, the show was able to take grave situations and exaggerate them to a comedic level while sneaking in some heartfelt moments that kept you rooting for (most) of the characters. 
The opening night of "Disaster!" on April 20 was met by a full house, with showings continuing through April 23. The production, directed by sophomore Kellen Flynn, was the second student-produced show put on through the Whitman Musical Theater Project, and it required many long hours from cast and crew to become a reality. 
For senior Sienna Axe, who was the lighting designer for the show, "Disaster!'s" quirky plot made her work unique from previous productions, giving her the opportunity to design lighting that included everything from sensuous lava lamps to ominous flickering lights dancing across the stage.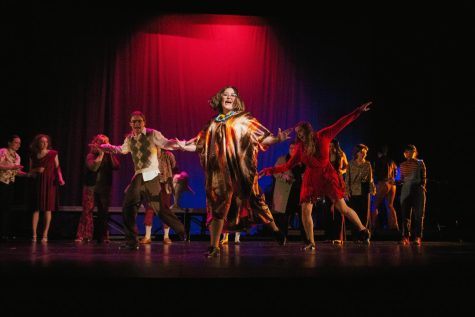 "We got to ask for permission to use the disco ball the department has and use a lot of really bright colors," Axe said. "There are a lot of scenes with people drowning or being flooded, so there's been a lot of out of the box thinking from everyone getting all the water lighting, the disco lighting [and] the earthquake lighting [to] come across." 
The show's costume designer, senior Chloe Williams, mentioned how "Disaster!'s" retro concept and energetic plot allowed her to turn straight to 1970s classics like "Saturday Night Fever," "Airplane" and "The Poseidon Adventure" for aesthetic inspiration. 
"This is an ensemble cast and each of the characters are very different and leaning into the 70s tropes. I took a very character-forward approach doing that analysis [for the costume designs]," Williams said. "From there, I took some inspiration from 70s movies. I had a love of 70s fashion before, so it was fun to incorporate those design aspects." 
Because of all of the hard work put in by the students behind the scenes, the energy of the opening night's audience was palpable. Sophomore actor Joshua Cox, who played scientist Ted Schneider, described the validating and rewarding nature of the community's enthusiasm while watching the production. 
"Right when I got off stage, I was just buzzing with energy. It was an amazing, unmatched feeling unlike anything else I've experienced in my life, really," Cox said. 
For Axe, "Disaster!" represents another victory for the rebirth of Whitman's student theater scene, something that is critical to growing engagement with the arts on campus. 
"I hope that Whitman can get a more thriving student theater scene," Axe said. "A lot of other colleges do, and Whitman really did in the 80's and still kind of uses that reputation to advertise to [prospective students] who are interested in theater. We really owe it to people we've told that to to bring it back." 
Cox explained that the student theater scene is a critical tool for getting non-majors involved in theater and providing a source of joy to both performers and audience members. 
"It's something important that we're doing, bringing this really fun show to the community and letting students who are interested in theater, and may not want to be in the department or be theater majors like myself, have the opportunity to explore that area more. It's just really valuable all around," Cox said.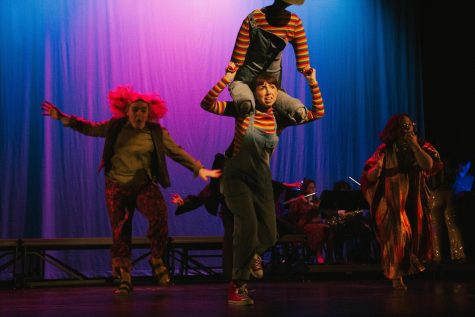 Williams emphasized the importance of continuing theater engagement across class years and reflected on her role as a mentor. 
"I'm proud of all the work everyone has done, and I think as a senior, my role maybe is to [tell] students to 'Go with your gut. You've got it. Trust your instincts; trust your creativity and go for it,'" Williams said. "That's what theater is all about." 
All the work done for the show has paid off to create an encapsulating result. First-year audience member Tessa Schwartz described their viewing experience as a source of inspiration to pursue theater further. 
"It made me want to audition for [theater productions] again. I haven't done musical theater since eighth grade, and after ["Disaster!"], I was like, 'Damn, that looks so fun and everybody is having such a great time.' That is a feeling that I miss," Schwartz said. 
It's clear that Whitties who took a gamble and enjoyed "Disaster!'s" funky casino adventure were rewarded with a night of joy and laughter, leaving the campus community looking forward to the next production student theater at Whitman will put on.