Studio Series sparks dialogue about dance
Hosted during the first four days of December, this year's Studio Series captured the natural connections between art, academics and activism. Rather than understanding dance as an art form that exists purely for the sake of its aesthetic beauty, the three artists invited to the college explored complex and pressing themes throughout their performances, workshops and moderated discussions. 
The Studio Series has become an established part of Whitman's vibrant arts scene, and 2022 marked its eighth anniversary. Although the Studio Series is usually hosted in the spring, theater and dance faculty reached out and invited performers Sadiqua Iman, Mina Nishimura and Christopher Williams to campus before the fall semester came to a close. Each artist hosted a performance on a different night throughout the week that was supplemented by a separate mediated discussion and dance workshop.
Each of the artists explored unique themes, giving audience members the opportunity to gain something new out of every night of workshops and performances. 
Junior Katherine Harris described the series as a way to expand understanding of dance performance. 
"[As a dancer], the Studio Series is such a cool opportunity to have different artists come in and to be exposed to the vast pockets of dance and movement that there are," Harris said.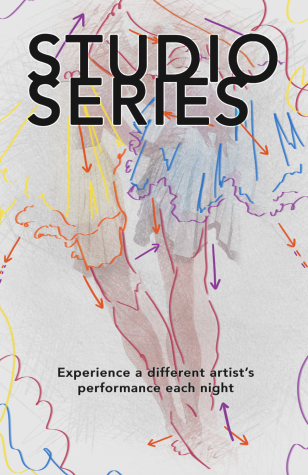 For Williams, whose piece was performed on Dec. 3, the transformative potential of performance created an opportunity to reimagine supernatural and mythic themes in a new context. Williams's use of music, visuals and choreography created a fully immersive performance that transported the audience into a world of beauty and wonder. 
"I'd like to help show or remind students that contemporary dance can be a vehicle for the expression and evolution of queer narrative, as it relates to our mythic and folkloric traditions [by] updating what older art forms have done in the past," Williams said. 
Iman, who performed on Dec. 1, explained that when dance practices extend beyond the stage, they enrich our day-to-day lives. While preparing for the Studio Series, Iman first reflected on her personal lived experience as a Black person. By incorporating lived reality into the performance, Iman was able to create a work that called the preconceived notions of the audience into question. 
"I hope that people walk away feeling like they were able to bear witness to a truth that was not meant to alienate them, but simply crack the door on a reality beyond their own," Iman said. 
For Nishimura, who performed on Dec. 2, the Studio Series created an opportunity to center on Butoh dance practice. Nishimura was able to develop a score that was unique to the surroundings of Walla Walla. 
"I am curious how audiences experienced this particular physical modality of being moved by external forces and beings. I hope it inspired them to liberate their body from [a] socially pre-conditioned sense of self," Nishimura said.
Harris reflected on how Nishimura's use of somatic practices like breathing exercises and shaking helped her to decenter herself as a subject in dance, explaining that the performance would change the way she interacts with dance in the future. 
The Studio Series brightened up cold winter evenings for attendees and centered on the transformative properties of dance and performance.