Harper Joy Theatre presents "The Climate Change Project"
On Thursday, April 6, the Whitman College Theatre and Dance department debuted its latest show, "The Climate Change Project." Through the rehearsal process, the actors, alongside guest director Annaliese Lawson from the Yale School of Drama, created this devised piece from scratch. The show addressed issues related to climate change.  
Sophomore cast member Aiden Wolf is a tribal member of the Umatilla Indian Reservation and part of the Cayuse tribe. He wants to pursue acting as a career, and he auditioned for the show hoping to gain more experience. So far, he's enjoyed his college theater experience.
"[The education I get here has] been very helpful. You notice the difference between high school and college; once you get into college, you finally get to pursue what you want to pursue and more," Wolf said. "My father always tells me, 'The most successful people in the world are the ones who are the most prepared,' and, likewise, Whitman's done a great job preparing me."
His role in "The Climate Change Project" was his first show post-COVID.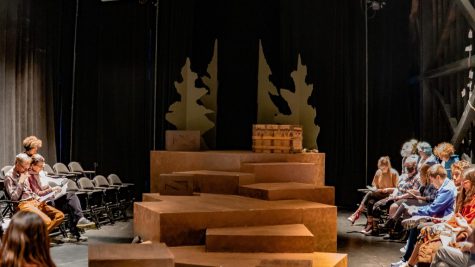 "We were the creators, and the director kind of put it all together. [Anneliese Lawson] edited a few of my scripts, and I was able to come up with my created characters PB and The Native American," Wolf said. "The cast was amazing, and Annaliese has been probably one of the most amazing people I've ever met … She inspires me to keep going in my career as an actor; I hope to take it as far as I can."
First-year Jonathan Becker also acted in the show. With interest in theater but limited experience, he thought it might be something fun to try out. 
"I think this is a great show because the ensemble is great. We've been working together for about four weeks on this production, and we've just grown really close. We play and joke around a lot backstage. There's camaraderie among the ensemble, and that's what makes an ensemble, an ensemble," Becker said.
Becker commented on the humorous tone of the play juxtaposes talking about a serious topic, like climate change.
"When you come to our show, we hope that you learn something. We do that through comedy because climate change is a serious topic, and the comedy gives a little levity to it. There are serious moments throughout our show, but even though there's levels of deepness [and] sadness, [there's] a lot of joy and hope," Becker said. "It's a good way to relax, unwind and laugh. Our audience laughs a lot, and we have a lot of fun."
Becker's favorite show memory is hanging out backstage with the cast, and he also enjoyed the process of devising the show.
"We used a conspiracy theory wall technique [where] you write a bunch of ideas on paper, hang them on a wall and connect them with string. Eventually, those become the scenes in the show through those connected elements; creating that was great," Becker said. "The props in our show and costumes are really great. Again, I think back to the five of us just being a great cast."
Becker says the show's topic came out of the academic theme for this year. He hopes that the show contributed positively to the discussion around "Climate Justice, Climate Action."
First-year Sybella Ssewakiryanga enjoyed "The Climate Change Project" from the audience.
"I thought it was really funny and it made a lot of good points and interesting ideas about climate change. I think it was a good call to action for people to start focusing on the effects of climate change and recognize that [we really have] to do something about it," Ssewakiryanga said.
Ssewakiryanga took away from the show the importance of consciousness towards climate change, the effects our actions have on it and the idea that even the small things that we do can make a big impact. 
"We need to be aware that there's a climate crisis going on. We have to make sure that we're practicing [sustainably] so that we're limiting the amount of waste that we contribute to the environment," Ssewakiryanga said.
The three-day-run ended on April 8, but the Whitman community is sure to remember "The Climate Change Project" long after the final curtain call.