Opening night of "bare" is here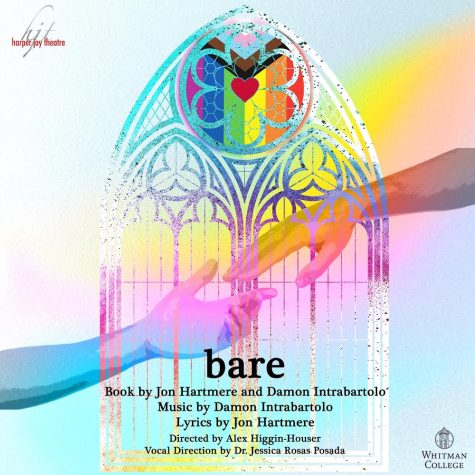 After five fast weeks of preparation, Whitman's theater department is prepared for Thursday's opening night of the musical "bare." Written in 2000, the musical's themes of self discovery, identity and perseverance still offer valuable messages to modern audiences. Set to a score of contemporary music, the show follows the story of main characters Peter and Jason as they navigate through conflict in their relationship while attending a Catholic boarding school.
The moving parts of singing, choreography and acting made the show a unique challenge, calling upon cast members to give their all to be fully prepared for opening night. Visiting artist Monica Harris, who plays Sister Chantelle, explained that re-entering the world of musical theater provided an exciting opportunity for her to display a different skill set.
"Overall, it's been a really wonderful process. Of course, it's been a lot of pressure, but it's pressure that I like," Harris said. "I thrive off of a challenge, and I feel like this show has given me a wonderful challenge because it's been some years since I did a musical."
First-year Esme Fife-Adams explained that a lot of their personal focus surrounded character development and creating a role that fit them well. They explained that they hadn't seen themselves playing the role of Matt before casting, but personal work with guest director Alex Higgin-Houser has helped them to reach their full potential.
"For me, that was really hard because as a queer person, Matt does some things I personally find very upsetting and harmful … [My focus] was a lot of figuring out my version of Matt and figuring out how he's different from the traditional version of Matt," Fife-Adams said.
Sophomore Kellen Flynn, who plays Peter, prepared for his singing-intensive role by making diet changes and keeping a vaporizer in his room. Flynn explained that despite the short preparation time frame, the level of dedication put in by everyone involved in the production created a closely bonded cast.
"This cast is really tight-knit, and we are all really excited to be telling this story. It's been really positive, and we're all sad that it is ending soon. We all want to live in the world of the show for a little bit longer," Flynn said.
David Kretz, who plays Jason, agreed and mentioned how the intensive preparation process created a unique opportunity for bonding.
"The rehearsal process has been intense, and it's been a ton of work, but it's been a really fun and rewarding process. I think I've been able to improve a lot and become closer with many people in the cast," Kretz said.
"bare's" central discussion of queerness made it a personally fulfilling production for many members of the cast. Harris explained that having cast members of all different backgrounds and identities come together to make the production a reality made the show feel especially valuable.
"It's a coming-of-age story among queer youth. In the contemporary music realm, there isn't a lot of that. Being able to see a queer lead story shouldn't be a new precedent," Harris said. "At its core, the music really speaks to the different dynamics that come with understanding who you are when it comes to who you love and how you see yourself."
Flynn explained that the show's central theme of queerness provides a valuable learning opportunity and reminder for members of the Whitman community.
"I think all good theater should be provocative. Especially at a school like Whitman, I feel like seeing a story like this will remind people who come from more privileged backgrounds … of what it is like to grow up queer in less accepting areas. It is a nice reminder of what our community has been through," Flynn said.
All cast members encouraged audiences to come enjoy the astounding payoff of weeks of effort from the theater community. The show's opening night is Nov. 10 and it will run through Nov. 13.