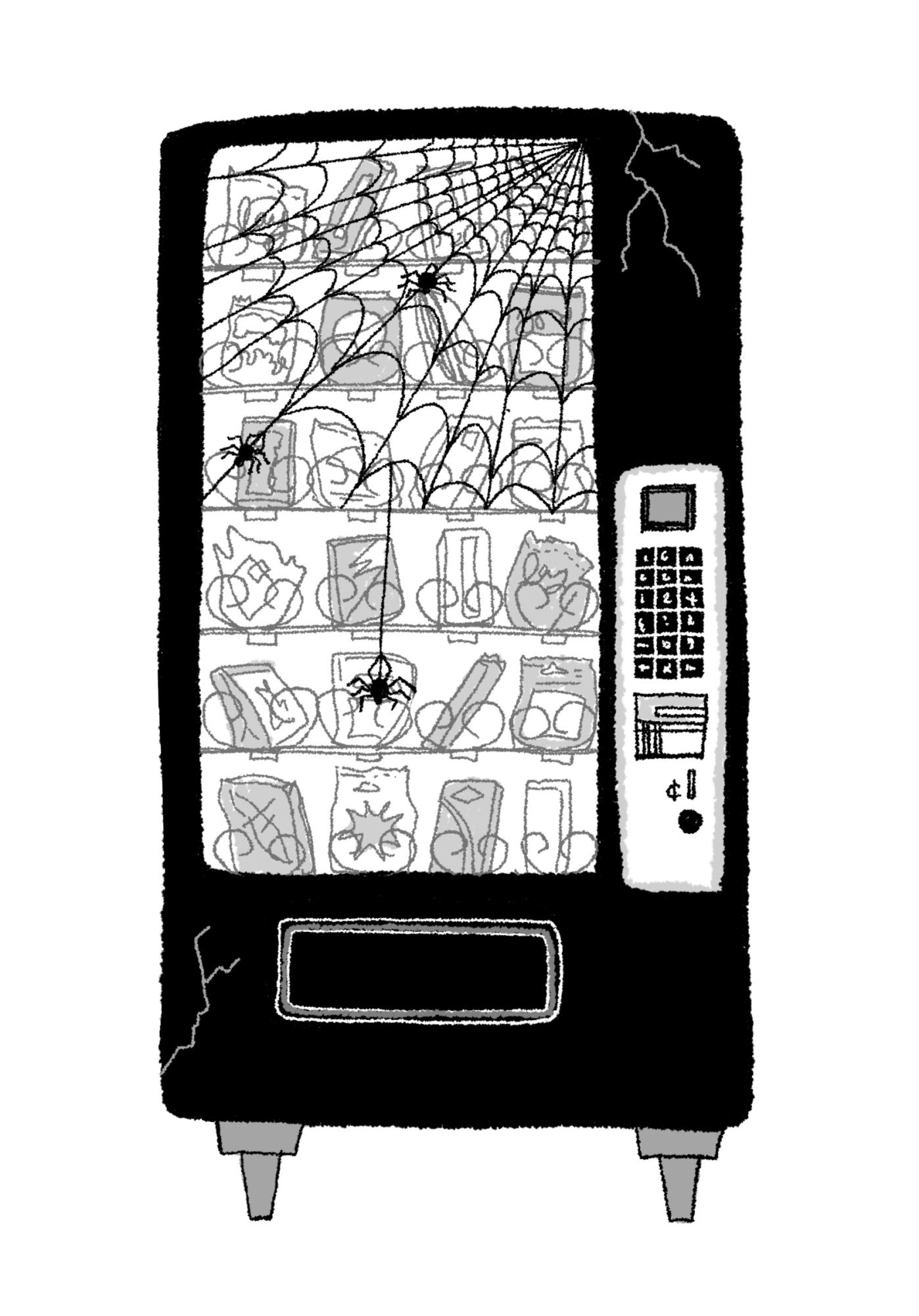 During a Sept. 10 Associated Students of Whitman College (ASWC) Senate meeting, representatives discussed possibly eliminating vending machines.
This conversation comes as Whitman College moves forward with its broader strategic plan, the themes of which include environmental justice, sustainability and climate action. The themes were approved by the Board of Trustees in June 2023.
Vice President for Finance and Administration Jeff Hamrick arrived at Whitman in April and inherited the vending machine debate along with his position. 
"Vending machines consume electricity, they are — to some extent — noise pollutants. They provide calories that are maybe not the level of nutritional density that we would hope for for our students … and they often involve the use of single-use plastics and plastic films that are probably problematic within the college's sustainability goals," Hamrick said.
The College's contract for the vending machines is due to expire soon.
"Vending machines are currently managed through a contract by Coca-Cola. That contract will wrap up or need to be renewed in spring of 2024, and so the time to begin planning some contingencies or some options for the college would be now," Hamrick said. 
The College's contract for the vending machines also overlaps with scoreboards in the Sherwood Athletic Center. 
"There is an agreement for the way that the vending machines are managed and the revenues from them are split, but a key economic feature of the existing contract is that [Coca] Cola is the sponsor of and purchaser of the current scoreboards that are in Sherwood," Hamrick said. 
While the decision of whether or not to continue the contract falls to the College, ASWC President Basil Shevtsov believes that ASWC has "significant sway" over the outcome.
"Making data-driven decisions that reflect the sentiment of the student body is really important. This is why I plan on sending out a survey to get data on what the general sentiment is and provide that information to the Senate so they can make an informed vote," Shevtsov said.
ASWC Sustainability Chair Owen Jakel emphasized the importance of getting out a survey to the student body before any potential resolution.
"For this vending machine [survey], we're trying to get it out quick. It'll probably be a Google Form," Jakel said. The survey was emailed to students on Sept. 19; the survey closes at 11:59 p.m. on Sept. 21. 
Both Jakel and Shevtsov are currently undecided on any potential resolution, though they emphasize their role as delegates to represent the student body and their interest.
"I'm also an RA, so I see how much they're used in residence halls, and my inclination was that they're not used a whole [lot]. But then this year, being in a Res Hall, I've noticed they're getting used a lot. According to Jeff's metrics and actual data, it looks like really they're not getting used that much," Jakel said.
The effort to get rid of single-use plastics also parallels larger college efforts to improve sustainability, as measured by scores on the Association for the Advancement of Sustainability in Higher Education (AASHE) Sustainability Tracking, Assessment and Rating System (STARS) report. The college received a silver rating from AASHE in June. 
The college takes the survey every three years, although it can retake the survey early if it believes it has made significant progress toward sustainability.
"We are excited to see that we have gained points from the last submission (2020), and will continue the path to Gold for our next submission. We are in the process of looking through the completed report and identifying opportunities for improvement," said Sarah Williams, Whitman's Sustainability Manager.
Hamrick views vending machines as a potential way to cut down on single-use plastics, but only part of a larger sustainability effort.
"I believe that The College's policies and practices with respect to single-use plastics feed into some of its answers on the survey, which, if they're favorable, then can result in more points being earned for certain questions and therefore a higher rating. That's an ancillary benefit for us to do this, but it's not the primary driver," Hamrick said.
Jakel reiterated that vending machines are a minuscule part of a broader effort toward sustainability.
"I think what is important to think about with this issue is vending machines end up being a small piece of a larger sustainability focus and hope for what the school can move toward," Jakel said. "But I think we can also walk and chew gum at the same time; focus on getting rid of some vending machines, while also focusing on really progressive moves toward sustainability."