Delayed, shorter and online: Greek life's unconventional recruitment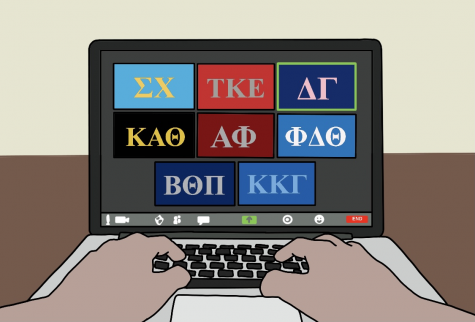 A semester late and now, entirely online, Whitman's sororities and fraternities completed formal recruitment in early February. 
Primary Greek life recruitment is traditionally held in the fall, but given last semester was entirely online, the Greek life governing groups — the Inter-Fraternal Council (IFC) and Panhellenic Council — decided to postpone recruitment. 
IFC president Alex Pratt, a junior member of Sigma Chi, said that the fraternity recruitment timeline was changed to line up with the sororities' recruitment. 
In years past, fraternity recruitment took place over the course of two to three weeks so that each fraternity could host a party and an off-campus trip before members of each chapter voted on which potential members to offer bids to. This semester, fraternity recruitment took place over the course of a week in February. 
Pratt said that each day, the potential recruits could pick up lunch from one of the fraternities and then share a conversation and meal with members of the fraternity. Then in the evening, a different fraternity hosted a live stream where they shared more about their organization. 
"[Recruitment] being online wasn't perfect," Pratt said, "but I think it did give us the opportunity to emphasize that these are values-based organizations and not drinking clubs."
Pratt said that approximately 25-30 men joined fraternities so far this semester, down from 63 students in fall 2019. He added that hopefully more members of the class of 2024 will join fraternities in the future and that students who are interested can still reach out to individual fraternities for a process called "snap bidding." 
The sororities are also continuing to recruit new members after the end of formal recruitment. Emma Anderson, a junior and Membership Chair of Kappa Kappa Gamma sorority, said that women interested in joining a sorority after formal recruitment should consider continuous open bidding (COB).
"In terms of Kappa Kappa Gamma's guides on continuous open bidding, it will be two or three meetings where you get to know the girls and you get the same explanation of our philanthropy, our house and the expectations that go into joining a sorority and all the amazing opportunities that come from it," Anderson said. 
During formal recruitment, potential new members (PNMs) are required to meet with all of the chapters. For COB, PNMs can select which chapters they are interested in and meet only with those. This year, the Whitman Panhellenic Council is sending a pamphlet with information about all the sororities and their costs to everyone interested in COB. 
Anderson said that each chapter could offer bids to six people during formal recruitment this year. This quota is based on the number of PNMs participating in formal recruitment. 
The schedule for online recruitment featured many of the same events as years past, but the online format limited each chapter's ability to fully share their formal recruitment traditions. 
Astrid Ketcham is a first-year student who joined Alpha Phi during formal recruitment last month. Ketcham said Greek life is a big part of the college experience in her home state of Arkansas, so she was really excited to join a sorority at Whitman. 
Ketcham said that she enjoyed recruitment from the comfort of her room, but felt that she missed out on some of the recruitment traditions over Zoom. Greek life has given her an opportunity to meet new people and make new friends, she said, despite the safety constraints limiting gatherings. 
"I think if it was a normal semester, it would be a lot easier to go into everything, but even with it being an awkward semester I feel like I've still gotten to know a lot about Alpha Phi. I've met with the girls that I pledged with and gotten to know them, and they're the sweetest people ever."