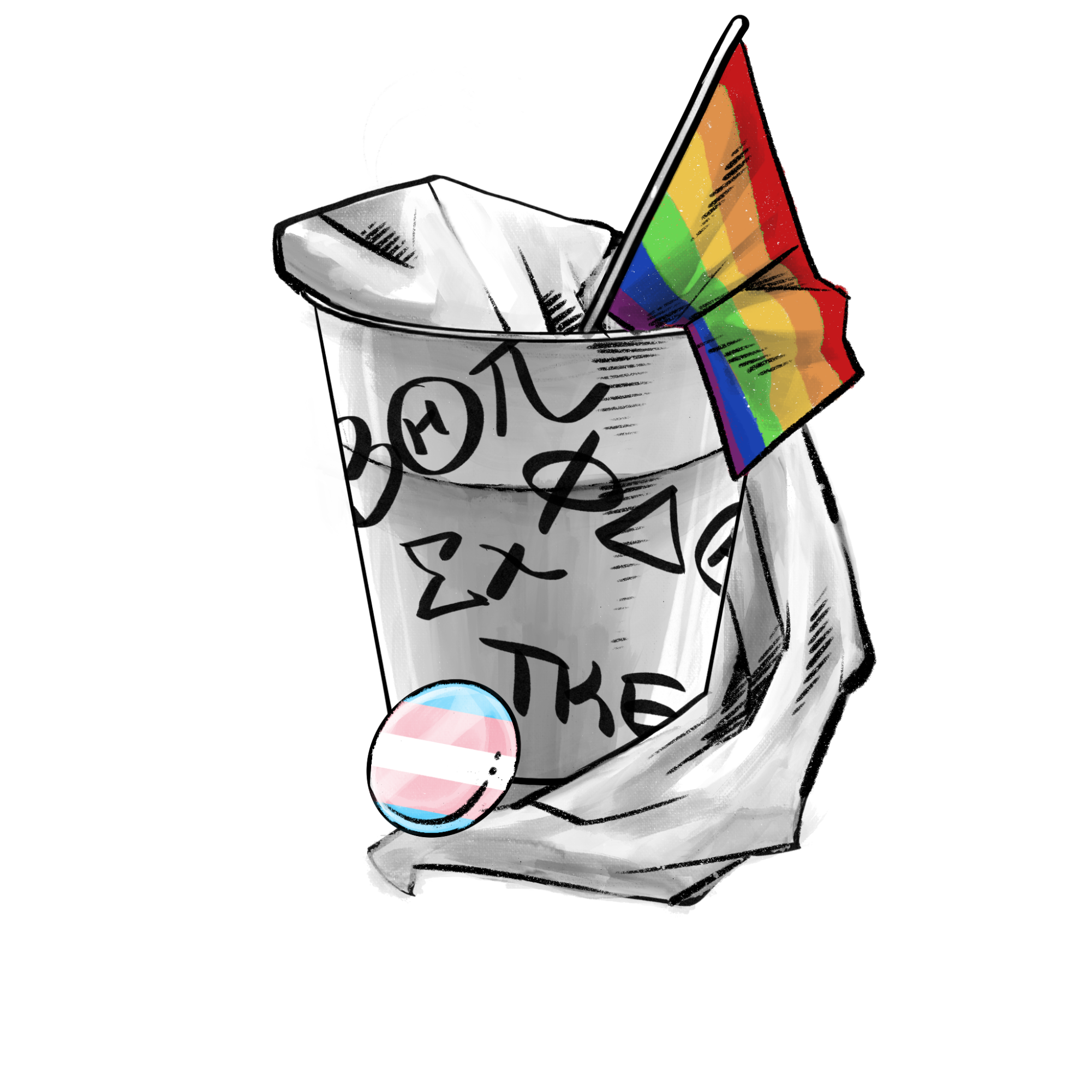 Fraternities and sororities are often seen as reinforcing damaging gender stereotypes and toxic masculinity and toxic femininity. However, Greek life can also provide safe and affirming spaces for individuals. Across the country, we see pushes for reform and controversy over Greek life's role on college campuses. Greek life still exists at Whitman, but its inclusion of transgender and nonbinary students reflects the positive impacts these institutions can have.
Gender inclusivity efforts and conversations have been growing increasingly prevalent on Whitman's campus. Greek life, organizations intertwined with the campus community and culture, are no exception.
Greek life both on and off Whitman's campus carry a reputation regarding their traditional embrace of hegemonic masculinity and femininity, or idealized standards for men and women. For transgender and nonbinary students, navigating Greek life at Whitman College can present unique challenges because of assumptions made about sorority and fraternity life. 
Junior Gwen Empie found themselves in quarantine at Marcus House with several members of Beta Theta Pi in the spring of their first year. Having conversations with them about Greek life led Empie to consider joining when they learned it might be possible to be in a fraternity. They felt that a fraternity would be a better fit than a sorority because they are nonbinary, and while they have spaces on campus that allow them to connect with their femininity, as well as people around whom they feel androgynous, they found it difficult to find spaces where they felt truly masculine.
Growing up in a place where sororities were similar to what you would see on Bama RushTok, a sensational TikTok trend where women detail the intense efforts, time and money they put into preparing for the sorority recruitment process, Empie's perception was that fraternities were more low-key and casual, which aligned more with the Greek life experience they were looking for. 
"I've never really been one that loves being in large groups of girls and my friends in high school were mostly guys, so I feel like I get along better with groups of guys than groups of girls," Empie said.
Empie's decision to join Beta was not only about seeking community but also about finding an environment where they could be themselves without conforming to rigid gender expectations.
"It can be a really affirming space, gender-wise, because I'm on the Women's swim team, [which] is a space where I feel like I'm at contest with my gender," Empie said.  "Being in spaces that affirm other parts of my gender appearance and the way I want my gender to be perceived is cool and a very unique experience."
Based on what Empie heard, there weren't many concerns regarding Beta giving them a bid because of their gender. As the first non-cis man to join Beta, they still had their apprehensions.
"Coming out as nonbinary and almost immediately joining a frat was honestly pretty terrifying. In the beginning, it felt like my masculinity was constantly being judged or compared to the people I was surrounded by, but as soon as I allowed myself to let go of that fear, it's been incredible," Empie said.
Empie's acceptance into Beta as a non-cisgender individual marked a significant milestone. This acceptance demonstrates the progress being made in fostering inclusivity within Greek organizations, in line with the broader discussions of diversity and inclusion taking place across the Whitman College campus.
Sophomore Joseph Torres, a trans man, had his own reservations about joining Greek life. His concerns stemmed from worries about tokenization and the presence of transphobia.
"I was worried because I'd seen other members of Beta make transphobic jokes on their Snapchats," Torres said.
This concerned but did not completely deter Torres, as he knew and liked several Beta members and realized he did not have to be close with every one of them. Additionally, members tempered his initial hesitation by mentioning that Beta would welcome Torres' pet bird — a seemingly minor detail that spoke volumes about the fraternity's willingness to include. 
"Seeing that Gwen was there made me feel a little safer; it makes me happy to see AFABs (individuals Assigned Female at Birth) being accepted into male spaces," Torres said.
Within Beta, Torres' experience has been overwhelmingly positive. Nobody within the fraternity intentionally misgendered him, and that he didn't sense any hostility in that regard. Beta's acceptance extended beyond his personal experience, as he also noticed gender inclusivity when it came to bringing his friends to the house that are also queer.
Torres' presence, along with Empie's, has led to increased awareness of LBGT identities among fraternity members.
"I can see other brothers in Beta being more aware [about] not making transphobic jokes or being aware when they hear them. I feel like that might've been something that would've flown under the radar before, but now there's trans people in Beta that they care about," Torres said.
Being at Beta is gender-affirming for Torres because when he enters that particular male-associated space he feels very welcomed. 
"My masculinity is not questioned when I walk in the room, it's accepted for the fact that maybe it's a little different, and I very much love that," said Torres.
Recent alum Clover Beaty '23 embarked on her Greek life journey by joining sorority Kappa Alpha Theta in the spring of 2021. As a transgender woman, she initially had reservations, particularly related to her appearance during the early stages of her medical transition. 
"I was nervous because I looked a lot more masculine than I do now, so that caused a lot of inner anxiety that I wouldn't be seen as a woman, and I'd feel like I don't belong. Immediately everybody in Theta let me know that I was welcome and asked me if they could do anything to make me more welcome," Beaty said.
Joining a sorority proved to be a gender-affirming experience for Beaty, and the sorority's emphasis on leadership empowered Beaty to navigate societal expectations of femininity on her own terms.
"It made me feel comfortable exploring myself a lot more, and I made a lot of great friends through sorority life so it made me feel very comfortable with my gender. The way my sorority operated, it had a strong focus on femininity in a way of leading and leadership and finding ways to take on responsibility, and seeing how societal femininity is seen and then figuring out how to go about that in my own way. [It made me] feel strong and in charge of my own life," said Beaty.
Beaty, Empie and Torres' experiences show that Greek life can provide a platform for self-discovery, empowerment and a profound sense of belonging for transgender and non-binary individuals on Whitman's campus.
"If you're a trans person considering joining Greek life, I would say come as you are. There are going to be people that are going to accept you, you shouldn't have to masculinize or feminize yourself if you are more toward the middle of that gender spectrum, or if you're not on it at all," Torres said.  "Associate with whichever sorority or fraternity you feel like is closer aligned to what you feel like your gender identity is and if you feel like you're a true neutral, great, people will be happy to have you wherever you are."