Resident Assistant Training
Creating Adaptable and Knowledgeable RAs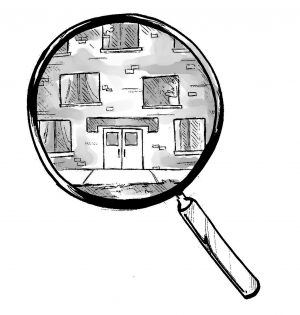 A lot is expected of Resident Assistants (RAs) at Whitman. They are confidants, leaders, and enforcers to their residents. To cope with these various pressures, the Residence Life office holds a ten-day training prior to each semester for RAs as they prepare to join their new sections.
RA training aims to achieve a set of goals outlined each year by the Residence Life office. These goals stick to similar general principles, according to Associate Dean of Students Nancy Tavelli, but are regularly evaluated to keep up with the times.
"Things change one at a time," Tavelli said. "You react to whoever's in certain roles, you react to what national trends are. We've always tried to work with RAs on their communication skills, but the issues that college students face [today] are certainly different. There's more mental health challenges, we're more aware of a lot of different issues, so that certainly is reflected in RA training."
In 2016, for example, RAs worked not only toward gaining a better understanding of their position and the skills required to carry it out but toward building relationships with other staff, both inside and outside residence life, and understanding more about themselves. The last of these is addressed early in the training when the Counseling Center's Sharon Kaufman-Osborn hosts a four-hour session in which she encourages self-examination. Kaufman-Osborn says that the session helps RAs to better understand the ways their own backgrounds influence how they approach their jobs.
"Whatever you're doing, you have your own history that you're bringing along. So I give them an opportunity to really think, reflect on what they've experienced growing up and at Whitman, what their residents might be experiencing, and where some of those stories and beliefs might have come from," Kaufman-Osborn said. "Every once in awhile, someone will say 'why do I have to learn about myself?' Sort of like they want this robotic 'here's the cassette, this is what you're supposed to know how to do.' And they learn very quickly that that doesn't work very well."
The counseling center is also involved in a number of other aspects of training, which counselor Tracee Anderson summed up as "Counseling 101." Additionally, RAs in training are introduced to staff members in various other divisions, including the Intercultural Center, Student Engagement Center, Dean of Students' office, custodians and Bon Appetit, among others. The idea is to make sure that RAs have a firm understanding of the resources available to them and their residents.
"We hope that if RAs don't know the answer to a question, or if a student's interested in something, they may not know everything about that topic but they're going to know who to go to … to get more information," Assistant Director of Residence Life and Housing Andrew Johnson said.
With all these relatively brief trainings, did RAs feel as though they were adequately prepared for the difficulties of simultaneously acting as a friend and disciplinarian?
"As an RA there's a lot of things that happen that you can't ever plan for," senior Peter Ramaley said. Peter worked as an RA in Jewett in 2015. "But a lot of the simulations of enforcing policy made me comfortable enough going in and enforcing policy … I think that in those first few weeks of being an RA, you start to really figure out … [how to] use these techniques."
Junior Devon Yee, an RA in the Multi-Ethnic Center for Cultural Awareness (MECCA), agreed with Ramaley, adding that in the Interest House Community (IHC) especially, there are certain problems that trainers could not be expected to predict.
"With the IHC in particular, many of the houses have different kinds of maintenance problems, so that's not something you'd necessarily talk about in training, but I don't think that's really necessary either, per se," she said. "You have to deal with different house problems that are specific to your own house."
Johnson notes that the challenges RAs face, while often imposing at the time, can in some ways be empowering.
"By the time students finish being RAs, I feel like a lot of students develop a sense of their own capabilities," he said. "And, you know, if they want to see something done, or make something happen … Whatever it is, I think they develop the confidence to go out and figure out how to make that happen."
Contributed reporting by Kate Grumbles.