Kathy Murray caught in Cancun with Ted Cruz
Kathy Murray has been missing for approximately one week. 
Upon the release of the Financial Sustainability Review and the subsequent student and faculty protests, our esteemed President has been incommunicado with the exception of her resignation letter sent out to students early last week and an apology statement about how inconvenient the FSR is. Several videos have been released of her speaking to the Whitman community but they are clearly staged to appear as if she is working in her office.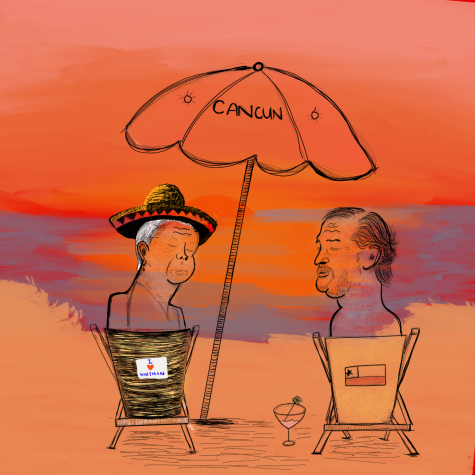 Other high-ranking members of faculty have been accounted for. Peter Harvey is chained to his desk in Mem and can be seen through the egg-stained window. Juli Dunn is vibing and anonymously creating memes. Barry Balof is haunting assorted residence halls. So where is Kathy? 
The answer may be further south than expected. It seems that like a Texas senator, when the going gets tough, the tough get going to Mexico. Yes, that's right, Ted Cruz was photographed with one mysterious 69-year-old woman (haha nice) in Cancun several weeks ago. 
To the rest of the nation, the white haired lady in the background of Cruz's pool photos was of great unimportance given the shitshow of his home state, but wily Wire staff noted that this woman bore an unmistakable resemblance to the one and only Kathy P. Murray (the P stands for President). 
Dressed in a navy blue rash guard and a pair of pastel bermuda shorts, rubbing zinc-based sunscreen on her taut wrinkled frame, Kathy Murray can clearly be seen lounging on a pool floaty throwing wads of cash into the water as press photographers snapped shots of Cruz. If not for Cruz's presence, she would've gotten completely away with her scandalous little vacay.  
Caught red-handed and completely sunburnt, Murray had no comment on why she was in Mexico and after repeated hostile emails, all she supplied to the Wire was, "You guys don't deserve a spring break but I sure as hell do. Fuck off."