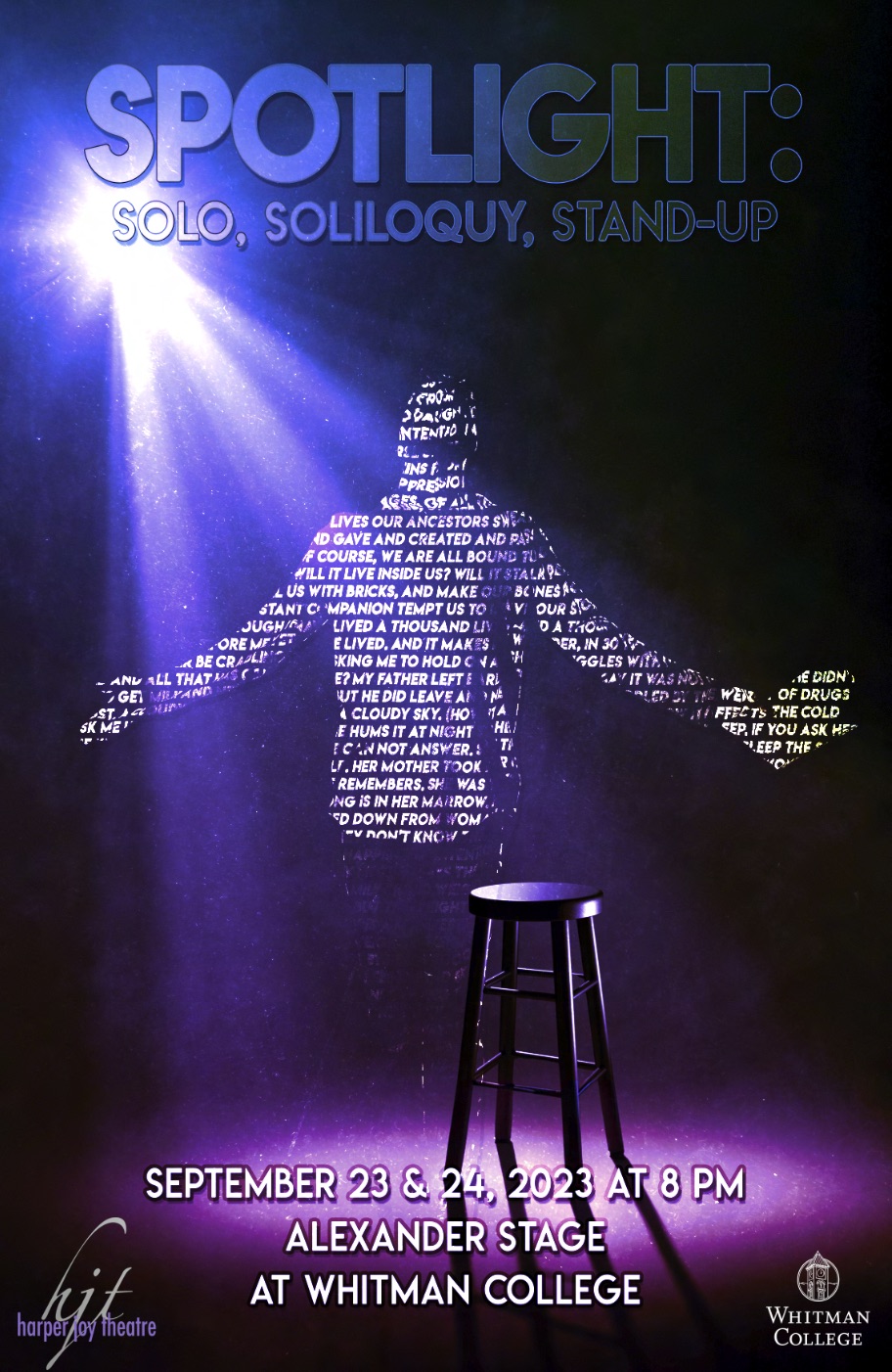 From Sept. 23-24,  students took the stage to perform self-written creative pieces with the guidance of three guest artists as a part of Whitman's Guest Artists Program. Six solo acts took to the Harper Joy Theatre stage and performed their pieces to a full house. Students worked alongside artists Yussef El Guindi, Heather Raffo and Curtis D. Shepard over the course of four weeks. 
Curtis D. Shepard is an actor, writer, motivational speaker, spoken word artist and founder of a non-profit support group for dads, D.A.A.M, Dads Against Angry Moms. Shepard worked with students on the third and final week of the workshop. 
"The students had already written their pieces," Shepard said. "I had the opportunity to step in and help them to see and breathe life into their characters." 
For Shepard, the third week ended up being centered around working on bringing energy into the performance, distinguishing characters, voices and personas. 
One of Shepard's main focuses throughout the workshop was exploring, with students, the concept of 'connectricity.'
"It's about the energy, being able to emote whatever your character is feeling or experiencing in such a way that your audience can identify with it," Shepard said.
First-year Jay Liao-Troth participated in the workshop, writing and performing his own original work for the first time. Liao-Troth performed a self-written comedic skit titled "Seeing Ships," in which his character experiences feelings from terror to ecstasy while stuck in an elevator.
"[I learned that] it's not about being good at creative writing, it's about working through a process to explore new venues, to discover new ideas. It's being willing to adapt and change and add and create," Liao-Troth said.
For senior Pearl Cook, the course was an unpredictable experience. Cook's piece, "A Physical Apology,"depicted a girl and her relationship with dating, her inability to write and a pair of wool socks. Metaphor and surrealism were at the forefront of Cook's monologue. 
"I wanted it to be strange in a way that would capture an audience's attention," she said. 
Shepard spent his week at Whitman working closely with the writers and, for students who would not be performing their creations, their performers, both during auditions and rehearsals. 
"Watching these students create and having the opportunity to co-create with them, their own pieces, and helping them cultivate that … was a wonderful, mind-blowing experience," Shepard said.
Cook explained her relationship with writing and how it's been influenced through Whitman's Guest Artist Program. 
"I think I've always looked at writing as a way of self-reflection and theater as a really great tool to teach and make commentary that doesn't necessarily come to a conclusion," Cook said. "I'm so glad that I did this. I feel so lucky that Whitman was able to bring visiting artists."
For Shepard, the week-long process was not just time to work with students on editing pieces and rehearse for the performance. His first time at Whitman College aimed to change the way students interact with their writing and performance. He worked to both coach students but also develop their confidence and ability to connect with writing and performing as an art form. 
"They are more powerful than they can ever imagine," Shepard said. "One day they will make decisions that will help to rule the world and spin this planet."
Liao-Troth explained that there was mutual understanding and respect between the students and mentors. 
"You felt on the same level, they were very grounded," they said. "They weren't here because they were teaching us, they were here because they wanted to keep the artistry of playwriting going."
Although the workshop experience was extensive, with three-hour sessions multiple times a week, Cook described how she managed to find a strong sense of community with her peers. 
"When you spend so much time working with people you build a community. Getting to know people in the theater department was just a wonderful experience," Cook said.
It was evident that the students who spent time with the guest artists went on an educational, enriching journey. This was the reason "Spotlight: Solo, Slam, Stand-Up" was such a resounding success at Harper Joy, leaving audiences touched and inspired by their creations.