Visiting Professors Enrich the Whitman Community
When Visiting Assistant Professor of German and Gender Studies Eva Hoffmann was growing up, she never imagined she would someday end up in small-town Walla Walla. Her path has taken her all the way from Germany to New York to Oregon and finally just this last year, to Whitman College.
While their paths have differed, many of the visiting professors at Whitman have followed a similar indirect approach throughout their childhood, education and careers. Visiting professors Hoffmann, Matthew Gougherty and Emily Harrison in particular have gotten the chance to share their experiences with the Whitman community.
Eva Hoffmann: German and Gender Studies
Professor Eva Hoffmann is a visiting professor in both German and Gender Studies who started at Whitman last year.
This semester, she is teaching 200- and 300-level courses in the German Studies program as well as a seminar that is cross-listed with Environmental Humanities called "Moles, Memoirs, and Metamorphosis: Animals and Text."
At the moment, the class she is most excited about is the seminar as it is most related to her personal research and study.
"It's on animals in texts and animals in literature, and I'm just really excited about the research topic," said Hoffmann.
Her favorite part about teaching here was the fact she could merge the topics of gender and German culture into one class.
"I was really excited to be able to teach in German Studies and in Gender Studies, which was what I was really hoping to do after graduate school," said Hoffmann. "To bring the aspect of Gender Studies in direct contact with German literature and culture that was something I really enjoyed."
Originally from Germany, Hoffmann has lived in Eugene, Oregon, for the past seven years, but moved to Walla Walla last year in order to teach at Whitman.
Before coming to Whitman, she taught in Germany, at a small college in upstate New York, and during her graduate education at the University of Oregon.
"I taught mostly in the German Studies program," said Hoffmann. "I taught language classes, and cultural and literary classes."
Hoffmann said the past year has been quite a whirlwind; both her and her husband received their PhD's and their daughter was born.
"We've just moved here, so it's been kind of wild," said Hoffmann.
Compared to the University of Oregon, her most recent teaching position, Hoffmann said the Whitman experience is much smaller and more intimate.
"The interaction between professors and students is a lot more personal, which I enjoy," said Hoffmann.
However, this has been her first full-time teaching experience after completing her doctorate. Balancing this with moving and taking care of her baby has been taxing, yet the community has been very helpful.
"Whitman has been a really welcoming community, which made it easy to transition," said Hoffmann.
Her favorite part of Whitman is the community's genuine interest in learning.
"I was really impressed with the students here, and with how sincere and eager and motivated to learn they are, so that was really impressive," said Hoffmann.
While her time here has been great so far, it was difficult to leave her previous town and circle of friends, especially with a newborn child.
"It was really hard for us as a family, just to have this small child and be here, but I guess that would be the same anywhere you go," said Hoffmann.
That being said, she really enjoys Walla Walla.
"My partner and I, we both enjoy living in small towns, so I think that wasn't a big challenge to be in a smaller place," said Hoffmann. "I think that's something we both enjoy about Walla Walla."
Professor Hoffmann has one message to send to students: find a balance between life and studies.
"It's really important to be hardworking, but also relax and enjoy, and see something outside of Whitman campus," said Hoffmann. "It's important to take some time off and enjoy life."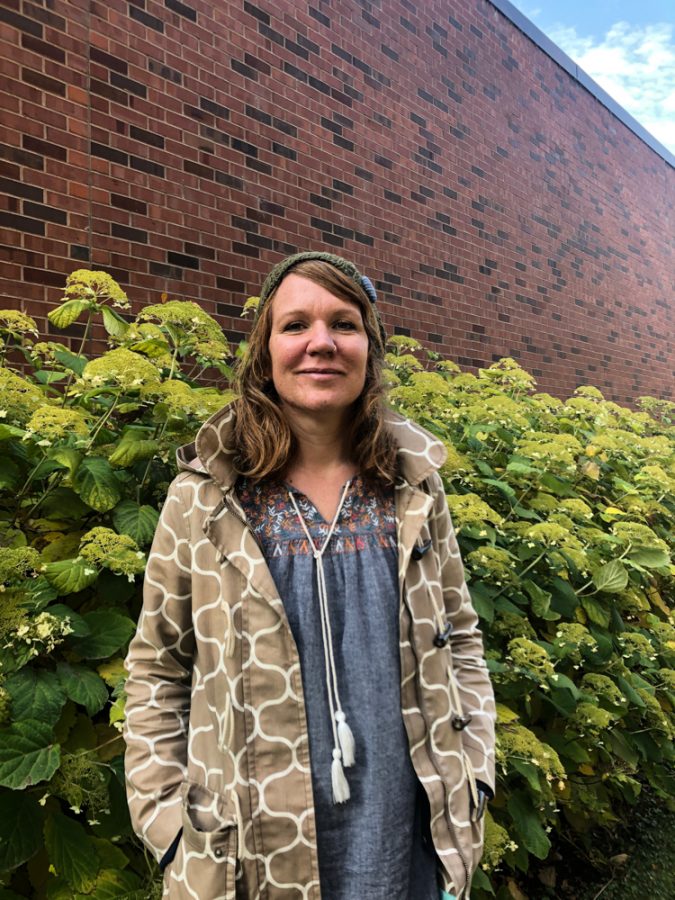 Matthew Gougherty: Sociology
Professor Matthew Gougherty is currently a visiting professor in the Sociology department.
Even though he is new in the department, he has been able to add some of his own flair to the curriculum.
"I'm bringing some more social psychological-type perspectives," said Gougherty.
This semester he is teaching two classes, Social Problems and Social Psychology.
Social Problems is about how people create and understand issues present in society, particularly that of poverty and housing.
"It's touching on things I've already seen around campus," said Gougherty. It's about issues I've seen here, but also more broadly around the country."
Gougherty said his class revolves around the book "Evicted," which addresses the intersectional nature of many of these issues including housing, poverty and drug use.
"It's a way for sort of thinking about a variety of social problems," said Gougherty.
In this class, he hopes that students are able to take away a framework for how to talk about these issues and sociology as a whole.
"I'm hoping the students get more knowledge about these issues and problems, and also some sociological perspectives on them."
For his other class, Social Psychology, Gougherty focuses on the way that individuals in society relate to one another.
"Topic wise, we talk about symbolic interactionism, which is a perspective that focuses on meaning making in sociology, and how is it influenced by your interactions with other people," said Gougherty.
This extends to discussions on socialization relating to the personal lives of students.
"We had a really good discussion a couple of weeks ago about the transition from high school to college, and how that's like a socialization process," said Gougherty.
The final project for this class involves intersecting the student's world outside of the course with the readings and discussions they conducted within the confines of the classroom.
"We are going to do an interview project where students have to go interview other students," said Gougherty. "We will discuss the issues that have come up in interviews and then they're going to share the data and write their final papers based on the data the class collects."
Before teaching, Gougherty did not have the traditional experience of an American student. In high school, he moved around a lot, leading to many different school experiences.
"I didn't grow up in the United States the whole time," said Gougherty. "I grew up in Mexico for three years and then Germany for two years. So the last two years of high school I was actually living in Germany and went to an international school."
After high school, he first went to the University of Michigan and then attended Indiana University-Bloomington for his graduate degree. He taught there for about two years before moving on and teaching an online course at Eastern Oregon University and lecturing at Yakima Valley College, a community college in Yakima. 
He then decided to make the shift to Whitman.
"I thought this would be a good career opportunity," said Gougherty. "I always wanted to work in a small liberal arts environment."
However, coming here was a big change from the places he taught at before.
"At Yakima, it was a combination of age ranges, whereas here it's more the traditional typical age range," said Gougherty. "A lot of the students were first generation college students, which I feel like is a bit different from here."
When comparing Whitman students to ones at previous institutions, the campus that springs to mind the most is Indiana University.
"I think people are a little bit more serious about their academics here, and they'll do the readings," said Gougherty.
Another big shift from his previous home to Whitman was the move to Walla Walla itself. Due to being part of the faculty, he was able to attain faculty housing.
"I was very fortunate to get that, and they allow pets," said Gougherty.
This was particularly important for his two canine family members.
Visiting teachers even have an orientation program in order to best prepare the newest professors for Whitman's culture.
"They have these regular lunches where they have a speaker come and talk about something that is related to teaching," said Gougherty.
Gougherty said that other faculty members have reached out to him, creating an environment where he feels welcome not just in an academic sense, but personally as well.
"It's nice having people to talk to about not just teaching stuff, but also sociology in general," said Gougherty.
Emily Harrison: Theatre
Originating from Texas, Visiting Assistant Professor of Theatre Emily Harrison attended undergraduate school at Emerson College in Boston, then moved on to the Savannah College of Art and Design in Georgia for her MFA. After that, she completed a PhD in theatre and performance at University of Colorado-Boulder.

Once completing her education, she taught at a variety of institutions, including University of Colorado-Boulder, Naropa University in Boulder and Brunel University in London.
"I mostly taught acting and playwriting and devising stuff," said Harrison.

However, her background is larger than just the educational world. She founded and runs her own theatre company in Boulder, which grants her a more realistic view of what it's like to work in the theatre world.
"We mostly make new work," said Harrison.

Professor Harrison's first window into acting was through music.
"MTV came into existence when I was a kid, and I remember watching David Lee Roth videos and Madonna and they were very theatrical, and so I think my interest in theatre actually started watching music videos on MTV," said Harrison.
While she didn't have a lot of acting experience growing up, she was exposed to theatre through the Texas Shakespeare Festival.
"I would usher for all of the shows that summer and see all of their shows for free and was very interested in it," said Harrison. "I decided to study it as an undergraduate, much to my parents dismay I think."

Even though she didn't go into college thinking she would become a professor, it was a possibility due to her family's background in education.
"My parents both taught at small colleges, so I think it would make sense that I would ultimately gravitate towards teaching."
Professor Harrison actually ended up coming to Whitman due to another professor, Jessica Cerullo. While Harrison was teaching at Naropa, Professor Cerullo was finishing her MFA.
"We didn't know each other that well, I saw her thesis show and really enjoyed it," said Harrison.
Then in the summer of 2017, Cerullo was in Boulder doing a show that Harrison's friend, Effie, had created. After reconnecting through that experience, Cerullo contacted Harrison to let her know that a visiting faculty member position was opening up at Whitman.
The most difficult part of the transition to Walla Walla has been the shift from city to small town.
"Sometimes it feels a little isolated," said Harrison. "I miss Whole Foods."
However, small towns do have their charms.
"I ride my bike everywhere, and it's a beautiful ride," said Harrison. "One of my other colleagues, Biz, another visiting professor, says she feels like she's in an episode of the Gilmore Girls."
This semester she is teaching a course called "Theatre: Medieval and Renaissance England and Early Modern Europe."
"What I'm doing with that class that is maybe a little different is that for a lot of the classical texts we are reading…they have to read a more contemporary adaptation of that play [after reading the classical text] to sort of tie it into the now and the ways in which those plays continue to be relevant," said Harrison.
She also helped create the Instant Play Festival (IPF) this year, an intensive play creating experience in which plays are written and performed in the span of one day.
"I taught a week-long playwriting workshop as part of the IPF requirements for our playwrights," said Harrison. "I was here at 6:45 in the morning on the day of the show to overlook the plays and to work with Jessica, who assigned directors with students."
Harrison also hosts workshops to prepare actors for the professional world, including information on resumes, cover letters, and actor headshots. Another important workshop she  hosted was how to write a grant proposal.
"It's really important for artists and theatre artists to know how to source funding for the work that they want to do," said Harrison.
Comparing Whitman to Boulder, she notices the difference between the sizes of the campuses.
"Even after teaching [at University of Colorado-Boulder] for ten years, there are still things and places that I don't know," said Harrison. "I really love the size of this campus and it's a beautiful campus."
Her favorite thing about Whitman so far has been the students.
"I've definitely had classes [at other institutions] where some of the students have read the material, but it's really hard to get them to talk about it, but that's not the case here which is great," said Harrison. "They're really willing to jump in and have really interesting conversations, really thoughtful conversations."
Commenting on Whitman students, Harrison feels the personal aspect of Whitman has allowed her to achieve the classroom dynamic she hoped to achieve in her course.
"I love teaching the smaller discussion-based kinds of classes, and I find the students here to be very smart and very willing to do the work," said Harrison.
One thing she has learned throughout her years as an actor has been to not be afraid of failure.
"Be willing to put it out there and fall flat on your face. I think college is a great place to do that, take the big risks, and you might regret it, but you probably won't," said Harrison. "Keep being curious and keep putting it out there. You may fail when you try something hard, but you learn a lot by failing."