"Unpacked" exhibition explores the art of layering in the Stevens Gallery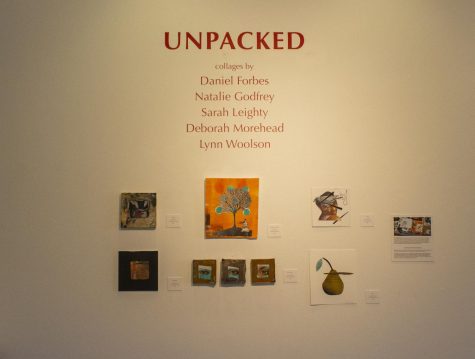 With art bursting from the frames and color on every wall, the Stevens Gallery held an eye-catching display of collages by several artists last week. The title of the display was "Unpacked," and it featured collage work by artists Natalie Godfrey, Sarah Leighty, Deborah Morehead, Lynn Woolson, as well as Daniel Forbes, the Director of the Sheehan Gallery.
Although these artists come from different places, they are all part of a virtual collage group, making pieces in the comfort of their own homes while on a video call with each other.
Elie Flanagan, a junior majoring in both art and English, is the student in charge of curating the Stevens Gallery. She explained that, originally, Forbes had wanted to have his own exhibition, but that he then thought it would be interesting to "collage" the artists together into one show.
"[The artists had] each been working separately on their own work but still building that community distantly, and now we've brought all the work together," Flanagan said. "Each artist gets a section to show their work, and it's really cool — you can walk around and see the very distinct voices coming through, but all in the same medium."
Flanagan said that she appreciates the interesting medium of the show, as well as the way it showcases process alongside the final pieces.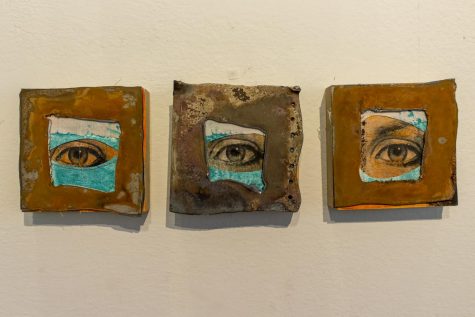 "This show in particular calls a lot of attention to the process of making the work; there are photos of the different artists' workstations and their process in that way, and also just collage is so cool in the ability to take things from different places and find connections between them or to make something completely new," Flanagan said. "I think it's really cool that that's done both in the pieces and in the concept of the show, of taking different artists' work and putting them together."
Driven by the difficulties of isolation, Forbes explained that the group was formed earlier in the year, and includes a number of people who have connections to Whitman.
 "I had just started doing some collage work, which seemed really significant in a lot of ways — the process symbolically, given the fragmentation of how things have been and all of that — and so I got the idea that it would be nice to see if … people would be open to trying out a virtual artist group," he said. 
Originally, the group was only supposed to meet for six weeks, but Forbes said that they've been meeting for at least double that time because people have enjoyed it so much.
Sarah Leighty, who was invited to the group by her friend, is one of the featured artists in the Stevens Gallery display. Leighty said that she hadn't really worked with collage since a college class that she took to fill her schedule — but what with the transition to her home studio, she lost the ability to work safely with oil painting mediums, which is what she usually does.
"I don't normally do collage — I actually find it very challenging, because every piece, every tiny little image or word, has so many potential meanings, and it's hard for me to make sense of that and have them work together," Leighty said, adding, "so it worked better for me to think of the collage materials as almost like colors or textures instead of what they were."
According to her, though, Forbes has been an excellent teacher, and she added that it's been wonderful to have a group of people to connect to during lockdown.
"A lot of us artists tend to have a lot of time with ourselves, and we're okay with that and we need our own space, but at the same time, having to be locked up in your own space and having social connection taken away completely for such a long time was really terrible," Leighty said. "So to be able to work with a group of other people and talk about stuff — mostly it was just working on the collage and talking about the work, but you could hear scissors in the background or stuff shuffling around and it felt like you were in a room working with people."
Forbes also appreciated the feeling of being "in the same space" as other artists.
"Everyone sits at their various tables, and a lot of times the first part of our group is — people will talk and we just check in, and then it gets really quiet and all you'll hear is scissors and taping and glue … there is something that's really generative about just being in the auditory space of listening to other people and the process of making," Forbes said.
Leighty also added that it was a unique opportunity to get to meet other people through their art, even though they were all distant from each other.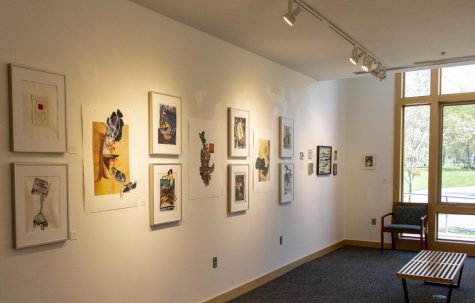 "It's a special thing to get to know someone's art, their art-making process and who they are … with this specific class we got to be in our own space with our own materials safely, and then see our other classmates in their space, with their materials and their world, and yet connect with them through the making process so we had this beautiful connection that … I can't imagine really having any other way," Leighty said.
At the end of the night, Forbes said, sometimes the artists have new works to show each other, and sometimes people have spent the whole time simply cutting out pieces.
In his own work, Forbes finds a significance in taking different pieces and creating one piece of artwork.
"Historically, I do a lot of work with assemblage, taking all these disparate parts and finding pieces — a lot of times I work with discarded materials, because … for me there's symbolic significance in taking something other people have discarded and then repurposing that or putting it back together in a new way and elevating it or giving new life to it," Forbes said.
Forbes added that his identity found a large place in his process and his work.
"I identify myself as queer, and so there's a lot of aspects of that … there is a whole history of times when people who have my various identities, aspects about ourselves have been illegal, people talked in coded language, so there's that aspect of visual coding that is part of the process and in some of the work," Forbes said. 
Forbes also explained that sometimes, his art helps him process things that he can't quite explain with words, especially with collage.
"There's also this thing about having at times in the past felt like I've had a very fragmented identity and sort of picking up the parts … it's very akin to the way that people build themselves, and I don't think that's just people in the LGBTQIA+ community — I think that's in the human experience for all of us, but for those of us who belong to marginalized communities, I think there's a specific significance in that."
Forbes mentioned that he was thinking about hosting a collage event with LGBTQIA+ groups on campus and hopefully for even more students if it goes well.
The Stevens Gallery is on to its next show now: "Wishing You Well" by Fi Black, an immersive experience inspired by the concept of wishing wells. But "Unpacked" has not disappeared entirely — the show lives on online, along with statements by each of the artists on their work. One thing this exhibit proves — no matter how far away, community can be found in art.
"Unpacked" can be found online at https://www.whitmanstevensgallery.com/unpacked.