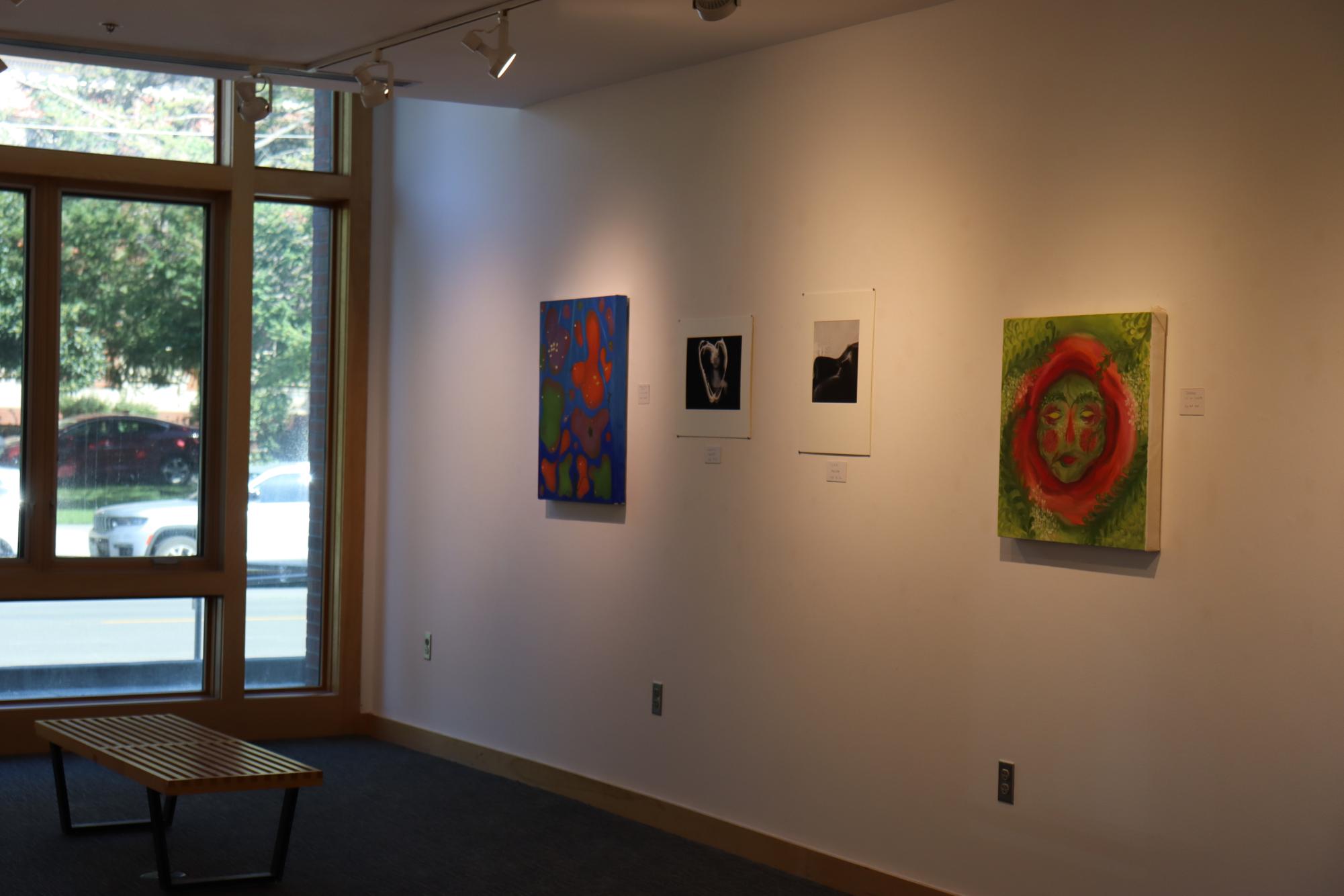 Bright lights illuminate vibrant oil paints, the contrast of a black-and-white photograph and the sheen of mod-podge over poster clippings. Located within Reid Campus Center, the student exhibit for the Stevens Gallery drags attention away from the Chihuly chandelier and echoed conversations. When walking through the gallery, the scope of media is hard to ignore, with works featuring collage, colored pencil, photography or oil paints. Yet the images in the gallery become cohesive, representing students' artistic interests and abilities at the college.
Featuring both freelance artists and art students, the exhibit offers entertainment and a glimpse into the creativity overflowing in Whitman's community. For senior Astrid Ketcham, who interns for the Stevens Gallery and planned the exhibit, the student art on display became an opportunity to showcase any creative minds on campus.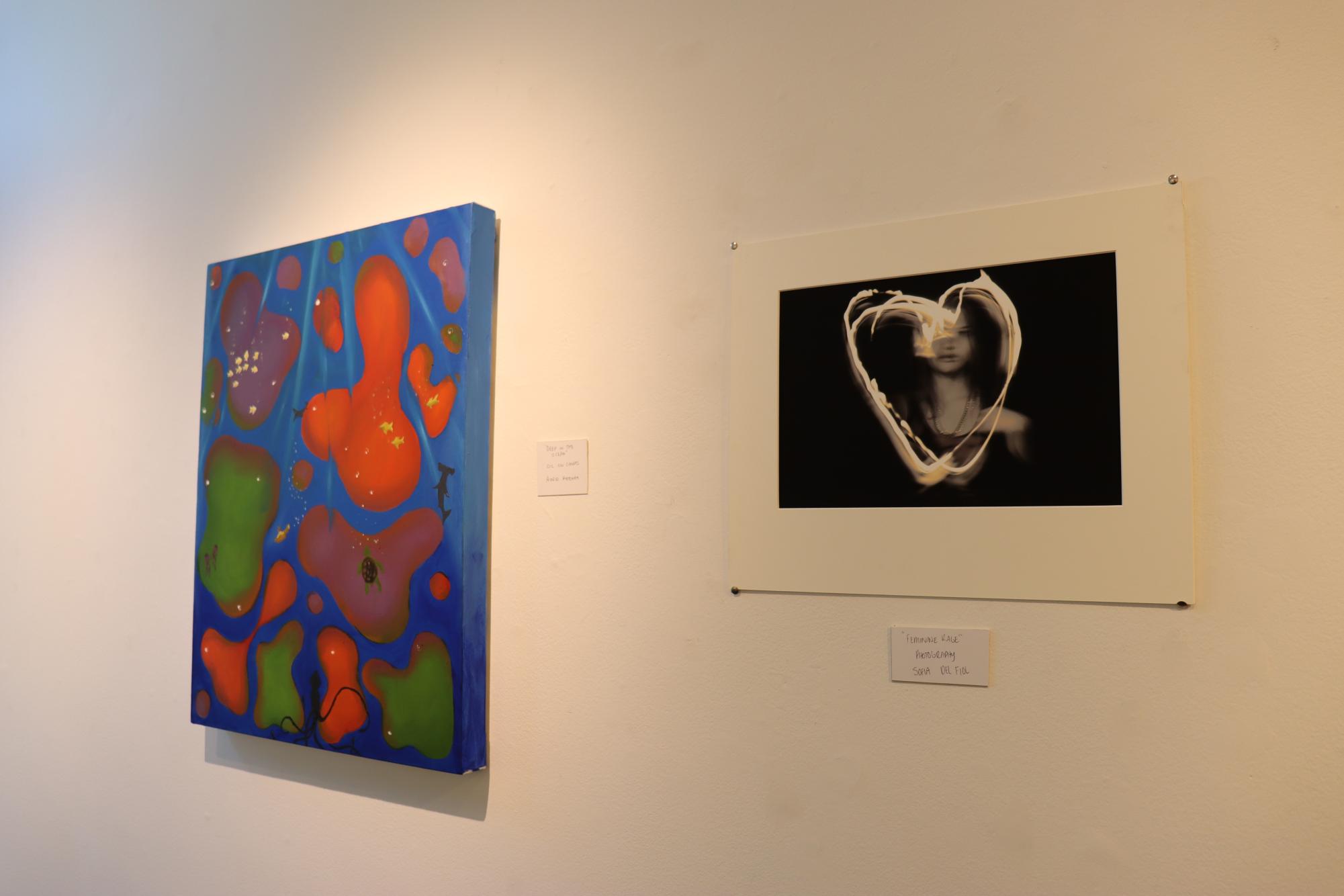 "It was fun talking to people I didn't even think would have made art," Ketcham said.
For her — and for the featured artists — the exhibit became a chance to display student art without limiting participation to those enrolled in art courses. By sending an open call for artists, Ketcham wanted to highlight the variety of skills and ability within the Whitman student body without enforcing the rules or requirements of an art course.
"I think [the exhibit] represents the creativity on this campus," said Ketcham. "It's interesting to see the scale of what people created in different mediums submitted to the exhibit."
Pieces within the gallery carry a sense of inclusion, showcasing artist diversity. This comes from both the range of media and content of works like senior Odin McDermott's — a collage composed of various posters he collected from campus bulletin boards, posters or recycling. For him, the piece represents the Whitman community and seemed like the perfect response to an open-call for student artists. Being selected for the exhibit allowed him to display his work for the community it represents, and from which he and alumnae Morgan Stone (class of 2023) collected and collaged. With his work on display, the various pieces of paper and poster board gathered from campus events interact directly with the Whitman community.
McDermott took the exhibit as an opportunity to showcase his work and inspire fellow students to see art in ordinary, forgettable items.
"I'd never really done collage prior to this, and I know there's a ton of materials available in the art building … but if people have any inclination to — instead of tossing something into recycling — to keep it, or cut it up and just use at least a part of it would be better than nothing," McDermott said.
Featured artists like photographer Sofia Del Fiol engaged heavily with the exhibit as an opportunity to have work displayed for the first time on Whitman's campus, fueling inspiration.
"I like sharing the art and seeing other people's art to spark creativity," Del Fiol said.
When art classes are difficult to enroll in, spaces like the student art exhibit makes art accessible to every student. For Del Fiol, and for others, the difficulty of registering for an art class on campus sometimes hinders creativity. However, the student exhibit offers a space for every student to enjoy their peers' work.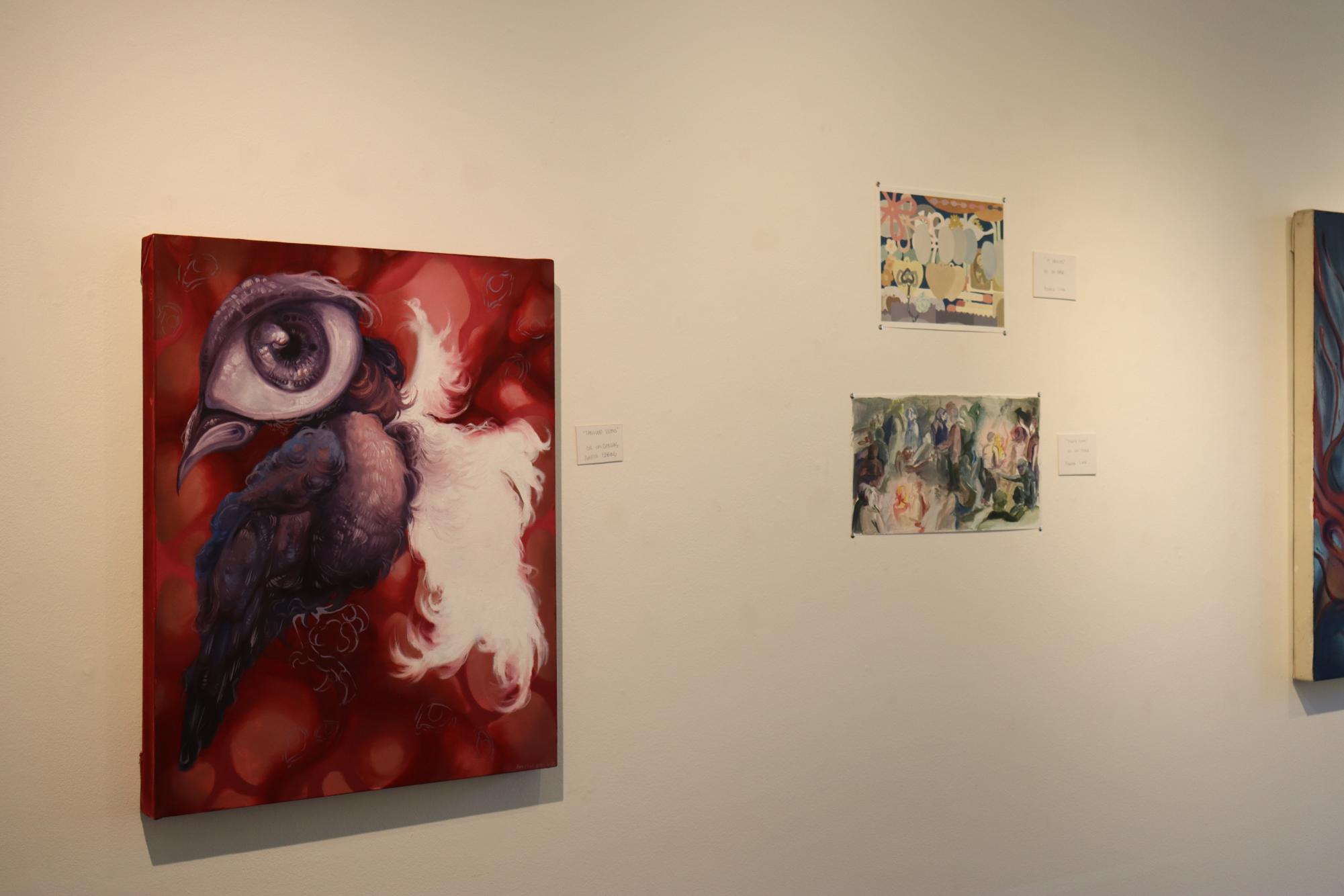 In addition to sharing works from those without a background in art, some pieces were created within a Whitman classroom. For junior art major Amelia Ebling, whose painting "Tangled Veins" hangs in the gallery, the exhibit presented a chance to display her work for other students and the Whitman community.
"Exhibiting my artwork means a lot to me, as my art process is generally very isolating and time consuming, so having this experience to interact with other artists and viewers feels rewarding and worthwhile," Ebling said.
Whether a self-declared artist or weekend hobbyist, the Stevens Gallery's student exhibit represents creatively-inclined Whitman students and offers an accessible space for art aside from the Fouts Gallery.