Q&A with Salma Anguiano on her Stevens Gallery exhibit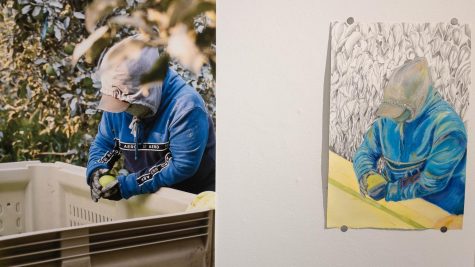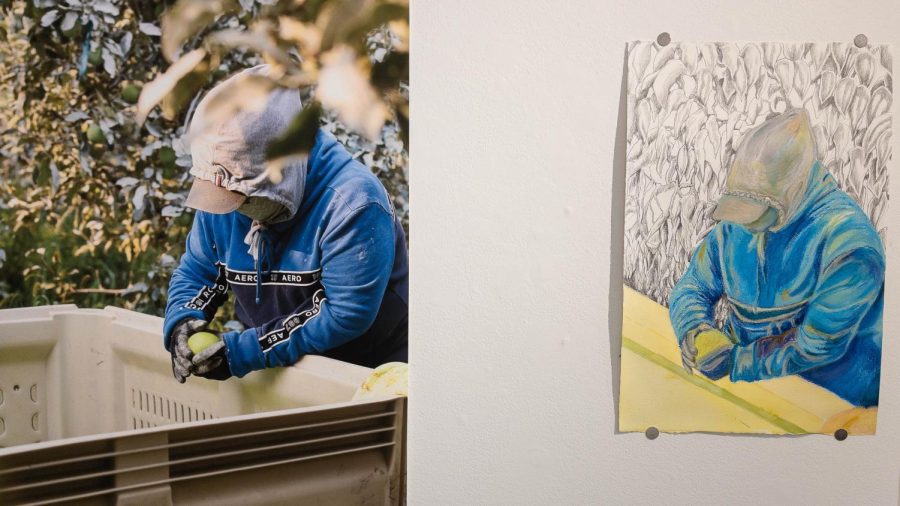 The Stevens Gallery in Reid Campus Center currently showcases a display of photos, poems, art and a documentary created by Protegiendo Nuestras Raices (Protecting Our Roots), headed by senior Salma Anguiano. The Wire sat down with Anguiano to discuss this exhibit and its importance. The film playing in the exhibition will also be screened on May 7 at the Gesa Powerhouse Theater.
The Wire: Can you explain the inspiration behind this exhibition?
Anguiano: I wanted to put together an exhibition that highlighted the experiences of undocumented and migrant workers in this region. Part of the reason is that I grew up in a community full of undocumented and migrant workers, and both my parents are undocumented, migrant workers. I also felt that during my time at Whitman, there was a large lack of engaging with those types of populations, even though they are in Walla Walla. I felt the need to find ways that I could bring those experiences and stories into this space, and I wanted to do an exhibition to highlight people's stories and talk about the region that we all go to school in.
The Wire: What do you hope people take away from this exhibition?
Anguiano: I hope people are able to take it as an opportunity to learn, but I also want people to realize that even though we're only here for four years, we have the opportunity to connect with the community. I can count on one hand the number of times I've engaged with the Latinx population here in Walla Walla, and I think part of that is that there aren't a lot of programs that specifically target that population, but also it can be hard to build a relationship with those communities. It takes a lot to build that relationship, and the institution and students need to put more effort into building those relationships and fostering them and ensuring that during their time here they're able to connect with communities–not just the Latinx community.
I also wanted people to learn about working conditions. I know a lot of people here want to eat in sustainable ways, but they're not really reckoning with the fact that it's not always so sustainable, and that was another thing I really wanted to address. I didn't want people to feel like all workers are miserable and they hate their jobs, because that's not true. My parents faced a lot of injustices in the workplace, but they also really loved doing their jobs. They still have a garden every year just because they love the whole process, and I think that a lot of workers share that love for the work, but we need to think about ways that we can make it more sustainable.
The Wire: Can you describe a little bit of the process of putting together this exhibition?
Anguiano: Putting together the film was so hard because we went through a lot of trial and error trying to get to the final version of the film and find ways for people to share their stories but also not be identified because they are local people… I think the biggest thing I wanted to get across was that I didn't want to see this and think that this is 'modern-day slavery.' I think that completely undermines what I was trying to get across. There's a lot of issues with [that view], the first being that it portrays workers as a population of passive victims and, in reality, they're not. I think they can and are the agents of change; they don't need to be saved by anyone. I think it also undermines that people have feelings and stories and emotions. That is more of a structural issue, and it needs to change, but it's not something that I can do; it's something that we all have to do.