PPGA confronts period stigma and inequity through art in the Stevens Gallery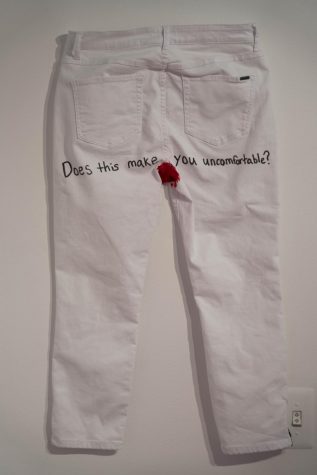 After fundraising around $500 to purchase menstrual products and combat inequity in menstrual product access, Planned Parenthood Generation Action decided that it was time to bring their activism closer to home. 
The Stevens Gallery exhibit features the artwork of five creators and asks viewers to reflect on their own experiences with period stigma while providing critical information about barriers many face when accessing menstrual products. Zoe Morris, co-president of PPGA, explained that the idea for the gallery came about after club members wanted to offer students the opportunity to share their stories and art about period stigma. 
"We thought this was a nice way to bring those ideas to campus and show students what we've been working on," Morris said. 
Sophomore artist Ella Crosby contributed three paintings to the gallery and hoped her work would help people to empathize with the experiences of menstruators. 
"You can idealize reproduction or birth, but really there's a lot of discomfort, fluids and a lot of what people would consider processes they don't want to look at. I think we should look at that stuff more and normalize it, make it visible," Crosby said. "These are our bodies and we're human, we're not these weird robots who have to hide our humanity and the 'gross' parts of being human and being alive." 
The gallery encourages people to directly interact with its displays, offering space for students to share and post their own experiences and displaying tampons, pads and menstrual cups that viewers can feel and pick up. For Co-President of PPGA Kaitlynne Jensen, open dialogue is critical to spurring necessary conversations and dispelling misconceptions.
"I would really love if people just walked away feeling that it is OK to talk about menstruation and that it is not something to be ashamed of. I also really hope that people learn that menstruation is not just an issue that plagues women, and that it is an issue that affects nonbinary folks and transgender men who sometimes menstruate," Jensen said. 
Morris agreed, explaining that the gallery speaks to critical political issues that are ongoing. 
"[The gallery provides] a better education about inequalities in relation to menstruation, and how these inequalities materialize into stigmas. The gallery felt like a more material way of showing the costs of these inequalities," Morris said.
Students have the chance to support PPGA after visiting the exhibit by purchasing a sticker or button, proceeds of which will continue to fund the donations that PPGA makes to the community and combat the inequity that the exhibit discusses.