"Community Crossing Continents" exhibit uses art to acknowledge the trauma of Maela Refugee Camp refugees
Being a refugee comes with trauma, loss and grief, an experience that is rarely talked about at Whitman. As a former refugee herself, Htet Htet Win, a fourth-year international student from Myanmar/Burma, used the Stevens Gallery space to talk about her experience in the Maela Refugee Camp.
According to UNHCR, "refugees are people outside their country of origin because of feared persecution, conflict, violence or other circumstances that have seriously disturbed public order, and who, as a result, require 'international protection.'"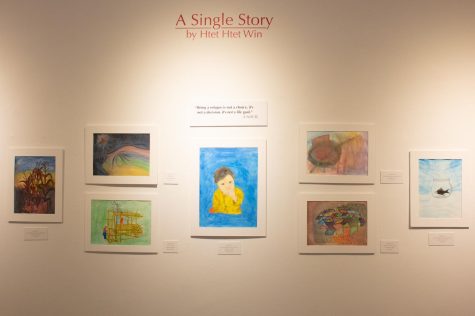 The Maela Refugee Camp, or "Mae La, Beh klaw," was established in 1984 in the Tha Song Yang District, Thailand, on the borders of Myanmar. The camp provides shelter for the persecuted ethnic Karen, or Karenni, Burmese refugees.
Through her art, Win was able to transcend the traditional colonial humanitarian perspective of portraying refugees that we often encounter at Whitman. While there are photos of the impoverished camp and pictures of poverty-stricken families, there are multiple pieces showing the different elements of quotidian life: collecting water, familial love, raising livestock and colorful images of rural life.
The word "refugee" often evokes images of war, struggle and displacement. However, it fails to capture the complexity and intersectionality of a refugee's identity: who are they beyond being a refugee? What does their life look like besides struggle? 
"I want to raise my own voice, and I feel it is important to raise our own voices to tell our own stories because we don't do it. As a result, others will project us in a way they want to see us, which will silence our voices," Win said. "From our show, we hope to raise awareness and open dialogue between individuals and communities and to challenge pervading and reductive notions of who refugees are in image and experience."
With its richness and an ample selection of pictures, the show challenges the notion of a single story, a problem that's mostly encountered when addressing marginalized groups. 
"For artists, they have the experience of Blackness, or they have the experience of queerness, or whatever, but these are all different things. They are not defined by this one thing, which is what society often wants to do," Assistant Professor of Studio Art Daniel Forbes said.
One of Win's goals from this show is to invite the Whitman community to learn more about what it means to be a refugee—not solely through the lens of literature and news, but also through the lens of a current and a former occupant of the camp, real stories of people you can interact with around campus. While some might avoid having conversations about refugees and war due to their immense gravity and traumatic nature, Stevens Gallery student liaison Elie Flanagan believes such conversations are necessary, as they demonstrate a perspective often ignored on campus. 
"This show highlights a portion of the campus community that isn't always recognized—while immigration or refugee status is a part of some students' lives, it is not always publicly talked about with this level of depth, specificity and care," Flanagan said. 
Since its installation, multiple community members have seen the show and learned from it. One student, who is a senior art major, had a similar perspective as Flanagan. 
"I think it is incredibly important. I feel like…speaking as an American, there is not a lot of seeking out of other perspectives, and also of…conflicts across seas, and I think this show really illustrated something that I didn't really know about," the student said. 
Forbes believes that showing such artworks around campus, be it the Stevens Gallery, the Sheehan Gallery or the Maxey Museum, is a way to be able to have those conversations on campus. 
"I do think that, as we enter this era of increasingly mass migrations that are incited by the climate that the world is facing, that these sorts of conversations are going to be increasingly important, and I do think that our visual imagery can play a very dynamic role in opening up and facilitating those conversations," said Forbes.  
It's noteworthy to mention that Win was able to realize this project thanks to her CESRP summer research project and generous funding from the Melinda grant.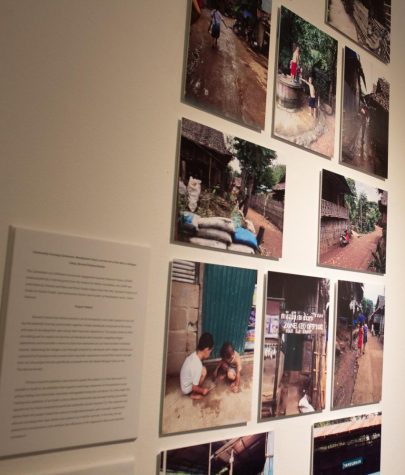 "With all the resources I can access, the gallery space, community partner, paintings, photographs and writings. We were delighted to share all the materials information, build our exhibition in reality and do fundraising to support artists living in the Maela Refugee Camp," said Win.  
However, one student believes that there should be more opportunities to allow the fruition of such necessary projects, especially when it comes to international conflicts that are rarely talked about on campus. 
"I think that the school has a duty to show these voices, because there are international students, there are people who have international ties, and if you are not showing those perspectives, you are not caring for your community," the student said.  
Professor Forbes also shared a similar perspective about the staffing and the support that the Gallery receives. 
"It's an incredibly small department. It does an incredible amount of work on campus, and they could use more staffing. There are a lot of opportunities. I think that they are sometimes lost simply because there is not the power of people on the ground working to be able to realize everything that we would like to," said Forbes. 
"Community Crossing Continents" was on display in the Stevens Gallery through Wednesday, Nov. 3.