Spring Composers Concert: Communicating through creation
On Sunday, Feb. 23, Chism Recital Hall reverberated with song: the sonorous bellow of a cello, the bright voices of horns, the smooth sweetness of a clarinet. The Spring Semester Composers Concert, which showcased the work of Adjunct Assistant Professor of Music John David Earnest's students, was in full swing.
"Seven Sisters," composed by junior Liam Dubay, was the first performance of the afternoon. The composition was based on the star cluster Pleiades, with a section dedicated to each of the seven sisters of Greek mythology from which the cluster's nickname comes, bookended by an opening theme named "Pleiades" and its reprise.
"The opening theme is played by the solo cello, and it's actually a pair of two seven-note tone rows," Dubay said, "which works a little like twelve-tone composition, except I only use the seven tones of the diatonic A major scale for this."
Sophomore Annika Cahill, who was the pianist for both Dubay's "Seven Sisters" and junior Ronja Mokranova's "Different Worlds", commented on the "Seven Sisters" piece. 
"I really liked this tonal structure in ["Seven Sisters"] – and I liked when, in one part of the piece, Liam gave me a bit of freedom to improvise a bit," Cahill said.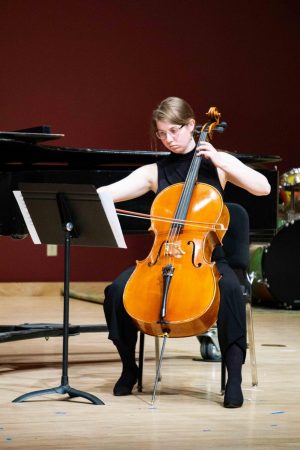 After Dubay, Walla Walla University junior Roylan Messinger presented his three-movement composition "Housemates Suite."
"Each movement on the 'Housemates Suite' was inspired by one of my housemates," Messinger said. "Each of them I admire as friends, colleagues and men. I decided to focus on some specific aspect – where they're from, a personality trait, a letter of their name."
Following Messinger was Mokranova's composition "Different Worlds," which was written about her parents and brother. The first piece "Restless" was based on her father.
"When I was building this, I was imagining my brother running around the house and the stress that creates," Mokranova said.
The piece's mercurial time signature created an unpredictability for listeners. 
"Relentless," the second piece in "Different Worlds," was written from her mother's perspective. Mokranova described its sound as "lyrical," "breathy" (one of the reasons why she chose to use a flute in her composition) and "restless."
"It represents helplessness, hope and acceptance," Mokranova said.
Mokranova's third movement is from her brother's point of view.
"Here I try to imagine what the world is like for someone who is autistic," Mokranova said, "and from my experience, that must be very frustrating, because no one understands you."
To represent her brother's struggle to communicate and to be known, Mokranova utilized dramatic dynamic shifts and had the piano come in unexpectedly.
The last composition performed was junior Koby Haigerty's "Variations on Karmicka Cocek."
"The theme that this piece is based upon is from my favorite song we played in [The Fighting Instruments of Karma Marching Chamber Band/Orchestra]," Haigerty said.
The piece featured seven variations of Karmicka Cocek, beginning with a trumpet theme, followed by two different dances, a fugue, a duet, a fanfare, a "groove" variation and ending with an elegy.
"['Variations on Karmicka Cocek'] was super interesting, kind of shocking and unapologetically loud," said sophomore Anna Allgeyer.
She also noted how unique every composition that afternoon was.
"All of them were really great, and they were all super different – it never got old," Allgeyer said. "I had a lot of fun listening."
Cahill also found enjoyment in the Spring Semester Composers Concert. She mentioned that one of its most special parts was being able to play her fellow students' pieces.
"You know, music is very intimate, and you're playing the music of the people you see and know; and you feel like you know them so much more when you play their piece," Cahill said. "It's like I've seen inside Liam's soul. I've seen inside Ronya's soul."
"Music is a good way of communicating things," Mokranova said. "The way I express my feelings is mostly through music."
In this, Spring Semester Composers Concert was not only incredible for its fantastic compositions shown and the skillful performance of them, but for all the things shared between the composers and the performers and audience: a passion for stars, the lives of housemates, the different worlds of a family and a beloved song.