Composers' Studio: Showcasing Whitman's Musical Talent
Composers' Studio was a refreshing start and a euphonious end to the annual Whitman Undergraduate Conference, highlighting the talents of seven Whitman composers as their pieces came to fruition on stage.
The Whitman Undergraduate Conference is a day devoted to students' achievements, allowing students to present on topics pertaining to coursework, theses or study abroad experiences.
Taking place during the first and fourth sessions of the conference, students gathered in Kimball Theatre to enjoy performances of their peers' compositions. Each piece, performed by student musicians, encompassed different themes resulting in the use of various instruments and the diverse tempos and dynamics among other musical elements.
Thomas Meinzen, whose composition was performed in first session, has been writing music since the age of eight. Beginning this past winter, Meinzen spent the ensuing months piecing together his composition for this event.
Titled "Boundless," Meinzen's composition is written for cello, piano and clarinet and evokes feelings of melancholia.
"[The composition] is a little sentimental. Some of the variations are very much playful … so there are some [parts] that sound more quaint and some more triumphant," Meinzen said.
Through its transitions from loud and energetic moments to soft and gentle ones, "Boundless" attempts to remove all boundaries between parts of the composition, encouraging the audience to individually interpret the music.
"I just want [the audience] to sort of let the music play with their imagination," Meinzen said.
At Whitman, composition students are not allowed to perform their own pieces. This allowed Meinzen to form relationships with other student musicians as he looked for peers to perform his music.
"I think [Composers' Studio] is a really cool opportunity to allow for even more creativity in the realm of music, rather than forcing students to adhere to what is already in a musical canon," Meinzen said. "I also think it builds really cool relationships among music students. This has been a really cool opportunity for me to meet some of the best performers at the school and cultivate a music community."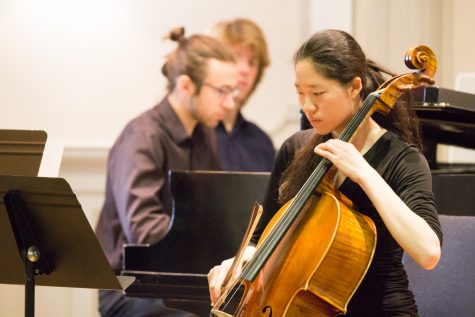 Jackie Greisen
Composer Hunter Dunn presented his composition, "Nature Suite," in the Conference's fourth session. The piece illustrates three different nature scenes within its movements; the Southwest desert, the ocean and the mountains.
For Dunn, the writing process was both arduous and rewarding.
"Composition is definitely, for me, a very enjoyable process once you get into the thick of the piece," Dunn said. "It shares a lot, just like any kind of creative endeavor."
The Conference served as a unique setting for the composers to showcase their talent while viewing their work from a listener's perspective.
"Having my piece performed was definitely humbling and illuminating," Dunn said. "You hear [the composition] a lot when you're playing it yourself, but it's not at all the same as having it performed by people in front of people in a concert space. You hear what works and what doesn't very quickly."
These feelings were echoed by junior Jeffrey Maher, whose composition "Sub Terra: theme and variations" was the final performance of the day.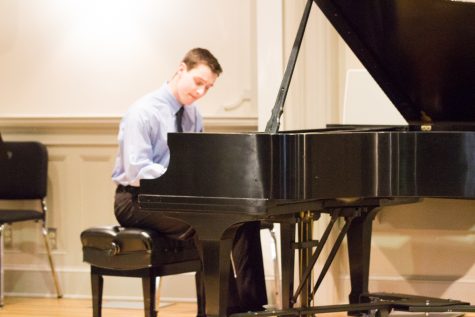 Jackie Greisen
"It was fantastic. Nothing brings me more joy in the process of composition than hearing the performance, especially with such gifted performers. It's also the easiest way for me to get feedback from my peers," Maher said.
Maher's composition captured both tension and tranquility throughout, blending techniques such as 12-tone style with more traditional sounds.
Composers' Studio provided the perfect opportunity for non-musicians to experience the dedication and talent that exists within the music department on campus that is not always visible. This showcase allowed attendees and performers to experience the themes brought to the foreground and indulge in the revitalizing sound each composition had to offer.