Fall Composers Concert: A Showcase of Musical Talent
Audience members fell silent as melodies and harmonies reverberated off the walls of Chism Recital Hall. On October 1, many appreciators of music gathered for the Fall Composers Concert. The recital presented original pieces composed by Whitman students Jeffrey Maher '18, Aiyana Mehta '18, Hunter Dunn '18, Thomas Meinzen '19 and Logan Schmidt '18, as well as by Walla Walla University student Keifer Brown '21. Piano, bass, drums, trumpet and violin are only some of the instruments that filled the room with captivating melodies and harmonies.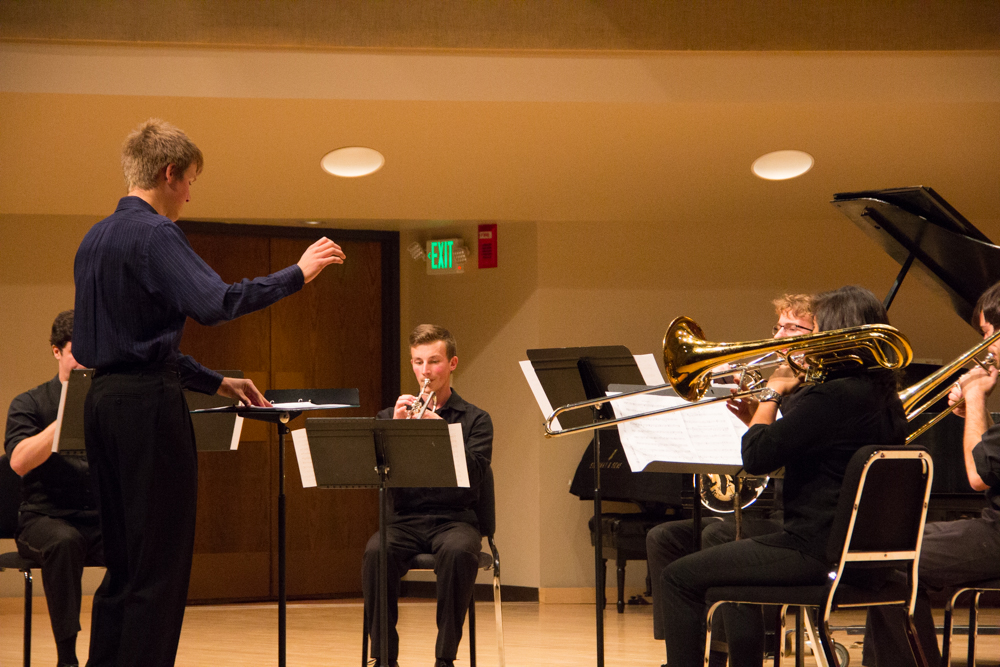 Most of the composers in the Composers Concert participated in a two-semester music composition class with Professor John David Earnest of the Whitman music department. Over the course of the semester, students workshopped their pieces so they could be presented the following semester. Starting from theme variations on one main idea, composers explored and collaborated with faculty, student performers and musicians.
Jeffrey Maher's piece, "Love's Philosophy," was inspired by a poem of the same name by Percy Bysshe Shelley. The piece featured Whitman staff member Nathanael Fleming on tenor and piano professor Jan Roberts on piano. The idea for the music came from Maher's study of art song, a music tradition in which a solo voice is accompanied by a piano. His voice lessons with Professor Diane Gray-Chamberlain in the music department also inspired him to compose music to this poem in the art song tradition.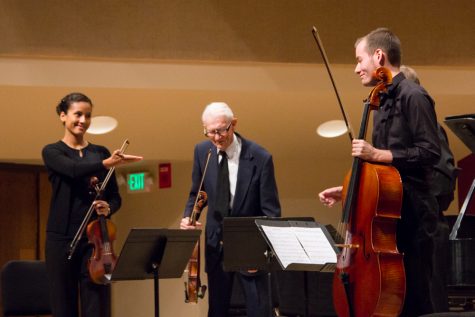 Maher believes that art songs are able to invoke a broad range of emotions because of the nature of the lyrics, harmony and melody.
"I hope [the audience members] feel something," Maher said. "Especially given the text of 'Love's Philosophy,' I think you can come away from it with a lot of different emotional interpretations."
Another, quite different performance, was "Variations on 'Blackbird'" by Aiyana Mehta, featuring students Robert Boyer on violin, Flora Klein on viola and Erin Cunningham on cello. The piece includes four variations on the theme, each named after a member of The Beatles. Mehta chose to compose variations on the famous song because it was significant to her during hard times. She recalls first hearing the song in middle school.
"In that moment I could just melt into the music in a way that I have never before," Mehta said. "Every time I listen to it, I feel the same catharsis."
For other composers, such as Hunter Dunn, the inspiration for their pieces came from elsewhere.
Dunn's piece "Americolor" featured students Taka Olds on alto saxophone, Dunn on piano, James O'Brien on bass and Steven Aslin on drums. He was inspired by different styles of twentieth century continental American music. Thus, his piece was named after six influential figures in the history of this music style: Mingus, Dr. John, Joplin, Davis, Jobim and Springsteen. Interestingly, the title came after the music was composed.
"It kind of came out and I realized after the fact that–oh, this is where I got that, this is where I got that," Dunn said.
Ultimately, the eclectic range of musical styles that shaped the concert elicited a broad range of emotional reactions from listeners. Audience members were mesmerized as rhythm, harmonies and melodies evolve in each piece.
Each composer had different hopes for how the audience would feel about their piece.
"It's catharsis in a way," Mehta said. "I want people to hear it and take a moment to just take it all in. I want people to melt into the music."
"I hope people come out of it smiling and not sure why," Dunn said.
Having said that, an aspect of music composition that doesn't differ among the composers is the reward of watching their written work come to life on stage.
"It's such an unimaginable feeling, hearing the resonance of it," Mehta said. "Being in the space inspires me to write more."