KWCW Spotlight: The Witching Hour
Walla Walla's one-and-only Harry Potter themed radio show airs right from Whitman's very own KWCW radio. Sundays, from 4:00 p.m. to 5:00 p.m., seniors Megan Gleason and Jane Kern co-host Whitman's longest student-run radio show, "The Witching Hour." What started years ago–as Gleason and Kern endearingly call, "generations ago"–has now become a Whitman legacy.
Its founders Sara Rasmussen '12 and Mehera Nori '12 recently came back to Whitman and met Gleason and Kern.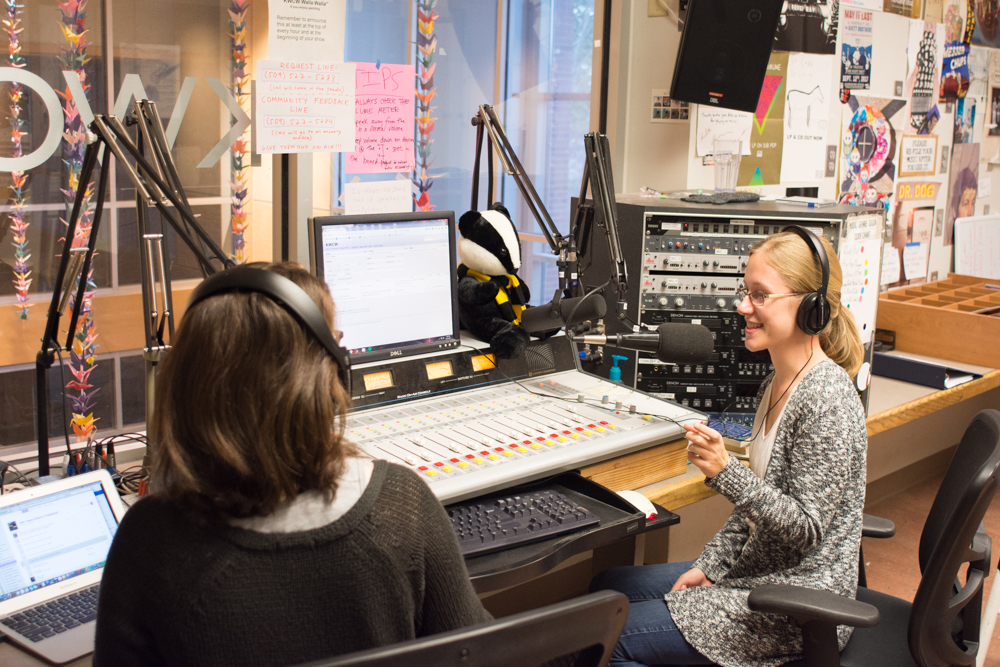 "We met the alumni and it was super fun," Gleason said. "Sara and Mehera both started 'The Witching Hour' when they were at Whitman."
Kern added, "It started out based a lot on doing a lot of social commentary on Harry Potter, and also a lot of wizard rock music."
Kern explained what wizard rock is for those who have never heard of it before.
"It's the fans of Harry Potter who then created their own music about Harry Potter that usually involves a lot of names and a lot of plot points from the books," Kern said.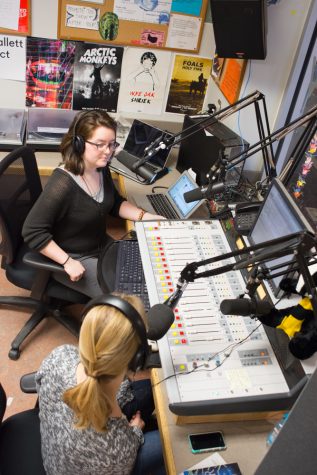 Some prominent wizard rock bands include Katie and the Bells, the Remus Lupins, Hermione and the Crookshanks, and Harry and the Potters. Back in its younger days, the co-hosts of "The Witching Hour" invited the band Harry and the Potters to play at Whitman. In regards to navigating this expansive genre of music, however, Gleason warned, "You can really go down that rabbit hole, and it takes a while to come back."
Luckily, they take the time to sort through it and play what Kern calls, "the tolerable songs," since "the show is, after all, still a music show."
The co-hosts happily recounted how they became part of "The Witching Hour." Gleason said she was introduced to it by Erin Walters '17.
"I met Erin my freshman year and she started telling me all about this Harry Potter radio show and so I thought, 'Oh no. I think I'm going to be recruited or something,'" Gleason said. "I guest-hosted the second semester of my freshman year, and it was really fun … Erin asked me if I'd like to be a co-host with her. And when Erin graduated, I asked Jane if she would be my co-host."
The co-hosts fondly recalled their transition to radio and when asked about the learning process, both Gleason and Kern laughed.
"It was horrifying," Gleason said. "I've performed before, but not being able to see the audience at all while speaking into a microphone and knowing that my voice was being broadcast places was really weird."
"I got it in the end and it was all fine," Kern said. "It's a lot easier to do when there's someone else in there with you. It really helps to be able to see someone's facial expressions when you're talking to them."
Drawing from these past experiences, Gleason encouraged anyone thinking that starting a KWCW show sounds interesting to take heart even if one has no experience with radio. As seniors, they are looking for people to take on the show and carry this legacy forward.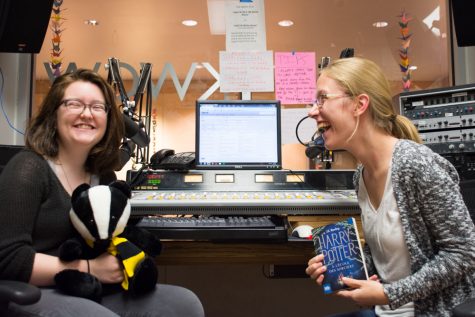 "You don't have to be that into radio," Gleason assured. "Neither of us had any radio experience before doing it. Some tolerance of wizard rock is pretty helpful."
Gleason added that one would be fit for the position "if you like talking about Harry Potter … it's about finding happiness in talking about Harry Potter."
Tune into "The Witching Hour" Sundays from 4:00 p.m. to 5:00 p.m. online or on 90.5 FM.
If you have suggestions for future episodes, or you're interested in guest-hosting on the show send them an owl at [email protected] Wizards and Muggles alike can draw enjoyment from the show.
Gleason said, "Without magic, you have to realize your Muggle-ness and go from there."