What Whitman looks like at night
Whitman at night can include dark streets, loud cars and chilly winds. They can also be quiet and warm if you're snuggled up inside. If you are outside and walking around on campus late at night, you may run into Whitman security officer Bronchet Brinkley.
Brinkley started working in Whitman's security department in March 2020. For a few months, when campus had mostly closed due to COVID-19, he worked in the daytime.
"I was kind of nervous to work because I had never worked security before," Brinkley said. "But it's not what I actually thought it was. I thought it was going to be a lot of running people down, but it's not. It's more community. I get to meet a lot of people."
Brinkley grew up in Walla Walla. His mother, Carla, studied theater at Whitman and graduated in 1976. Brinkley recalled his mother taking him to see theater productions on campus as a child. Brinkley also dabbled in the rap scene when he was younger, but he mostly enjoys the production aspect of it. In fact, he used to come into Whitman's KWCW radio with his friends to play songs—records that they usually got from record store Hot Poop.
"When we were younger, about 17 or 18 years old, we used to actually play music at the late-night hours," Brinkley said. "We would play the music for the inmates in the penitentiary because they couldn't listen to certain music up there unless they heard it on the radio."
Brinkley works four nights a week, ten hours apiece from Saturday to Tuesday, 9 p.m. to 7 a.m. Brinkley admitted that he doesn't mind his unique hours.
"I like it," Brinkley said. "It's peaceful, I guess. I like the stars, so sometimes I can just go outside and look at the stars or sit on Ankeny Field."
After his rounds, as the night grows old, Brinkley gets to watch the sky change colors. When he's lucky, instead of seeing the sun rise, he can see the moon set.
"What I really like is the moon," Brinkley said. "What I'll do is I'll go over to Borleske, and you can kind of see it perfectly—when the moon sets—that's a really good view. Because when the moon's low like that, and it's the right lighting, the moon looks huge."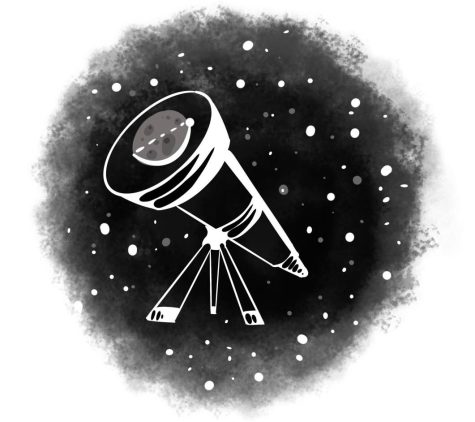 Associate Professor of Astronomy Andrea Dobson explained that the moon here in Walla Walla, contrary to popular belief, is not particularly larger or brighter than anywhere else.
"When the moon is rising or setting, we tend to think it looks larger than when it is high in the sky," Dobson said. "That seems to have something to do with the fact that we are comparing it to objects on the surrounding horizon."
As for the moon's brightness, she stated that when the moon is full, it tends to be a little brighter than one might expect based on how bright it was in the days leading up to the full moon.
"This is called the 'opposition effect,' and it seems to have something to do with the way the minerals in the rocks at the center of the moon's surface reflect light that's hitting straight on," Dobson said.
On Whitman's campus, the resident assistant (RA) is kindred to the security officer. Chihiro Sasayama is an RA in North Hall. North Hall and College House share a residential staff, so Sasayama and his fellow RAs can be subjected to late-night travels between the two buildings.
"On weekdays when I'm on duty, once or twice a week, I stay up until midnight in North Hall and do rounds," Sasayama said. "But when I'm on duty on weekends, I have to stay up until 1:00, maybe 1:30 a.m., and do two rounds here [at North]. At midnight, I have to walk to College House from North Hall and do another round there."
The late hours can be demanding for a student RA.
"Personally, I'm not an owl. I'm a lark," Sasayama said. "It's a little bit difficult for me sometimes, especially when I'm having a long day. Like, 'oh, I'm on duty tonight, ugh!' In my personal life, when I have something the next day, duty nights might be a bit of a burden."
Sasayama is typically on foot to and from College House, walking for 10 to 15 minutes each way.
"Especially in the winter, it's quiet and it's beautiful and everything," Sasayama said. "And when people are having parties at the frat houses, I get to see some drunken people rolling around in the grass. It's amusing sometimes. It's not boring, my walk. It's cold sometimes and scary, but it's not boring."
As a classics major, Sasayama knows a bit about the constellations and their history.
"It's quite fascinating to think about the ancient people, that I get to see the same thing and think about the same thing; imagine those stories," Sasayama said. "There's two thousand years between us, but I think it's quite cool."
Nighttime on Whitman campus is anything but lifeless; there is always a friendly security guard to meet, moon to gaze upon or duty calling.