KWCW returns in full force to the studio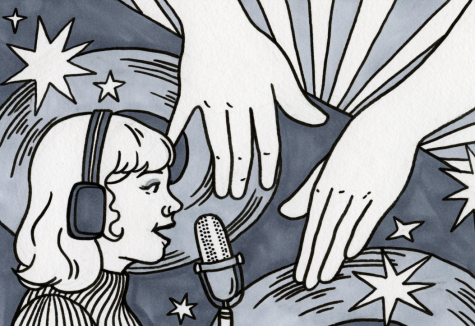 Tune into 90.5 in Walla Walla on any given day, and you might hear anything from a student joking around with their roommate to a Walla Walla community member passionately discussing their favorite music. This is KWCW, Whitman's own college radio station, back live—and in-person.
Although KWCW was forced to switch to an Auto-DJ system at the beginning of the pandemic, submissions for pre-recorded shows opened up for DJs towards the end of the 2020 fall semester and continued through the spring. This fall, KWCW is reopening its studio space for student and (vaccinated) community DJs alike.
Livvy Eickerman, a junior biology and environmental studies major, has been a DJ since her first year and was on the policy council for two years. Eickerman says that KWCW's approach to college radio is one of the things that drew her to Whitman.
Eickerman plays mostly indie rock on her show, Raspberry Jam. Although she tried doing remote submissions, Eickerman found it to be less enjoyable than being in the studio, as it was just another thing to do online in an already online semester.
Eickerman is looking forward to being able to do her show in the studio this semester, and to the community that comes with live radio.
"I think listening to [KWCW] can be so fun because you realize you know these people, and you're like, 'Oh my God, these people are such weirdos in the best way,'" Eickerman said.
Junior Rohan Press, the head music director this semester, has been a DJ since his first semester of his first year. Although Press was happy to submit pre-recorded shows last semester, he's excited to be back in the physical space.
"It just felt very lovely to be in a space that speaks to you in a cultural way—like music culture is something I'm very immersed in on my own, and it's cool to be in a physical space that reflects that," Press said.
Eickerman and Press both also wanted to commend Claire Andrus, the general manager of KWCW this semester, for her hard work bringing folks back into the studio.
Andrus, a sophomore, has been involved with KWCW since the second semester of her first year. She started as the program director, making schedules and plugging different pre-recorded shows into the Auto-DJ. 
"It's really neat how the radio just reached beyond Whitman in a very tangible way," Andrus said.
Andrus is excited to be back in-person this semester—although she doesn't run her own show, she is looking forward to being able to have student and community DJs in the studio again.
However, not all of the community DJs will be returning to the studio this semester; some will continue to use the remote submission process to send in pre-recorded shows.
Natalie Crosby is a community DJ who got started as a guest on her aunt's show. She now has her own show, Portland!, which features bands related to her hometown of Portland, Oregon.
"This quarter I have some new Portland bands to share and can start to attend concerts again, so will be finding new Portland bands again," Crosby wrote in an email to The Wire.
Because she now lives in the Hood River area, she plans to continue submitting a pre-recorded show from home this semester.
Arie Knops, a Whitman alumnus '17, is another community DJ who plans to continue submitting remotely for this semester. Although he says that pre-recording his show was difficult at first, he enjoys the increased control over his transitions, as well as the more flexible schedule.
Knops started his show the second semester of his first year and has been doing it ever since. According to Knops, he didn't take the show too seriously at first—it was just a fun hour in his week. His fourth semester with KWCW, however, he gave himself a challenge: once he's played a song on his show, he can never play it again. Since then, according to his iTunes, he has played 2,597 different songs on his show.
"I got into [KWCW] because it seemed like a cool club [with] an awesome studio, and I thought it would just be a fun thing to try," Knops said. "Then, as I got more into it, it changed my relationship with music and made me be constantly exploring new music."
According to Knops, one of the best parts of KWCW is the connection between Whitman and the community. Knops especially looks up to the other community DJs, some of whom have been there for decades.
Gary Young is one such community DJ. Young, who has lived in Walla Walla almost his whole life, did his first show in 1981.
According to Young, it was while he was in school at WWU that he discovered his love of reggae—the main focus of his show, Cosmic Dread, now. Young says that he was a substitute one night for the regular reggae DJ and fell in love with the genre.
"I've seen people say every college needs a reggae show—whether that's true or not, I definitely agree with it," Young said.
Unfortunately, remote submissions proved frustrating, and Young was only able to submit a few pre-recorded shows over the pandemic. However, Young is excited to return to the studio this semester, as he enjoys creating spontaneously.
Greg Schnorr, another community DJ, also finds he does his best work in the studio. Schnorr, who has taught culinary arts at WWCC for the last 15 years, attended Whitman from 1990-95. His second semester in 1991, he started a sports show with his debate partner.
Since then, Schnorr has featured everything from reggae to electronic dance music on his show, but it was in 2000 that he found his true passion. Now, he hosts a show called Cookie Dance, featuring weekly recipes and music related to those foods.
Over the pandemic, Schnorr found himself frustrated with the Auto-DJ, even though he understood why it was necessary to not have people in the studio.
"When you hear just constant repetitive Auto-DJ you feel like you could make a difference if you were able to get into the studio," Schnorr said.
Schnorr also pointed out the importance of having community DJs in addition to Whitman students.
"Community DJs bring an educational value, background and diversity… that really, I believe, add to the college experience," Schnorr said.
Andrus agrees, adding that it's amazing to be able to work on something that is so ingrained in Whitman—and Walla Walla's—history.
"I like that it has a history aspect of it too… we've had people who have done shows for like thirty years—which is really cool, seeing how long people have been involved with it—and so I think just being able to contribute to that is really neat," Andrus said.
Although KWCW may have hit a rough spot during the pandemic, it is clear that the passion behind it will continue to sustain the show for many years to come.