Instant Play Festival throws together a spectacular show
For the ninth year since its inception, the Instant Play Festival kicked off the 2016-2017 Whitman theatrical season in style, with students showcasing their hastily constructed and quality-made short plays on Harper Joy Theater's Alexander Stage.
The plays ranged significantly. Dramatic, introspective works like "The Cellardoor Leads Undersea" and "Limbo," were mixed with farcical comedies like "The Spring Fling" and "Family Secrets," and comedy-dramas like "God Will See You Now" and "Josie's" served as a tonal middle ground.
In total, twelve plays were performed over the course of two nights, with six on Saturday the 24th and another six on Sunday the 25th. Each had been conceived, written, cast, rehearsed and gone through the processes of set and lighting design in a period of less than twenty-four hours prior to their performance, crafted entirely by Whitman College students and faculty.
Whitman dance professor Renee Archibald produced the festival, her first time in the position.
"It's a rotating position through the department [of Theatre and Dance]," Archibald said. "Each year, someone else takes it on, so it has different points of view and has a different driving force."
This year there were twelve student playwrights who had attended workshops with visiting playwrights Aimee Suzara, Greg Moss and Scot Augustson. Each night preceding the festival, one half of the student writers received a prompt that influenced their script. This year, examples included a requirement that there must be a character eating and a requirement that one character must dance when they think no one is watching.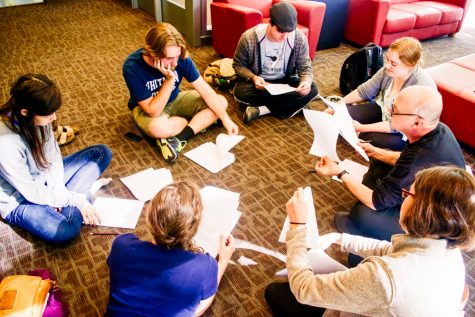 These prompts serve to "give the playwrights a puzzle to put together," Archibald said.
After receiving the prompt, the playwrights write for twelve hours overnight, generally without sleeping, before turning the play in at 7:30 a.m. From there, Archibald read the plays and assigned a director to each; the directors then go on to work with the actors until nearly 7 p.m.
"Really, everything happens within twenty-four hours for those playwrights, actors and directors," Archibald said. "So everyone is seeing the new stuff at the same time."
As the producer, Archibald's position was largely administrative, helping to put the disparate elements of the production together, while the visiting playwrights handle the bulk of the work of instructing student writers.
One of the student playwrights, senior Maria Kajercline, observed that a lot of the work they conducted with the professionals was to prepare them for the pressure of writing a ten-minute play overnight.
"[The visiting playwrights] give us a prompt, and then we'll have thirty minutes to write something," Kajercline said. "Sure, it's not the whole ten-minute play, but we…get in the habit of just writing, or writing something overnight."
These exercises have helped Kajercline to be, in her own words, "as prepared as I can be, in terms of handling pressure."
While Kajercline had participated in past Instant Play Festivals as an actress, this was her first experience as a playwright.
"I thought it'd be interesting to challenge myself to try writing," Kajercline said before the festival. "I just think IPF is such a cool festival, I've always enjoyed it, so I think it'll be cool to be on a different part of it."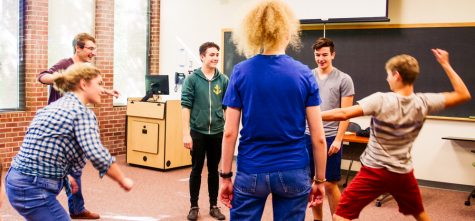 Kajercline ultimately wrote the play "Family Secrets," a comedic farce in which a family gathering is ruptured by various dramatic reveals, including a pregnancy, a character coming out of the closet to his mother and the discovery that said mother was sleeping with her daughter's boyfriend. The audience responded with laughter and delight, and the cast of "Family Secrets" received some of the loudest applause of the Sunday plays.
Junior Sara Staven, the lighting designer, also took on a new position for this year's festival. She previously served as part of backstage crew and an actress.
"No one really knows what the IPF is gonna be like, with normal shows you can kind of look at a script and then kind of base a design around that," Staven said. "But with the IPF, it really can be anything and everything."
Achieving versatility in the production was a challenge for Staven. Much preparation was necessary to ensure that, whenever specific lighting instructions were requested by the director, they could be easily set up and incorporated into rehearsals and performances.
That preparation paid off in spades during the festival. Throughout the two nights, the lights dimmed for characters sneaking around, spotlights shined on actors having moments of shock, the lights shut off for scenes of power cuts and back lighting helped establish the tone of certain scenes.
For Archibald, the effort that was put into the Instant Play Festival productions have always been worth it.
"It's a lot to organize, a lot of pieces to put together," Archibald said. "But everybody's on board and full of energy and excitement, so it generally is a fun and easygoing–with a little stress–project."