Food for thought: Opening night of "They Don't Pay? We Won't Pay!" approaches
As September winds to a close, theater majors and other students involved in drama productions are putting in the work to prepare "They Don't Pay? We Won't Pay!" for the stage. The exciting blend between pertinent political commentary and humor is sure to give audience members a laugh while also calling attention to broader issues like poverty, inflation and inequality in its more serious moments. 
Before the play begins, a crowd steals from a supermarket in response to ever-rising prices. The play centers around two working-class women as they try to hide some of the stolen groceries from their husbands, the city police and a very determined state trooper in increasingly ridiculous ways.
For junior Benny Vasconcelos, the shifts in tone throughout the play are what add to audience engagement. 
"You should come see the show because it is so funny and entertaining. The show is a whole roller coaster of emotions," Vasconcelos said. "You will be [letting out] belly laughs at some parts and then reaching for tissues at another." 
Putting together a full-scale production takes dedication from everyone involved in the play, both in front of the curtain and behind it. The aspects of physical comedy central to "They Don't Pay? We Won't Pay!" have provided an opportunity for students to display unique skill sets that may not get the chance to be showcased elsewhere. For sophomore prop designer Avery Ehlers, this meant that gathering and creating unique props became a central part of the show.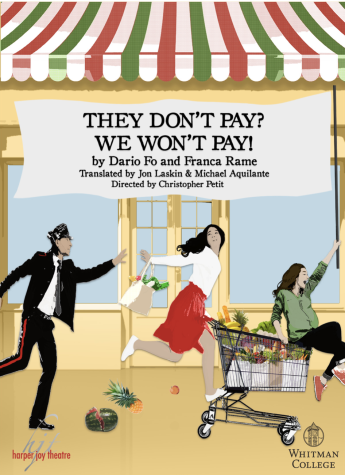 "Preparation has included a lot, but some highlights have been a lot of grocery shopping, packaging dehydrated rabbit heads and finding edible dog food," Ehlers said. 
For senior actor Luke Patrick, the five-week-long preparation process was mostly spent on planning and choreographing action scenes because of the play's advanced blocking. 
"This play is focused a lot on physical comedy and movement, so not having scripts in hand has been really helpful to get the blocking down," Patrick said. "It has been a hectic month but absolutely worth it." 
Patrick is participating in the production to fulfill his senior thesis requirements. Theater majors have to take on a role in the production and then reflect on their experience.
On a broader level, most participants mentioned their love for the stage and the community created by Whitman's theater department as reasons for their involvement. Vasconcelos mentioned how the friendships he has made within the play and his personal enjoyment of acting made the experience worthwhile. 
"I have always loved acting—playing different characters and pretending to be someone different from yourself," Vasconcelos said. 
Community support is a critical form of recognition of the efforts put in by those involved with the production. 
"We've put in a lot of time and effort to make it the show it is, and I think people are going to really enjoy what we produced," Patrick said. 
The show's opening night is Sept. 29, and the production will run for five nights. By stopping by and being transported into a whirlwind of comedy, emotion and the unexpected, students and community members alike can expect to enjoy an engaging production while supporting their peers.