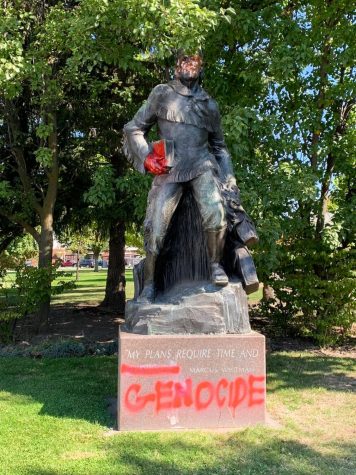 Lena Friedman, News Reporter

October 15, 2019
In the weeks leading up to Indigenous Peoples' Day and Columbus Day, responses to symbols of the Whitmans' legacy have appeared around campus — with the Marcus Whitman statue, located at the intersection of Main Street and Boyer Avenue, as a focal point of contention. The responses included red pain...
Lisa Uddin, Associate Professor of Art History and Visual Culture Studies and Paul Garrett Fellow

October 9, 2019
The Marcus Whitman statue is at it again, sparking activism that compels us to confront Whitman College and white settlement as one and the same. This time, the statue's defacement involved rephrasing "My Plans Require Time and Distance" (a quote attributed to Whitman himself) to "My Plans R...
Loading ...
SPORTS SCORES
Wednesday, September 25

Women's Soccer

Whitman College 3 - Whitworth 2

Wednesday, September 25

Volleyball

Whitman College 0 - Whitworth 3

Sunday, September 22

Mens Soccer

Whitman College 5 - Linfield 0

Saturday, February 16

Women's Basketball

Whitman College 73 - PLU 62

Saturday, February 16

Women's Tennis

Whitman College 4 - Trinity University (Texas) 5

Saturday, February 16

Men's Tennis

Whitman College 1 - Boise State University 6

Saturday, February 16

Basketball

Whitman College 96 - PLU 78

Saturday, October 6

Volleyball

Whitman College 1 - Linfield 3

Saturday, October 6

Mens Soccer

Whitman College 2 - 1

Sunday, April 16

Men's tennis

Whitman College 8 - Pacific University 1