Marcus Whitman in D.C. to be replaced
In 2021, the United States Legislature voted to replace the Marcus Whitman statue that currently presides in D.C.'s National Statuary Hall with a statue of Billy Frank Jr. An advocate for Native American treaty rights, Billy Frank Jr. was a member of the Nisquilly tribe and an environmental activist who passed away in 2014. Seattle artist and sculptor Hai Ying Wu will be designing the Billy Frank Jr. statue.
Walla Walla holds one of three Marcus Whitman statues around the United States: one in Olympia, one in Walla Walla and one in Washington D.C.  In Walla Walla, City Council has begun to consider the fate of this towns' Marcus Whitman statue.
Frank was known for his activism surrounding Indigenous tribes and their fishing rights. His continued involvement helped pass the Boldt Decision in 1974, which provided several Washington tribes with the right to fish off reservations and take an equal amount of fish from the state's harvest.
On Jan. 19, the Walla Walla Arts Commission held an open meeting with residents to develop a recommendation on the statue's permanency, which has been sent to the Walla Walla City Council. The Walla Walla City Council will make the final decision to remove the statue or not. This decision is currently underway.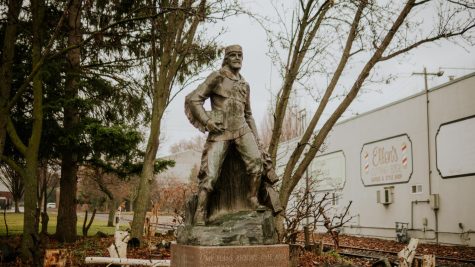 Jeanine Gordon, the printing and mailing manager at Whitman and an enrolled member of the Confederated Tribes of the Umatilla Indian Reservation, believes that a museum is the best place for these statues. 
"I think that museums would be the perfect place for the Whitman statues, especially because in a museum, you can tell stories," Gordon said. "If they were to be isolated somewhere where people could just go visit them, that's all they would hear or see. If you have them together, in a museum, then you can say this is what this represented for this period of time. Then you have a collective understanding about the whole history and all of the cultures involved."
 Benjamin is a Whitman student with an Indigenous background and agrees with those calling for the removal of the statue. 
"I support the decision to move it," Benjamin said. "I can understand anyone of Indigenous descent or background to be uncomfortable. [The statue] feels like an unwelcoming sign."
Gordon is pleased to have Billy Frank Jr. replace Marcus Whitman in Washington D.C. 
"I do think that [replacing the statue] is a good idea," Gordon said. "I feel like Peo-Peo-Mox-Mox has a statue down by a Whitman Hotel, and I love that it's there, but I would love to see something here."