Controversial social media posts cause Whitman Athletics backlash
Recent social media posts by the athletics department of Whitman College have produced negative feedback from alumni and current students despite the intention to demonstrate support of the Black Lives Matter movement.
Kim Chandler, Whitman's athletic director, stands behind the message of the posts as they were intended.
"The posts were the culmination of a number of conversations that our student-athletes were having with one another and with their head coaches and assistant coaches," says Director Chandler. "Our athletes were incredibly active in their response to the George Floyd murder and they felt it important, along with their coaches, to speak out against racism and to support the Black Lives Matter initiative.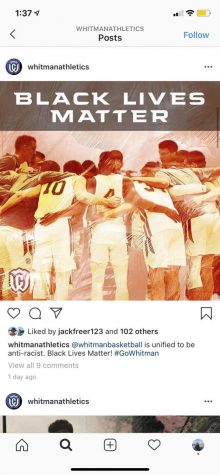 The posts have been criticized for using BIPOC athletes as poster children.
Cherokee Washington '17, was the first black athlete to be used for these posts. She acknowledges that, although the message may have had good intentions, she believes the execution was not what it should have been.
Washington was not notified that her face was going to be used which caused further concern.
"I'm really concerned that they don't have the proper background, knowledge, [or] have done the correct research amongst [their] athletes," Washington said. "I don't know if they're the appropriate group to be doing this."
Sydney London, a current sophomore and BIPOC athlete, who also commented on the posts was initially confused and called the department's cultural integrity into question.
"If this was a claim about the college educating itself, then it should know that that is not the way to go about spreading awareness for something," London said. "The fact that it was asked to be taken down and then replaced with another team just completely disregarded the athletes and how they wanted to be portrayed."
London's feelings toward the department's ignorance toward racial affairs and the disregard of her voice, and the voice of other athletes both former and current, lead to her disappointment in the school and department.
A number of department members have declined to comment on the posts and the decisions that were made leading up to the two posts. However, Director Chandler affirmed that these posts will be addressed along with the responses and feedback these posts received from the Whitman community. Even though the posts were met with backlash, she says that it will not stop the department from continuing on with these plans.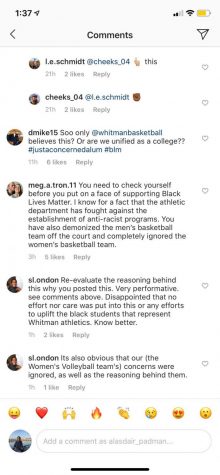 "I am supportive of the posts continuing since I am supportive of our student-athletes and our coaches taking an active role in speaking out against systemic racism," Chandler said.
With the continuation of this series, Director Chandler plans to use the constructive criticism of the comments to progress further into the future.
"I am aware of the comments that were made with these posts and it has helped me/us better understand some of the perspectives that our former athletes and students have had and it will help us as we work towards building an inclusive culture in our community," Chandler said.
Washington recognizes their good intentions, but feels that "Whitman Athletics needs to reconcile with it's past and really look at what's been happening and take a second to even talk to people like myself."
Washington was just one among many former athletes who spoke out against these posts on the Instagram account. Multiple alumni and current athletes commented that the content of these posts were inappropriate and should be taken down, ultimately receiving no response.
Since the outrage, two other posts that depicted BIPOC athletes from two different teams have been taken down. The posts and series have yet to be addressed leaving students' concerns echoing in the department's silence.