Whitman faculty and staff find passion in sports
Mustering up the motivation to exercise can be difficult, yet some Whitman staff and faculty have incorporated sports into their daily routines and have experienced major health benefits.
Post Office Supervisor, Eddie DeLeon, is an avid boxer and loves that he has the time to go to the boxing gym when he's not on campus.
"I have fallen back in love with boxing again. It has helped me lose 30lbs and be much healthier. The group of people that go to boxing with me are now family," DeLeon said.
His love for boxing has connected DeLeon with other Whitman faculty and staff.
"I go to boxing class with Kate Jackson from the Science department and Kris Surovjak from the Admissions Department," DeLeon said. "Playing this sport has definitely given me a connection with student and faculty/staff life on campus." 
Another sport that is enjoyed by many Whitman faculty and staff members is mountain biking. Geology professor Kevin Pogue is a huge fan of the sport and sees it as an opportunity to discover new places and meet people that share similar passions.
"In 1984 I bought my first mountain bike and have been an avid mountain biker ever since," Pogue said. "For me it has never been about competition, but about exploring the outdoors and going to new places where few had ever been and sharing that experience with like-minded folks."
The fulfilment that mountain biking gives Pogue is something that chemistry professor Mark Juhasz has been wanting to get back into, even with the business that accompanies work and home life. Although he wants to be more involved with the sport, family is his first priority.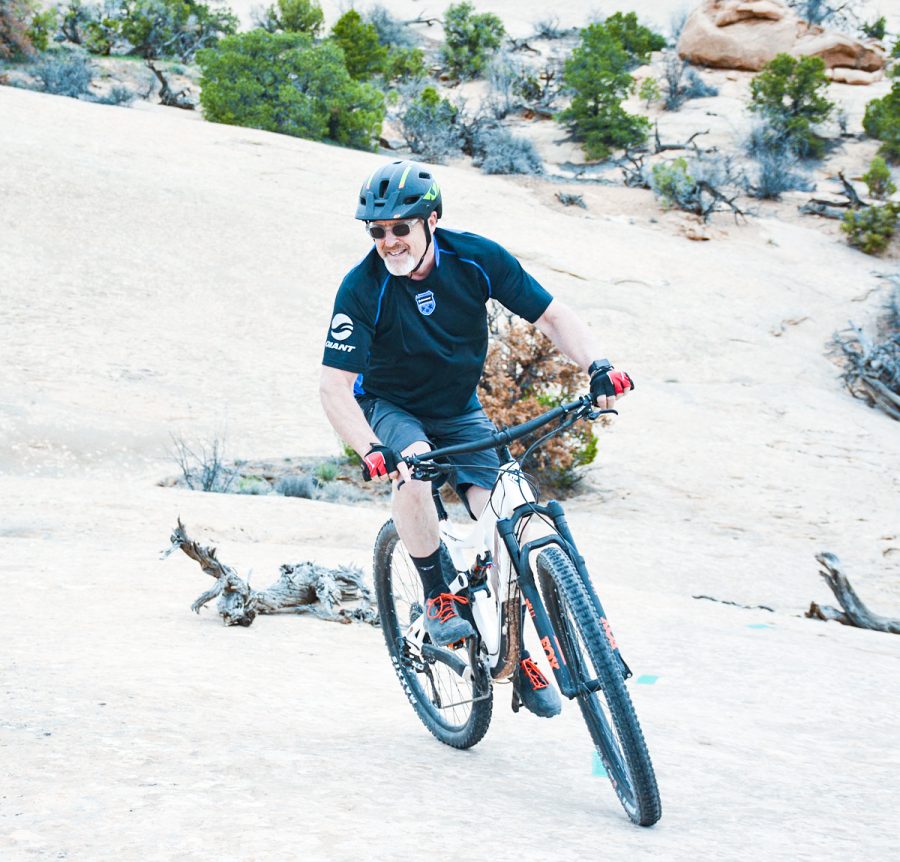 "I did a little bike racing and a sprint triathlon before moving to Walla Walla and competed infrequently in running races from 5k to marathon until a few years ago," Juhasz said. "Right now, I'm focused more on family commitments with three children, but may get back to racing when my kids are a little older."
Mountain biking and boxing are just two of many sports that Whitman faculty and staff members are involved in. For DeLeon, Pogue and Juhasz, the skills they learn from their respective sports translate to their life at Whitman and are a great way to connect with other students and members of the Whitman community.
"I take in what [students and faculty] have to say and try to apply it to my workouts so I can stay in shape. These sports have definitely helped me with my daily work. We are always on our feet down here in the Post Office. It helps to stay in shape and lift heavy boxing around the campus," DeLeon said.
Through mountain biking, Juhasz has been able to connect with students who also share a love for mountain biking.
"I have connected with many students in my classes who share an interest in running and cycling. For several years, I was an advisor for the club cycling team here and connected with many students that way," Juhasz said.
Throughout their time participating in these sports, DeLeon, Pogue and Juhasz have all reaped benefits. For them, these activities have been a source of pleasure and fun, making exercise feel like anything but a chore or obligation.
"There's the old adage that if you enjoy your job you'll never have to work for a living. The same holds true with exercise. If you find a physical activity that you really enjoy, you'll get all the benefits of the exercise without it feeling like an onerous obligation," Pogue said.
It doesn't look like any of them will stop participating in the sports they love and will continue to build connections with others through their passion.
"I totally recommend all faculty/staff to play any sport that they love," DeLeon said. "It's best to stay active and do something that you love, than sit on a couch and watch TV. You will be surprised what the human body and mind can do once you put your heart into something that you love."