Theme nights lined up for women's volleyball's final homestead
The women's volleyball team will play their final home games of the season this weekend, which also marks the end of theme nights — games during which players dress up according to designated themes.
The team is closing out the season strong, planning on two final theme nights for their upcoming games against Linfield and Willamette.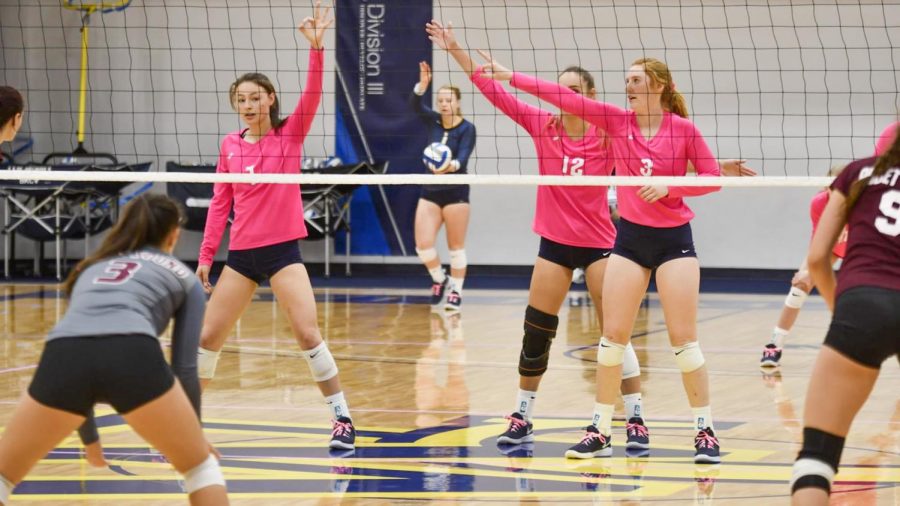 The penultimate home game against Linfield College will host a sci-fi night while the final home game against Willamette University will feature a fan appreciation night.
Matthew Helm, head volleyball coach, recalls that the team began this season with one of his favorite theme nights, Dig4Pink, which promotes breast cancer awareness.
"The volleyball community always designates one night in October to spread awareness of breast cancer and raise money for local cancer centers," Helm said.
Helm said that themes have at times been scheduled in consideration of his team's opponents. For example, last season saw the addition of "Aloha Friday," a theme organized for the home game against Lewis & Clark in light of the several Hawaiian players on their team. He explains that themes are carefully formulated by the coaching staff, i.e. himself and assistant coach Taylor Stewart. They also receive input from event management staff, Stephen Gall and Seandalynn Faleagafulu, the athletics event management director and coordinator, respectively.
Gall provided a bit of context regarding the purpose of theme nights. He stated that coaches and event management staff actively try different things to draw larger crowds in order to help create a better energy and environment for student-athletes. He also said that they try to find other ways to entertain people who might not have such a "huge passion for volleyball" by hosting various theme nights.
"People may come to find out about [a theme night] and then learn that they really do love volleyball … so maybe we can create a new passion for them," Gall said.
Tate Cadang, a sophomore setter, stated that her favorite theme nights thus far have been Dig4Pink — games in which the team sports pink jerseys to help spread awareness for breast cancer.
"I came from a school whose founder was affected by breast cancer so, especially on [Dig4Pink] nights, I dedicate those games to her, win or lose," Cadang said.
Cadang expressed that theme nights are "not just for the sake of being supportive," but are hosted in order to acknowledge that these causes — such as breast cancer — are real. She added, "We as a team want the community to know that we are involved with such awarenesses."
Gall also placed emphasis on the significance of theme nights.
"If we're going to represent a charity or a group of people by including them in an athletic theme night, then we want to make sure that they feel fully respected and appreciated and that we're doing right by them," Gall said.
Helm shared similar sentiments, emphasizing that theme nights not only help draw larger crowds that fuel his players, but more importantly, help draw awareness toward matters that extend beyond the sport.
"It gives our team something bigger to play for; [it] brings awareness to real life challenges as well as gives back to our community," Helm said.
An example of this was Club/PONO Night, where kids from a Whitman-run volleyball academy were invited to cheer on the Blues.
To conclude, Helm expressed gratitude for the support that the volleyball team has received throughout the season.
"Volleyball is such an exciting sport that we want to share it with everyone. We will continue our themes for years to come!" Helm said.
The volleyball team will play at Sherwood Athletic Center on Friday, Nov. 1 at 7 p.m. and Saturday, Nov. 2 at 6 p.m.