The great debate: Ankeny 2
It troubles us all. For some, it manifests itself as night terrors. For others, it's the reason they got a full letter grade and half below what they expected on their last exam. Yes. It's the issue of what to call it. The second Ankeny thingy. That patch of grass bordered by Stanton, Anderson and Cleveland. The area where Stanton and Anderson residents stare wistfully out their windows to watch people throwing various objects around, trying to remember what it's like to have fun as they're neck deep in work. You know. That place.
The large patch of grass is, like Ankeny, state of the art. The large patch of grass has already established itself as home to many student athletes – your amateur frisbee players, ex-quarterback wannabes, spikeballers, slackliners, volleyballers and the occasional pro sunbather.
The field by Stanton is really making a name for itself as a hub on campus. Well, okay, it's doing everything except actually making a name for itself – but you get the point. During the potentially dreadful finals homestretch last spring, real-estate on the young field was in high demand. The lush, grassy plain was saturated with blankets, hydro flasks and people reading books they actually wanted to read. Yet despite the immense popularity of the grassy meadow, it yet has to find an accepted name.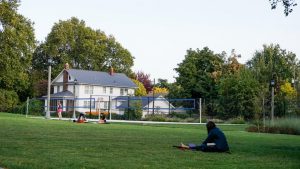 Sophomore and unbiased Douglas resident Reed O'Neal has a year under his belt as a member of the Anderson faithful, a group of former Anderson residents. 
"This is the S.A.C. For sure. It stands for Stanton, Anderson and Cleveland," O'Neal said.
The S.A.C. offers a concise and sensical name. Fitting right in with the likes of the G.A.C. and the countless assortment of campus abbreviations and acronyms. However, it may be one acronym too many for first-year Lyman resident Chance Christopher.
"S.A.C sounds impersonal and like it's a building and not part of nature – so I'd advise against it," Christopher said. "Cleveland Landing or Stanton Hill sounds nicer in my opinion."
Jacob Nam, a current Stanton-residing sophomore and former Anderson resident has seen things from both sides.
"A suitable name would be the S.A.C. because the grassy area is literally in the middle of Stanton, Anderson, and Cleveland Commons," Nam said.
What Nam enjoys the most about the S.A.C. is that it provides a little slice of Ankeny close to home, saving the grueling trek to Ankeny itself.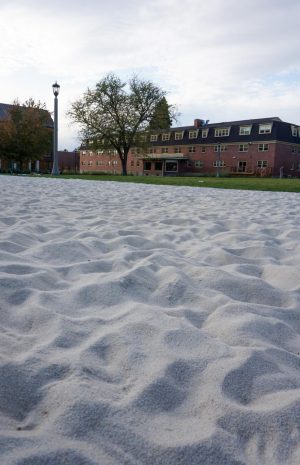 "I like the fact that the grassy area is a spot where Anderson and Stanton residents can go outside and toss a frisbee or lie down under the sun without having to walk all the way to Ankeny field," Nam said. "Anderson and Stanton residents are able to enjoy the grassy area in the same way as Lyman and Jewett residents are able to enjoy Ankeny." 
Despite identifying as a card-carrying member of Team S.A.C., Nam also personally enjoys the liberty afforded by the lack of a name.
"You can call [the] space anything since it doesn't have an official name," Nam said.
Despite the grassy enigma having existed for almost a year on campus now, the College seems to be making little effort at establishing a name for the space. Only time will tell whether or not the College will act and we will be able to get a good night of rest again. Either way, for the time being, the (insert preferred name here), will remain a hub for students to chill, stretch their legs and contemplate why people would possibly devote so much energy to naming an oversized tuft of grass.