Battle of the Whits: A thrilling overtime victory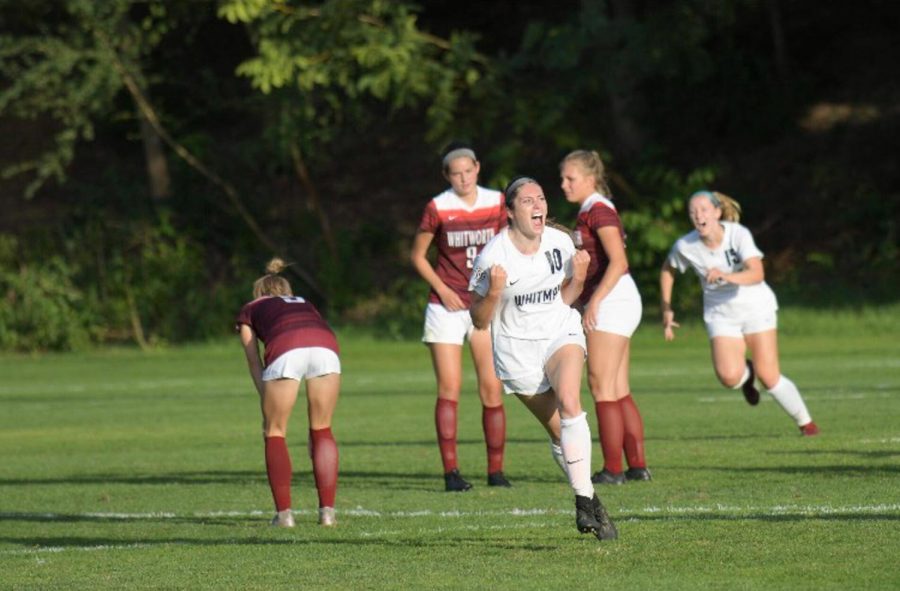 Miguel Baza, Sports Reporter
October 9, 2019
On a chilly Wednesday afternoon on Sept. 12, the Whitman women's soccer team went head-to-head on their home field with their biggest Northwest Conference rival, the Whitworth University Pirates. Whitman knew going into the game it would be a tough match-up, but that didn't intimidate them. The Blues haven't beaten Whitworth since 2015, so everything leading up to this game was crucial. Luckily, the team knew exactly what it would take to get this win. 
"Whitworth is always a quality team to face, but we knew that if we were able to do what we do well and dictate the game from the beginning, we could be very successful," senior Tate Kautzky said. "Hard work, positivity and mental strength are what it is going to take for our team to be the best version of ourselves."
Two Whitman players scored their first collegiate goal during the intense rivalry matchup. During the second half, Kautzky tied the game 2-2 before Whitworth conceded a goal, moving Whitworth up 3-2. First-year Riley Glendinning answered within one minute after Whitworth's goal for the equalizer — taking this game into overtime. 
The Blues found a chance to answer right back as the overtime period began. Senior Pagan Hetherington won a ball outside the box and took a striking shot too far out for the goalkeeper to save, scoring the winning golden goal for the Blues.
"I definitely will never forget this moment. The second after scoring the OT goal, I was struck with emotion. At first, it was excitement, sprinting back down the field to my teammates," Hetherington said. "It continued by molding into pure happiness, everyone screaming with passion."
Not only did this game mean a lot for the seniors, but it was also an exciting match for the first-years to be part of as they saw everyone's hard work pay off against one of their biggest rivals. 
 "To be able to put my heart out onto the field and allow my team to have another chance at getting a win was amazing," Glendinning said. "We all worked very hard to get this win." 
From first-years to seniors, the entire team's connection was a huge factor that allowed them to pull off a thrilling win. The chemistry between the Whitman Blues made the victory that much sweeter. 
"Everything we did that day lead up to the moment we deserved," Hetherington said. "Everyone did their job and more. When we won, it was one of the best feelings in the world."
For every team, this is the beauty of the game — working and preparing to play against your biggest rival and ending with an exhilarating win. The hard effort, work and sweat finally paid off.  
"We love being underestimated. Despite struggles in past years, our team is so excited to prove ourselves to the NWC," Kautzky said. "We are an extremely talented team with the potential to win games against any team in our conference."
The Blues prepare to face Lewis and Clark College on Oct. 12 and Willamette University on Oct. 13 on the Whitman Athletic Fields.