Tennis, Snorkeling, and a Missile Scare: Women's Tennis Takes on Maui
The women's tennis team's fall schedule featured only two events, the Whitman College Invite and the ITA Northwest Regional, a more prestigious event featuring 64 singles and 32 doubles teams from the Northwest Conference.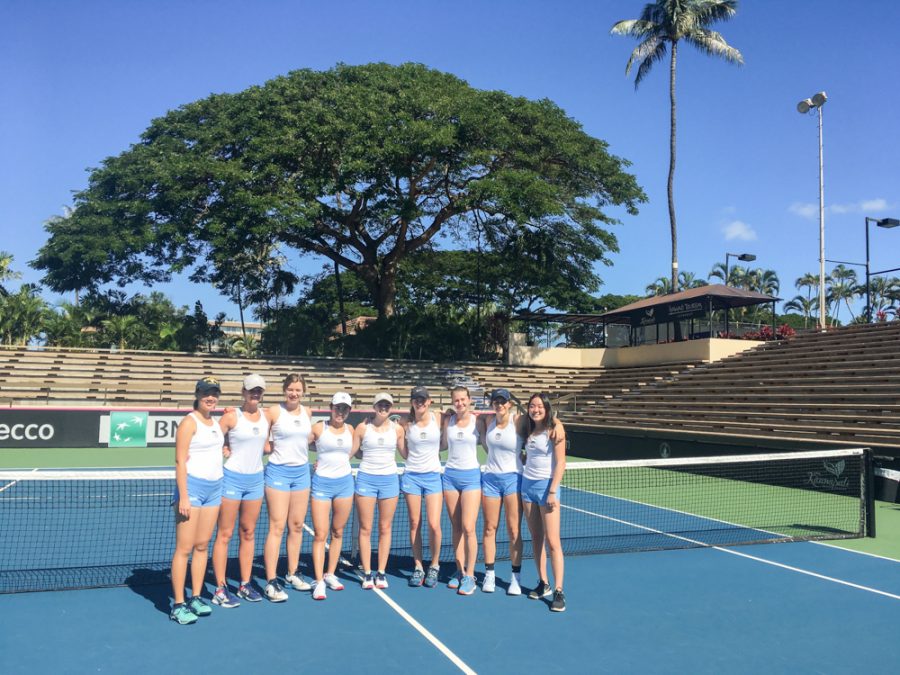 In the singles draw, Whitman saw two players reach the Quarterfinals in Hanna Greenberg ('18) and Nastya Redkina ('21), but the real success was in the doubles draw. The all first-year pairing of Redkina and Kattie Pak had a solid showing, reaching the Quarterfinals before losing to Lindfield's top doubles tandem. The duo of Greenberg and Andrea Gu ('20) got revenge against that same Lindfield doubles team by winning the Championship in a third set tie break 6-2, 6-7 (2-7), 1-0 (10-4), giving both of them ITA All-American honors.
After a successful, albeit short fall season the team began the spring portion of the schedule early by traveling to Maui during the last week of winter break for a dual-match against the Hawaii Pacific University Sharks, ranked fourth nationally for Division II. The team does not typically have a trip during winter break, only going once every four years, so it was a new experience for every player.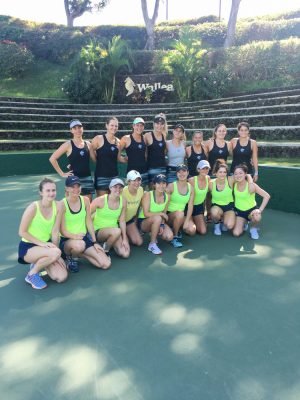 "In the past, the team has been able to go every four years, so we were definitely looking forward to it," Greenberg said. "It was really fun to all be together again. We had two players abroad and two new players, so it was a great place to all catch up and spend time together," she continued.
First-year Kattie Pak and junior Mary Hill spoke to the value of the trip in building team chemistry with two players returning from semesters abroad.
"It was so fun to all be reunited especially in such a beautiful place as Hawaii. It was cool having Mary and Cello back from being abroad because Nastya and I had never really met them before and it was as if they had been there the entire time," Pak said. "It was so exciting to finally meet the two new first years. I had heard so many great things about them from my teammates, so going in, I felt like I already had some familiarity with them," Hill added.
Despite the challenge of playing up a division, the Blues were ready to compete together once again and get a sense for where they were after the offseason.
"Our mindset heading into our matches was just to have fun and enjoy playing tennis in such a beautiful place. We knew going into the match that Hawaii Pacific was a tough team, so we took the opportunity to play 'no pressure' tennis against some really good D2 players without placing a huge emphasis on the end result," Hill said.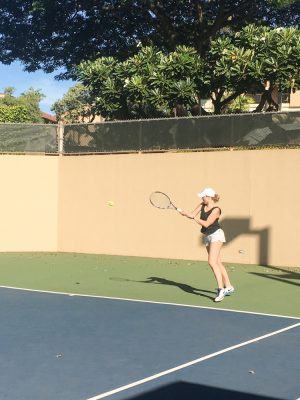 The two day dual match resulted in a pair of 9-0 victories for the host Sharks, as they swept their way through the three doubles and six singles matches both days. The closest match came in the #5 singles the first day, with Whitman's Cello Lockwood ('19) winning the first set but ultimately losing in a tight third set tie break 6-4, 4-6, 0-1 (9-11). Coach Hein tinkered with the lineup before the second match, but day 2 produced similar results, with Hawaii Pacific again sweeping 9-0, this time without dropping a set. Despite the results, the team was able to take a lot of positives out of competing with such a good program.
"I think this was a good benchmark to see where we're at, but the results will definitely push us to keep working hard this season," Greenberg said. "I think we realized that even though they are a division 2 team we are not far behind and it really motivated us," Pak added.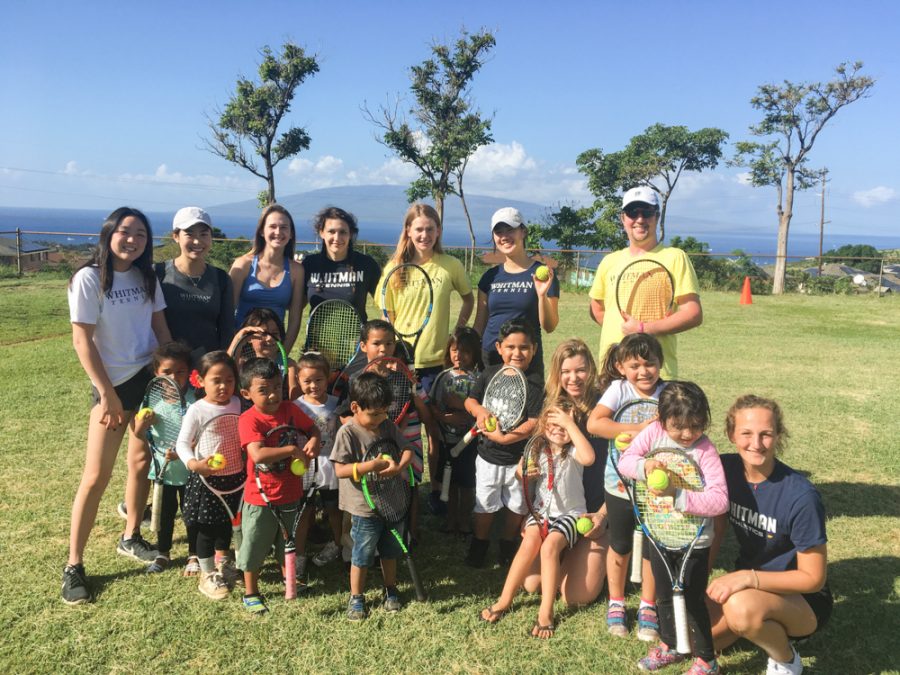 The rest of the trip was spent working out, practicing, exploring Maui, and plenty of quality time at the beach. The morning of Saturday, January 13, the team took to the ocean on a snorkeling trip when at 8:07 AM local time everyone's phone received the now famous missile alert:
"BALLISTIC MISSILE THREAT INBOUND TO HAWAII. SEEK IMMEDIATE SHELTER. THIS IS NOT A DRILL"
"It almost felt unreal. Looking back now I think it was a good thing we were on the boat because we were all together and were with people who had instant access to information from the coast guard. Once we heard the information we all called our parents and questioned if it was real, but when we heard it was a false alarm we turned back and went snorkeling," Pak said.
Less than a week later, Whitman was once again stepping up the competition by travelling to Boise to play the Division I Boise State Broncos. The host Broncos swept through doubles to get the single point awarded for doubles competition, then won all six singles matches for a 7-0 victory. Despite getting swept again, there were some positive signs for the Blues, as both the #1 and #2 doubles teams got out to early leads before losing 4-6 in their respective sets. The singles matches were also more competitive, highlighted by Hanna Greenberg in the third slot, winning the first set 6-4 before dropping the second 1-6 and losing the third set tie break 3-10.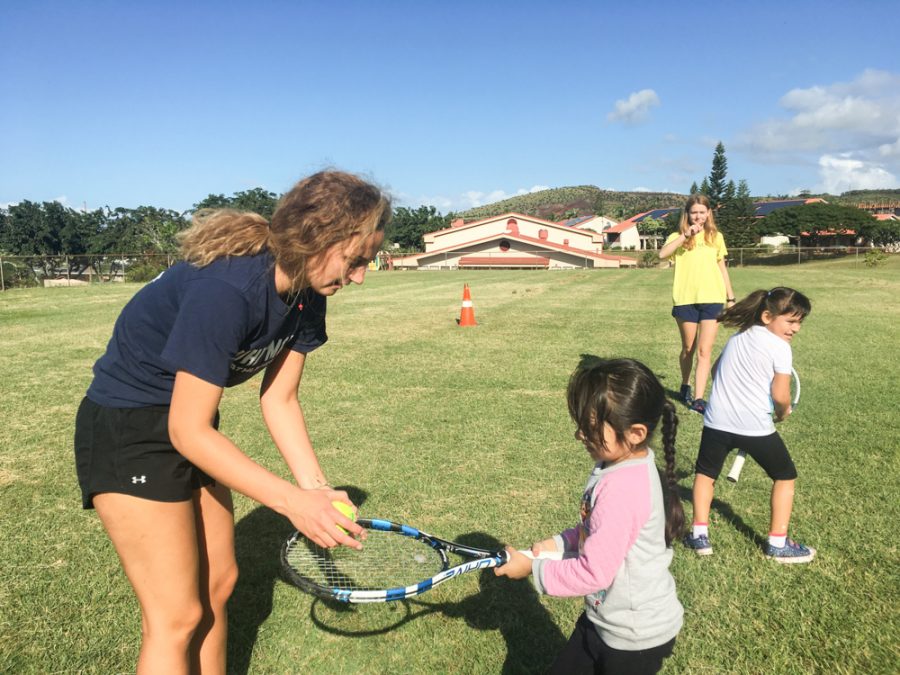 The women's tennis team has definitely not had the smoothest beginning to a season with tough losses against some great teams. This early season resiliency will undoubtedly help them the rest of the season, as nothing they face in the Northwest Conference will be as tough as playing up divisions or facing a missile.