Women's tennis celebrates after home success
Whitman's varsity tennis team enjoyed a successful weekend at the ITA Fall Northwest Regional Championship after Whitties took home multiple victories in front of a home crowd.
On Friday night, qualifying matches were played, with winners advancing to the main draw. Then, over the weekend, main draw matches were played for both singles and doubles. In the A draw singles, senior Camilla Tarpey-Schwed finished as the runner-up after pulling upsets on her way there.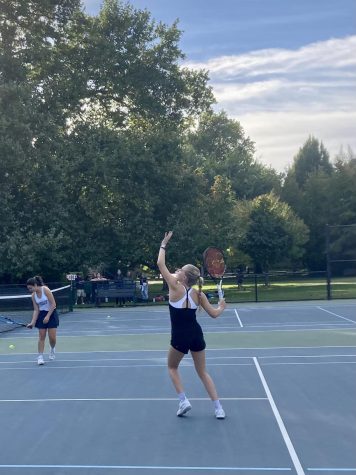 In the B draw singles, the finals saw teammates Grace Carter and Sascha Wells face each other, with Wells emerging victorious. On the doubles end, the pair of senior Angel Le and sophomore Arianna Castellanos won for the second year in a row and will advance to the ITA Cup next month.
Head women's tennis coach John Hein reflected on the tournament's success.
"It's been awesome," Hein said. "It's obviously fun to be at home, and the team has just been wonderful. This tournament is so much tennis that it's so much fun, but it's also a lot of work physically and mentally."
The women's team got to play on their home courts, which Hein explained as advantageous.
"We know the environment—this is one of the prettiest and most chaotic tennis environments because it's right in the middle of campus," Hein said. "And we've just got fans here, which is great to have."
During matches, Hein is standing on the sidelines watching intently. He described his coaching style as dependent on the individual player.
"Some players need to be kept on track tactically, some physically and some mentally," Hein said. "So it's really fun because every match is a puzzle to see how all those things fit together."
Senior Camilla Tarpey-Schwed competed in both singles and doubles. On the singles side, she won her first two matches in straight sets, then managed to upset higher seeds in both the quarterfinals and semifinals. On the doubles end, she and sophomore Ilina Jha made it to the semifinals. When asked about her preference between singles and doubles, she claimed to equally enjoy both formats.
"I mainly played singles in high school, so I have more experience with it," Tarpey-Schwed said. "I love doubles because of the connection with my partner and the energy. I just love the vibes."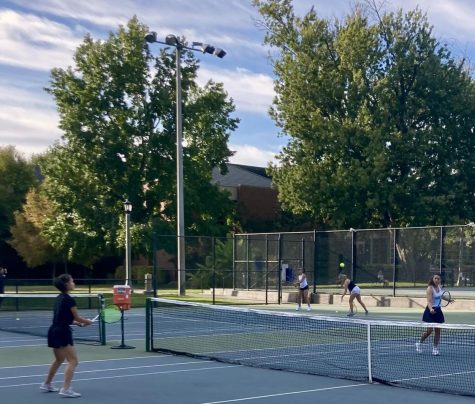 Tarpey-Schwed admitted to having more confidence as a singles player. Although she wasn't a top seed, as she was seeded as a 5-8 (out of 32), she didn't find that discouraging.
"According to my seeding, I'm not expected to win," Tarpey-Schwed said. "But I go into every match knowing that I can win, and I always try my hardest. I'm just going to take it match-by-match, point-by-point."
She played four matches on Saturday, which meant that taking care of her body was imperative for continuing to perform well. She mentioned the importance of stretching, foam rolling and hydrating in between matches.
"Tennis [involves] short sprints and a lot of cardio," Tarpey-Schwed said. "You have to stay in it, both physically and mentally."
She also divulged what her coaches talk about between sets.
"A lot of it is strategy. In doubles, [we're] talking about how we're moving together," Tarpey-Schwed said. "In singles, strategy sometimes is different patterns of play. [The coaches are] also just there to be there for you; especially in tough matches, you want the coach to be there. You can always look at them, and they'll just support you."
Junior Grace Carter also competed last weekend, playing singles in the B draw and doubles. She was fairly successful on the singles side, winning four straight matches and advancing to the finals, where she ultimately lost to first-year Sascha Wells. She explained the peculiarities involved in playing a teammate.
"We've had a lot of good teammate versus teammate matches, which isn't fun, but competition is really good," Carter said.
She explained that she was less nervous for the match, as she was comforted by the fact that if she lost she'd be happy for Wells.
"At the end, everyone hugs it out, so it's good," Carter said.
Overall, the woman's tennis team enjoys watching each other compete and flourish.
"A big part of this tournament is being able to see each other play," Carter said. "Especially this year, everyone's getting so far. Our team is doing so well. It's just really impressive and really great, especially for first-years who get a great first experience."
To see upcoming games for the women's tennis team, you can visit the Whitman Athletics website or follow their social media for updates.