Whitman Tennis Starting Off Hot
As the snow begins to melt off the tennis courts, the men's and women's tennis teams have already begun their spring seasons. After completing the fall matches, their schedules are heavy in dual matchups. Both teams appear ready to continue the strong tradition of Blues tennis.
Women's Team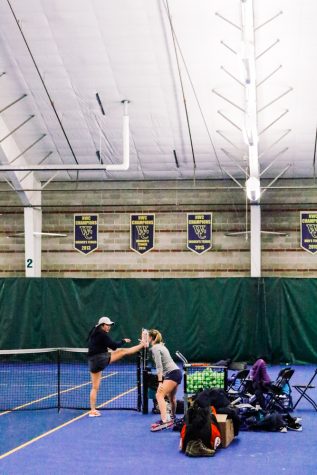 The Northwest Conference Coaches' Poll predicts that the women's team will finish second in the conference between Lewis & Clark and Linfield. The women also received three first place votes.
Head Coach John Hein describes the women's team as being "balanced" throughout all aspects of the game, which he sites as one of their main strengths.
"We have tremendous leadership from what last year was an incredibly young team and they've learned a lot about competing together. We're talented in both singles and doubles and have depth through the lineup so there isn't really a spot (out of the nine points we play for in a dual match) that we don't feel we can win on a given day," Hein said.
Returning to the team are First Team All-Conference member Mary Hill, and Second Team All-Conference member Cello Lockwood. Though Lockwood is recovering from a persistent concussion, both are only sophomores and indicate a bright future for the team. The Blues have their sights set on winning the Conference Championship – a feat that would be an upset over Lewis & Clark, the team that has dominated the conference in recent years.
"Our biggest opponent would be Lewis & Clark. That's the team that we have in mind when we practice, that's the team to beat for us," Hill said.
Conference is shaping up to be a tight race between Lewis & Clark, Linfield and Whitman.
"One of our big goals this year is to win conference again after coming second last year and to return to the NCAA tournament. We are one of three teams who are all so close that it will be an exciting challenge, and the desire to get back on top is certainly fueling us. Beyond that, we feel we can be a top 15 team nationally and do some damage at NCAA's," coach Hein said. The women's team heads to Oregon this weekend to open their spring season against Pacific and Willamette.
Men's Team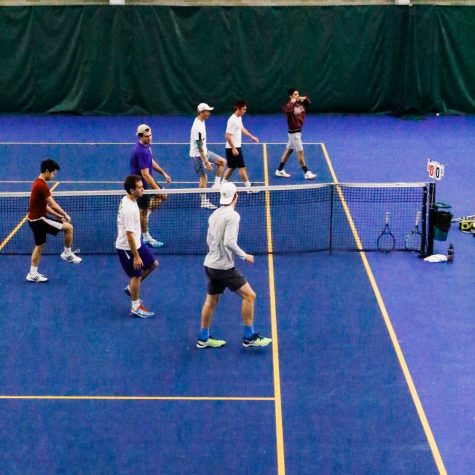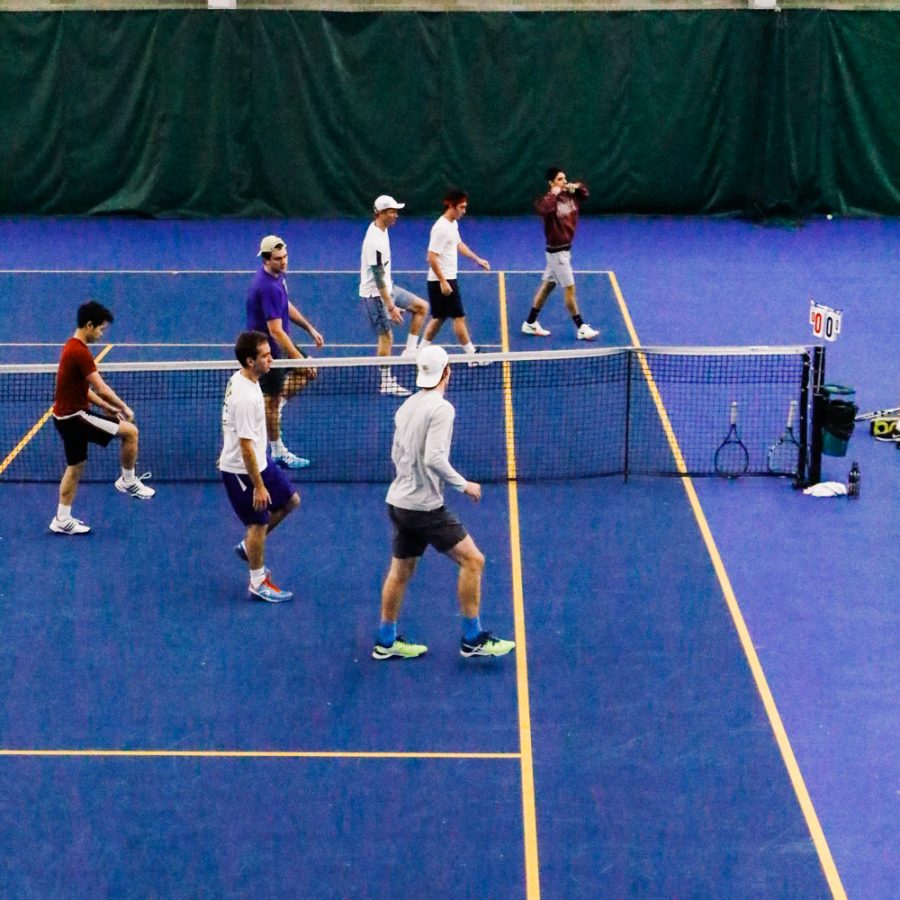 The men's tennis team has the firepower and experience to win its tenth straight Conference Championship. According to the NCAA website, the Whitman men were voted into the 24th spot of the national power ranking. No conference rivals were ranked in the Top 25.
The Northwest Conference Coaches' Poll firmly slots the men as the favorites heading into the season. The Blues received every first place vote except their own, as coaches cannot vote for their own team. The team's aspirations, however, go far beyond just winning another Conference title.
"Our specific goals are to win conference again and make the elite eight nationally," junior Adam Rappaport said.
This goal, which may have once seemed improbable, is beginning to look realistic after the Blues won against 20th ranked Gustavus Adolphus College on last Friday and 9th ranked Pomona-Pitzer last Saturday.
"Following our wins against number 20 and number 9 in the nation this weekend, we will be well positioned to carry momentum into more early season ranked matchups," junior Zach Hewlin added. Hewlin earned the match clinching point with his singles victory on Saturday.
Beating ranked opponents at home is nothing new to the Blues, who have performed especially well in such matchups. With the team strengthening its performance in doubles, any weaknesses from past years have started to fade.
"Our biggest strength right now is how tight the team is as a group. This is reflected in the high level of doubles we have been playing. Beyond that, our ability to win at home has been unmatched over the past years. In the three years that I have been on the team we have been undefeated at home and 7-0 at home in that span against nationally ranked opponents," Hewlin said.
The men split up President's Day weekend for some to travel to opponents in Pennsylvania and others to host Pacific Lutheran and Willamette in Walla Walla.