Whitman baseball gets in the swing of things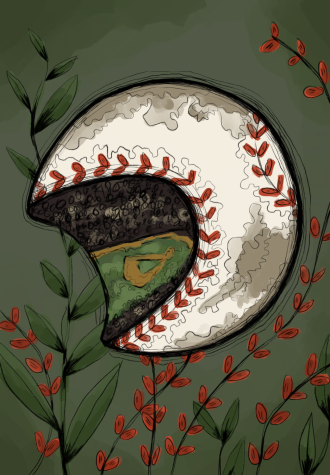 For the past two years, COVID-19 has put a damper on many activities at Whitman, including baseball. However, instead of looking to the past, the team is looking ahead to what this season may bring.
This is a sentiment expressed by sophomore right-handed pitcher Julien Hernandez.
"It's a really exciting season. We have a lot of potential this year…Being able to have a full fall and preseason has allowed us to practice and get a lot better than we were able to achieve last year, and it's really exciting to be back on the field with a brand-new set of coaches and a bunch of new players," Hernandez said.
According to Head Coach Brian Kitamura, having a younger team has not negatively impacted them.
"While we are younger at most positions, we have the ability to compete and execute at an extremely high level," Kitamura said.
The team acquired two new assistant coaches during the off-season, Connor Lawhead and Colby Watilo. In addition, they've been training throughout the fall in the weight room, four days a week, with Strength Coach Jocelyn Awe.
Infielder and co-captain Leo Rivera expressed appreciation for these changes.
"Coach Awe has built out individualized workout plans player by player, and we are extremely grateful for the hard work he has put in with us, as well as the entire athletic department," Rivera said. "Our guys have put in countless hours of work, and it is going to be exciting to see it pay off this season."
Because of this pre-season training, left-handed pitcher and co-captain Mason Milkey expressed that the team has been able to form close-knit bonds even with an underclassmen-heavy roster.
"This team has the best chemistry of any team I have played on. We have a lot of new first-year players, but they have come in eager to work hard and acclimate to our program. I am thankful that not only have they all worked hard on the field, but they are truly great people and friends," Milkey said.
The bond between players is something that, according to Hernandez, makes them better.
"Our program is really developmentally focused and one of the cool things we see is that a lot of players, when they come in as freshmen, get a lot better really quickly… It's not just a coach and a player working together, it's usually the guys pushing each other and working together to get each other better," Hernandez said.
The team hopes their hard work throughout the off season will pay off throughout the spring.
"We have a very talented team and the ability to make it very far. Our team goal is to win the Northwest Conference and make a run at the national championship," Mikey said. "We definitely have a lot of room for improvement, and our goal is to be playing our best baseball in May. That being said, we will continue working hard and getting better every single day."
Even so, Rivera expressed how the pandemic has shaped attitudes.
"We never know which workout, practice, or game could be our last, so we treat each one like it is our last," Rivera said.
The baseball season has just started and runs through May.